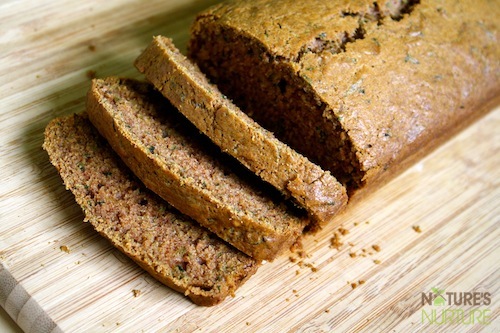 Summer has left us, and with it has gone the bright, vibrant fruits and vegetables of the season. My favorite summer veggie? The good old zucchini, of course! But just because they're not growing out of the ground anymore, doesn't mean we can't still enjoy them in these cooler months. That's why I like to make sure to stock up on the in-season zukes, shred them up, and throw them in the freezer. That way, when I'm ready to bake up a delicious zucchini bread loaf, like this one from Martha Stewart, I can just pull out a package from the freezer and let it thaw, which doesn't take too long.
I've made this recipe a few times, each time tweaking it more as I went along. Even though the original recipe tastes absolutely delicious, I didn't like that it calls for vegetable oil, and a whole cup of brown sugar just seemed to be too much. So I switched out the vegetable oil with my favorite organic coconut oil, and cut the brown sugar down to a half cup. I also used unbleached flour that I freshly ground using my new, awesome WonderMill grain mill. 🙂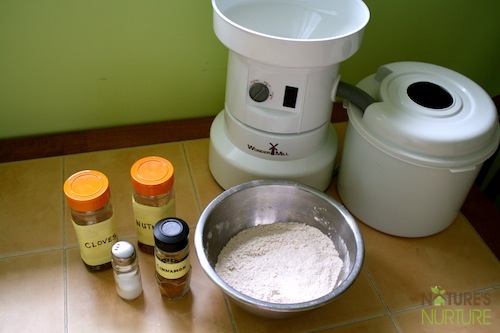 The recipe is pretty straight forward; it's your typical quick bread recipe – mix dry ingredients, mix wet ingredients, add wet ingredients to dry, and you're done. The only difference is because we're using coconut oil (which solidifies above 76 F), we're saving it and adding it to the batter at the very end.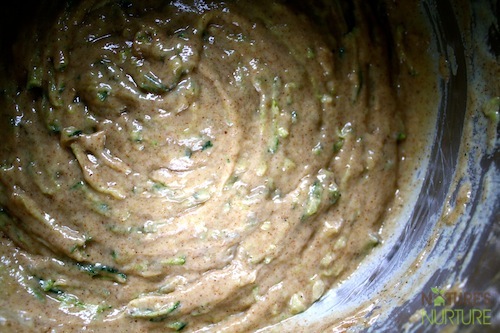 The end result is a very tasty, not overly-sweet, hearty quick bread which is great any time of day. I love packing a couple pieces in our day bag, when we're out all day, because it's a great snack the whole family loves!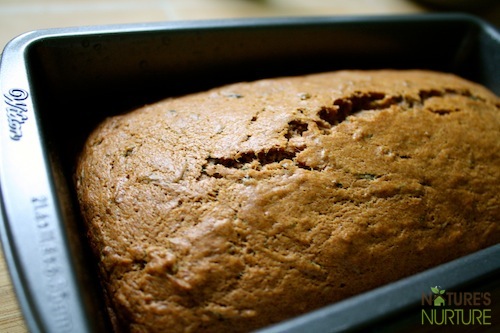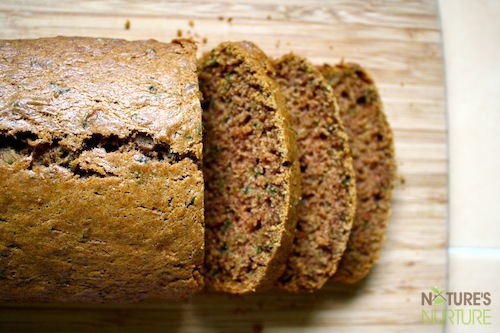 Zucchini Spice Bread with Coconut Oil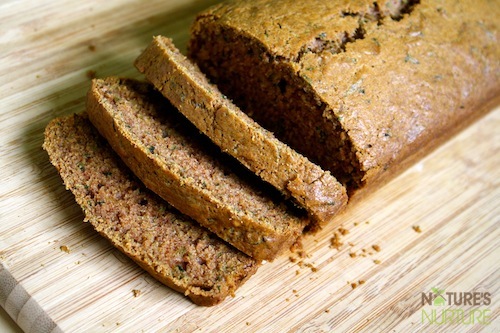 Author:
Sarah @ Nature's Nurture
A hearty, not-overly sweet quick zucchini bread made with coconut oil. Recipe adapted from
MarthaStewart.com
Ingredients
1 large zucchini, grated (about 1¾ cups)
½ - ¾ cup packed brown sugar
1 tablespoon organic cane sugar
⅔ cup organic coconut oil
2 teaspoons vanilla extract
2 large eggs
1½ cups unbleached flour, freshly ground is best!
½ teaspoon baking powder
½ teaspoon baking soda
2 teaspoons ground cinnamon
¾ teaspoon ground nutmeg
¼ teaspoon ground ginger (I didn't have any on hand.)
⅛ teaspoon ground cloves
¾ teaspoon salt
Instructions
Preheat oven to 350 degrees. Lightly grease a 9-by-5-by-3-inch loaf pan, and set aside.
In a large bowl, whisk together sugars, vanilla, and eggs.
In a small bowl, combine the flour, baking powder, baking soda, cinnamon, nutmeg, ginger, cloves, and salt.
Add dry ingredients to wet ingredients, and stir to combine well. Stir in grated zucchini, and coconut oil.
Pour batter into greased pan, spreading evenly. Bake 45 to 55 minutes, or until a toothpick inserted in center of loaf comes out clean.
Cool in pan 10 minutes. Then cool completely on a wire rack before slicing.