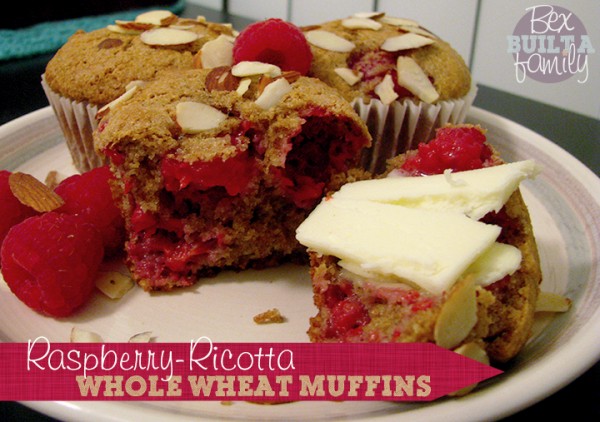 I love muffins for breakfast! Making your own is easy – I made these after making dinner one night last week. They baked while I cleaned up the dinner dishes, so they really weren't much trouble at all.
Make sure to set the WonderMill to the "pastry" setting when you mill your wheat berries. By using the pasty setting, you'll get a flour that's a little bit finer and the muffins will be more tender as a result.
These muffins taste great on their own, or with a healthy dab of butter melting on top. They are freezer friendly as well, and the recipe doubles nicely. If raspberries aren't your favorite, feel free to swap them out for any berry you like, and adjust the spices to your taste. Don't shy away from the Cardamom though. It's a strong and fragrant spice, but it adds a nice unexpected touch to the muffins.
Enjoy!

Whole Wheat Raspberry-Ricotta Muffins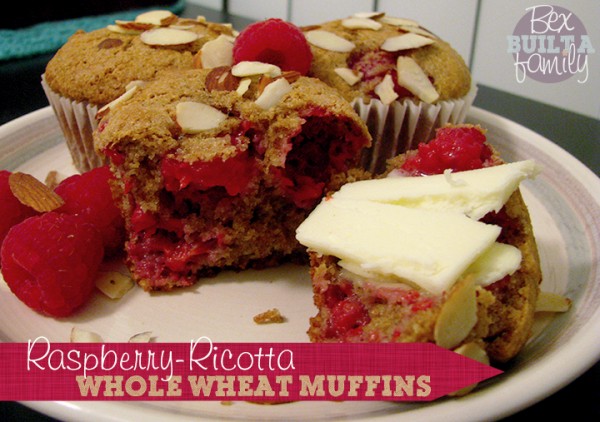 Author:
Bex Built A Family
Ingredients
2 cups whole-wheat flour (milled on the pastry setting)
⅔ cup sugar
2 tsp baking powder
½ tsp baking soda
½ tsp salt
¼ tsp all spice
¼ tsp cardamom
½ tsp cinnamon
¾ cup ricotta cheese
½ cup milk
3 Tbsp oil (vegetable, coconut, or walnut would work fine)
1 large egg
½ tsp pure vanilla extract
6 oz fresh raspberries (or your favorite berry)
3 Tbsp sliced almonds
Instructions
Preheat oven to 350˚
In a large mixing bowl, combine all dry ingredients (except raspberries and almonds) and mix until well incorporated.
In a smaller mixing bowl, combine all wet ingredients, and whisk until well blended
Add wet ingredients to the dry ingredients in the larger mixing bowl.
Stir with a wooden spoon until well incorporated.
Gently fold in raspberries.
line muffin tin with cupcake liners, and spoon mixture evenly among the 12 cups (about ¼ cup in each cup)
Sprinkle almond slices evenly over muffins and gently press them into the batter.
Bake at 350˚ for 20-25 minutes, until a toothpick inserted in the middle comes out clean. Rotate the pan once during cooking.
Let cool on the counter for at least an hour before storing. Can be frozen for up to three months, or stored in an airtight container for two weeks.