I really like pumpkin. When the pumpkins are ripe it signals the beginning of Autumn for me and the beginning of my favorite culinary season. When you can't get pumpkin, you could use either sweet potatoes or even Cushaw squash for this delicious dessert.
If you don't like cream cheese frosting, (really?) you could substitute a caramel frosting which is equally delicious!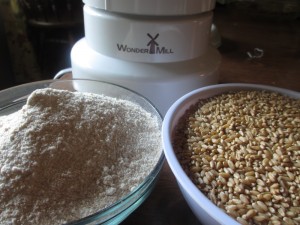 Whole wheat berries and freshly milled flour
First, grind your flour. You need 2 cups of flour for this dessert which is about 1 1/2 cups of whole wheat berries.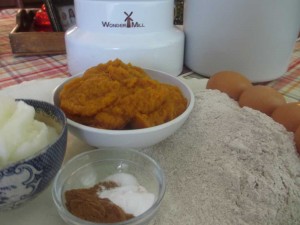 The Bars
4 eggs
2 cups granulated sugar (or for a richer flavor, use Rapidura)
1 cup vegetable oil
1 can (15 oz) pumpkin (not pumpkin pie mix) I use home-canned pumpkin or  2 cups of cooked, mashed sweet potatoes
2 cups whole wheat flour
2 teaspoons baking powder
2 teaspoons ground cinnamon
1 teaspoon baking soda
1/2 teaspoon salt
1/2 teaspoon ground ginger
1/4 teaspoon ground cloves
The Cream Cheese Frosting
1 package (3 oz) cream cheese, softened
1/3 cup butter, softened
1 teaspoon vanilla
2 cups powdered sugar
Heat your oven to 350°F. Lightly grease bottom and sides of 15x10x1-inch pan with shortening or lard or coconut oil. Now, most people don't have a 15x10x1 inch pan, so you can substitute a 9×13 inch pan…. but your bars will be thicker.  That's not necessarily a bad thing.  I use a 15×10 inch cake pan and it works nicely.

In a large mixing bowl, beat eggs, granulated sugar, oil and pumpkin until smooth. I use a stand mixer on medium speed.
Stir in flour, baking powder, cinnamon, baking soda, salt, ginger and cloves. Spread the batter in the prepared pan.
Bake 25 to 30 minutes or until golden brown. Cool completely in pan on cooling rack, about 2 hours. It is important to cool it completely so it won't melt the cream cheese frosting.
In a medium mixing bowl, beat the cream cheese, butter and vanilla until smooth. Gradually beat in powdered sugar, 1 cup at a time, until smooth and spreadable.
Frost the bars…. Make a double recipe if you're crazy about cream cheese!  To give some color to the frosting, dust some nutmeg or even cocoa powder over the top.  Refrigerate bars til firm, then cut into rectangular bars. Keep refrigerated.  If you want to freeze the bars, do so before you frost them. Allow them to defrost at room temperature, then frost before serving.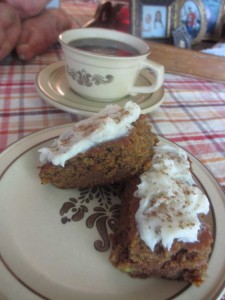 Pumpkin Bars