This is my favorite recipe to use with my Wondermill Electric Grain Mill.  We have home-made pizza almost EVERY Friday so we've had some practice perfecting this.  Hope you enjoy the simplicity and wholesome ingredient list!
It sure beats the daylights out of order out pizza!!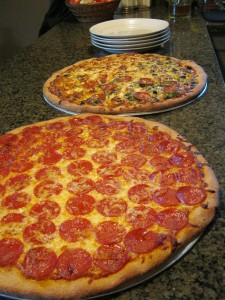 First, of course, mill four cups of Hard Wheat (we like Hard White Wheat) in your Wondermill.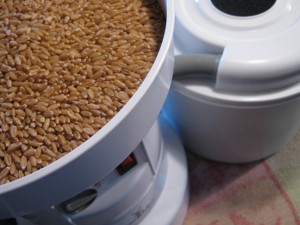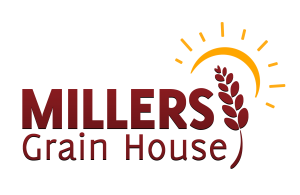 Whole Wheat Pizza Crusts
Makes two 16 inch pizza crusts
Ingredients:
1 ½ Cups Warm Water
2 TBS Olive Oil
4 Cups Freshly Milled Hard Wheat Flour
1 tsp Garlic Salt
½ tsp Onion Salt
1 ½ tsp Instant Active Yeast
Bread Machine Method:
Place all ingredients in the machine in order given. Make a 'well' for the yeast and put in the 'well'. Set to dough or pizza dough setting. Machine should punch down after first rise.
Food Processor Method:
Use 'S' Blade. Place all dry ingredients in the food processor. Turn to pulsing while drizzling in the oil. Stop when mixed in. Now turn on and leave on drizzling in the water until dough forms a 'ball'. Let 'ball' clean the sides and round the bowl between 20-25 times.
Place in greased bowl, cover and put in a warm place (85 degrees) until doubled in size.
Mixer & Hand Methods:
Mix yeast in with the flour and set aside. Mix all other ingredients in a large bowl until blended. Mix one cup of flour mixture in at a time until all incorporated. Knead 3-5 minutes until 2 finger poke test bounces back quickly.
Place in greased bowl, cover and put in a warm place (85 degrees) until doubled in size.
Forming:
Spray pans and set aside. Halve dough. Roll out on a greased or floured counter to be slightly larger than the pan.  Dust pan with a little corn meal. Move pizza crust to pan, pinch up edges if desired. Prick with fork like a pie crust.  This stops the dreaded 'pizza wart'.
Either – pre-bake (for crispy crust or freezing)
Or top and bake at 475 degrees until all topping is melted and crust is golden brown!
EnJOY!
For more photos and updates of what goes on in the kitchen, come follow us on Facebook