Our whole family loves homemade pizza, and one of the critical factors that makes a truly good pizza is its crust!
We try to work whole grains into as many of our meals as possible, so I have developed a pizza crust recipe using 100% whole wheat flour, adapted from a recipe from the Artisan Bread in 5 Minutes a Day cookbook.
The recipe is super easy, and (even better!) you can make it several days ahead, keep the dough in your fridge and pull pieces off as needed. You can make a huge batch and keep it for up to 10 days in your fridge! This saves a lot of time during meal prep, and also gives you the ability to decide on homemade pizza for dinner only 30-40 minutes before you want it on the table!
Start by grinding your wheat. I use hard red wheat berries for this kind of recipe, but there are other varieties, such as soft white, that you could experiment with.

The nutrients and vitamins in flour significantly decrease after only a few days, so it's best to grind your wheat the same day that you will be baking when possible. Freshly ground wheat is also more robust and flavorful!
Dissolve 1.5 tablespoons each of dry active yeast and kosher (or other coarse) salt in 3 cups of warm water. This recipe requires no kneading, so I usually just mix it up in the container that I plan to keep it stored in inside my fridge.

Add 6.5 cups of whole wheat flour and stir until completely incorporated and there are no dry spots left. Place a towel, plastic wrap, or a lid over the dough, (making sure that it is not airtight,) and let it rise for 2-3 hours.

Rising times depend on how warm the water was, how warm your house is, etc. Just watch for it to double in size and then start to deflate a bit, and you'll know it's ready.
You can use the dough immediately, or refrigerate it at this point for later use. It is easiest to work with after it has been refrigerated for an hour or two, so I usually get the dough started right away in the morning so it has time to chill before I need it at dinner time.
When you are ready to assemble your pizza, simple pull out a grapefruit-sized ball of dough, pat it into a disk and, on a well-floured surface, roll it out into a large circle for your pizza.
Since I use a pre-heated baking stone to bake my pizza, I like to roll out my dough onto parchment paper. This makes it easy to slide the loaded pizza off my big wooden cutting board, straight onto the hot stone in the oven (with the parchment paper still underneath while it bakes,) without having to worry about my pizza falling apart while I try to shake it off the board onto the stone.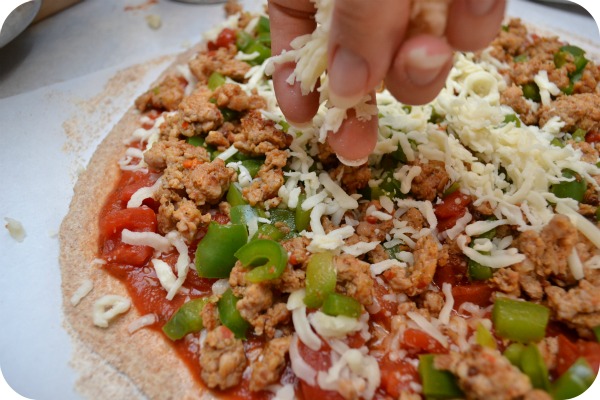 I like my pizza crust to be pretty thin, and with the baking stone and the oven set at 500 degrees, our pizzas usually take about 15 minutes to come out perfectly crisp and delicious!
Whole Wheat Pizza Crust (print-friendly recipe here)
1.5 tablespoons dry active yeast
1.5 tablespoons kosher (or other coarse) salt
3 cups warm water
6.5 cups whole wheat flour, (plus extra for rolling out dough)
Directions:
Dissolve yeast and salt in warm water.
Add flour and mix until completely incorporated.
Let rise at room temperature until doubled in size and dough starts to deflate slightly.
Use immediately or refrigerate for later use, (dough can be stored for up to 10 days.)
When you're ready to make your pizza, pull out a grapefruit-sized ball of dough, form it into a small disk and roll it out on a floured surface into a large circle. (Use parchment paper for easy transfer if you plan to bake your pizza on a stone.)
Add your favorite sauces and toppings: the options are limitless. I highly suggest browsing Pinterest for more inspiration than you'll ever actually need. (I can't get on Pinterest without becoming incredibly hungry by the time I'm done!)
Bake for 15-20 minutes, at 450-500 degrees, depending on how thick you made your crust on what kinds of toppings you added.
Enjoy!