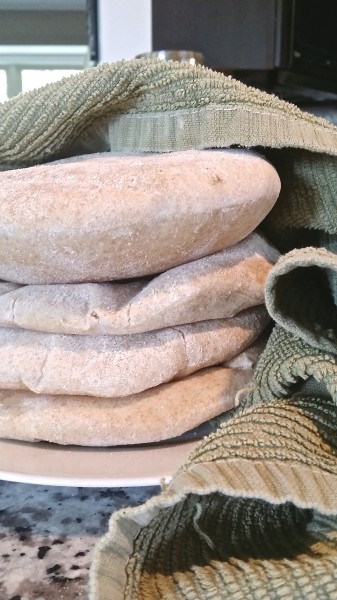 Pita Bread is a great bread option to have on hand during the busy summer months. They're easy to bake ahead and freeze and then have them ready for sandwiches or snacks. We love eating them with hummus or filling them with all kinds of meats and fresh produce. The kids even make peanut butter and jelly sandwiches and bring them for lunch once school starts.
This recipe uses a mix of bread flour and freshly milled hard red wheat. The whole wheat gives the pita a great flavor and the blend of flours keeps them light and puffy.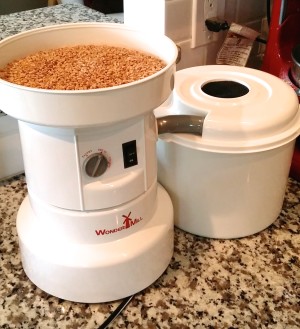 When rolling out the pita rounds, try to keep them consistently thin all the way around so that when you bake them you get a nice puffy bread that can be easily split.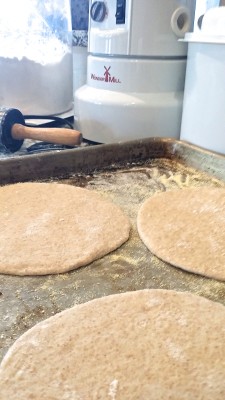 Whole Wheat Pita Bread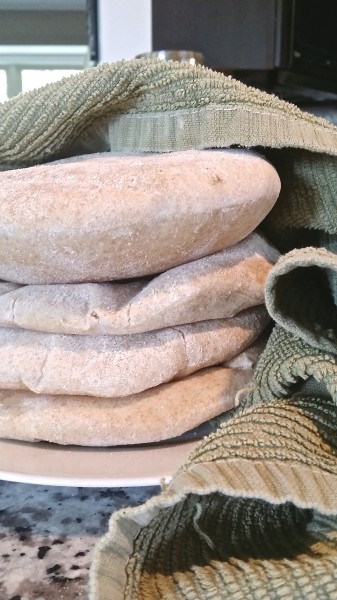 Fluffy pita bread made with whole wheat
Ingredients
1 (1/4-ounce) package active dry yeast (2½ teaspoons)
1 teaspoon honey
1¼ cups warm water (105–115°F)
2 cups bread flour or high-gluten flour, plus additional for kneading
1 cup whole-wheat flour
¼ cup extra-virgin olive oil
1 teaspoon salt
Instructions
In a small bowl, mix together the yeast, honey and ½ cup warm water. Let stand for 5 minutes.
In a medium bowl, whisk together the flours. Add ½ cup of the flour to the yeast mixture and stir to combine. Cover with plastic wrap and let sit at room temperature for 45 minutes.
Add yeast mixture to the bowl of a stand mixer and add the oil, salt, remaining ¾ cup warm water, and remaining 2½ cups flour mixture. Knead for 5-7 minutes, adding additional flour to keep dough from sticking to the sides of the bowl. Cover and let rise for 1 hour.
Punch down dough and cut into 8 pieces. Form each piece into a ball. Flatten 1 ball, then roll out into a 6½- to 7-inch round on floured surface with a floured rolling pin. Transfer round to 1 of 2 baking sheets lightly sprinkled with cornmeal. Make 7 more rounds in same manner, arranging them on baking sheets. Loosely cover pitas with 2 clean kitchen towels (not terry cloth) and let stand at room temperature 30 minutes.
Set oven rack in lower third of oven and remove other racks. Preheat oven to 500°F.
Transfer 4 pitas, 1 at a time, directly onto oven rack. Bake until just puffed and pale golden, about 2 minutes. Turn over with tongs and bake 1 minute more. Cool pitas on a cooling rack 2 minutes, then stack and wrap loosely in a kitchen towel to keep pitas warm. Bake remaining 4 pitas in same manner. Serve warm.