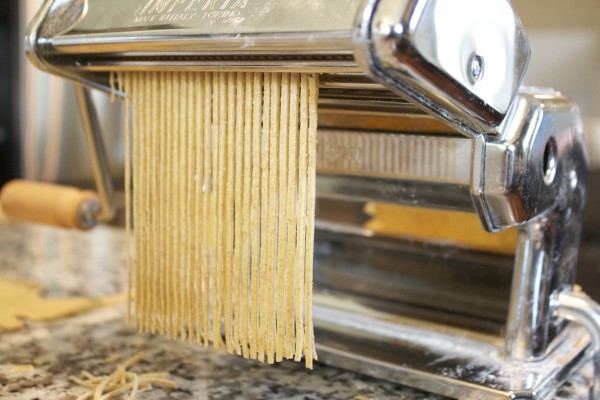 I'm a huge fan of homemade pasta, but I honestly don't end up making it very often. It really is pretty simple but it takes some extra time which can be a rare commodity around here. It's nice that it ends up making for a special occasion though because it always makes such a difference in every dish. No dried pasta can ever match the great flavor and texture of homemade. It's silky smooth but keeps a great bite and the flavor is always outstanding.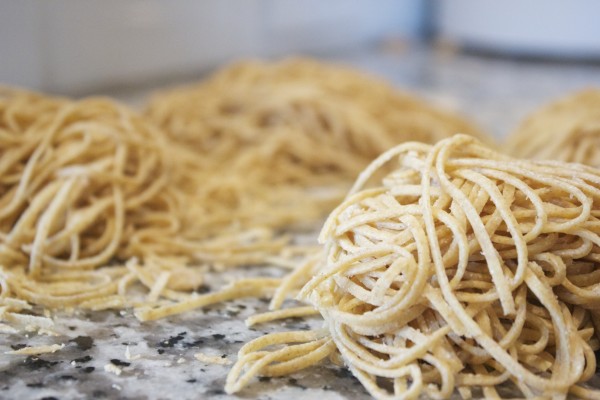 I've also never experimented with using whole wheat because I've always detested the whole wheat paste we've tried from the store. Sometimes trying to be healthy is just not worth it. BUT, I finally tried making homemade pasta using whole wheat and it was excellent. Even the kids loved it and probably couldn't even tell the difference.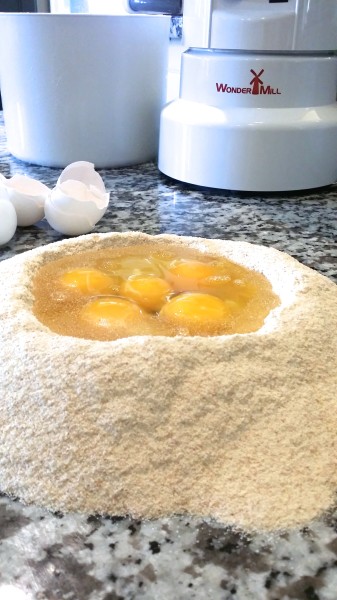 I used my WonderMill and ground the whole wheat on the pastry setting to get a nice fine grind. In my recipe I used about half whole wheat and half semolina but I think I'll experiment with more wheat in the future to see how it changes the flavor and texture.
Feel free to cut the pasta in any shape you like, but I loved the thin spaghetti with the sage and brown butter sauce for a perfect weeknight meal. Enjoy!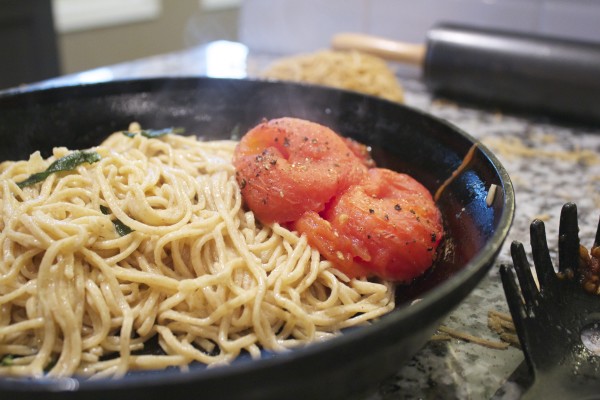 Whole Wheat Pasta with Brown Butter Sage Sauce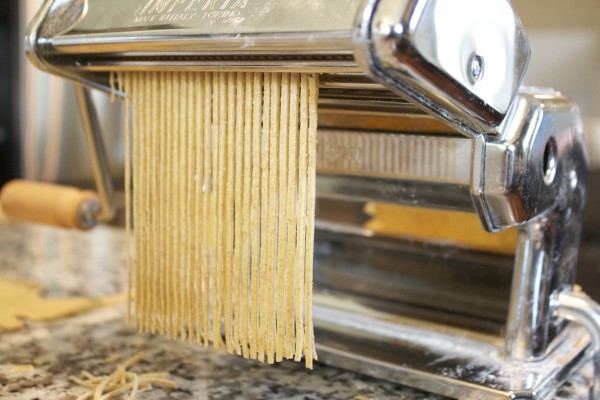 Homemade Whole Wheat Pasta with a simple brown butter and sage sauce
Ingredients
Pasta:
2 cups whole wheat flour
1½ cups semolina flour
1 teaspoon salt
5 large eggs
2 tablespoons Olive Oil
Brown Butter Sage Sauce:
4 tablespoons butter
8 small sage leaves
3 tablespoons fresh lemon juice
Instructions
Pasta:
Combine flours and salt in a small bowl and then dump into a mound on a clean counter top. Create a well in the center of the mound and add the eggs and olive oil. With a fork, start to gently whisk the eggs and then start pulling in more of the flour from the edges, eventually combining all the ingredients into a stiff dough.
Knead the dough for approximately 8-10 minutes until it becomes satiny and smooth.
Divide the dough into 4 pieces, wrap in plastic wrap and let rest for at least 30 minutes.
Using Pasta Roller, roll out to desired thickness and then use your desired noodle setting to cut into noodles.
Cook fresh pasta in salted boiling water for 4-6 minutes.
Brown Butter Sage Sauce:
Melt butter in sauce pan over medium heat. Continue cooking until butter begins to brown. Remove from heat and add the sage and lemon juice. Add pasta and toss to coat.