It all started when I saw that amazing looking lemon tart on Google+. The minute I saw it, my tummy wanted it!
But, when I clicked the link for the recipe I realized that this wasn't something I wished to feed my family. 🙁  The recipe called for refined flour and sugar. Lots and lots of refined sugar.  So I started looking for a better recipe.
I never did find the perfect recipe.  I guess anything with lemon in it isn't considered healthy because it needs a great deal of sugar…  So I started reading recipes and learning what a lemon tart needs to turn out right.
Turns out, a lemon tart isn't all that hard to make. But wouldn't a lemon bar be even easier and go farther? So in the end I begain with a few different recipes and created my own whole wheat lemon bars!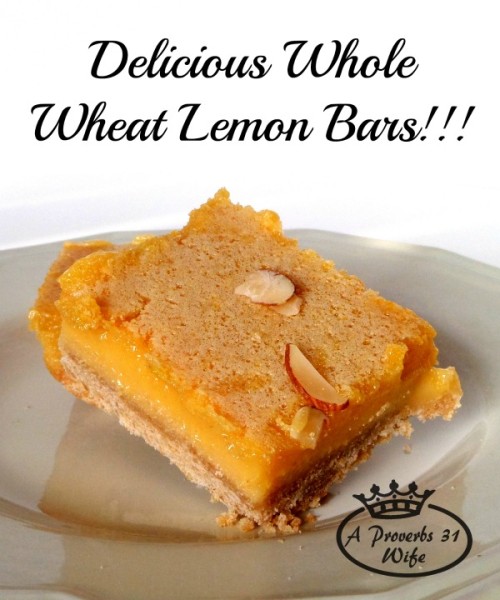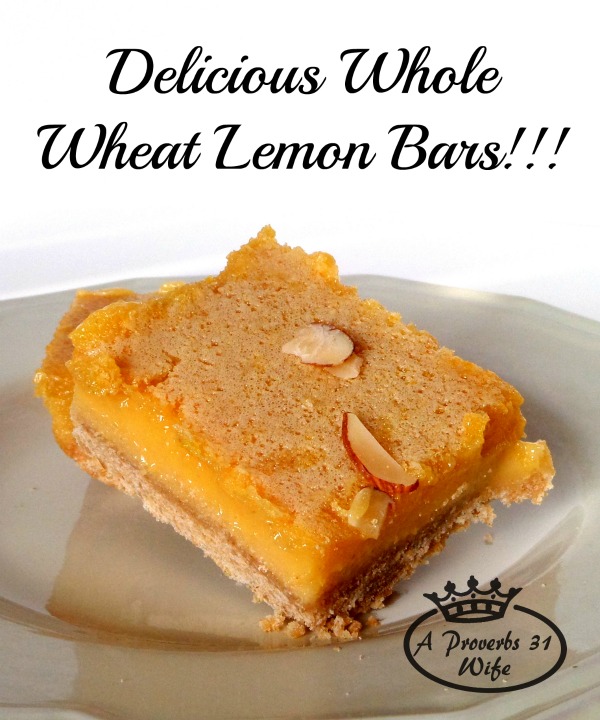 Basically you make a shortbread crust for the bottom and bake it.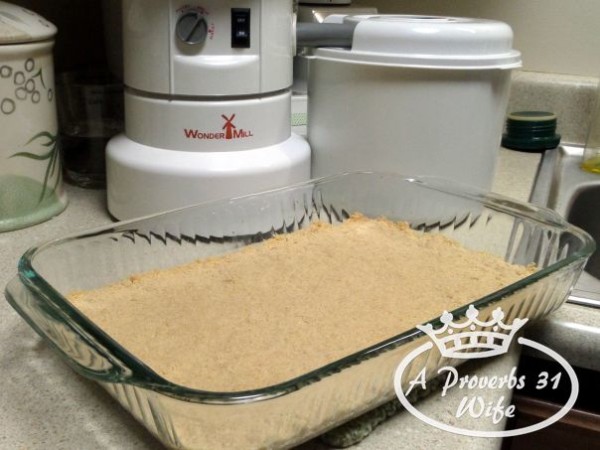 Then you make a delicious filling for on top, and you bake it again! Pretty easy overall; I think I spend more time juicing and zesting the lemons than I do on anything else!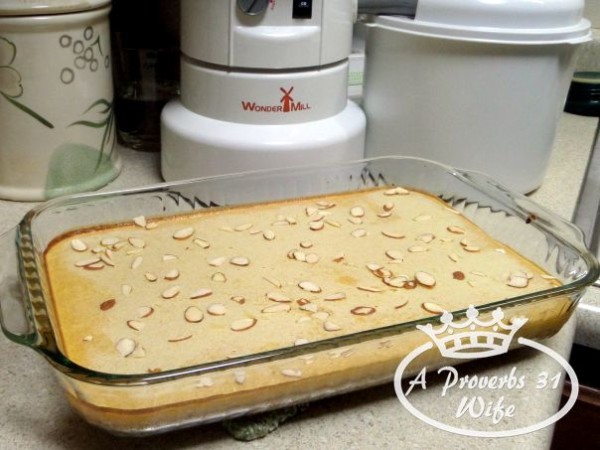 Whole Wheat Lemon Bars!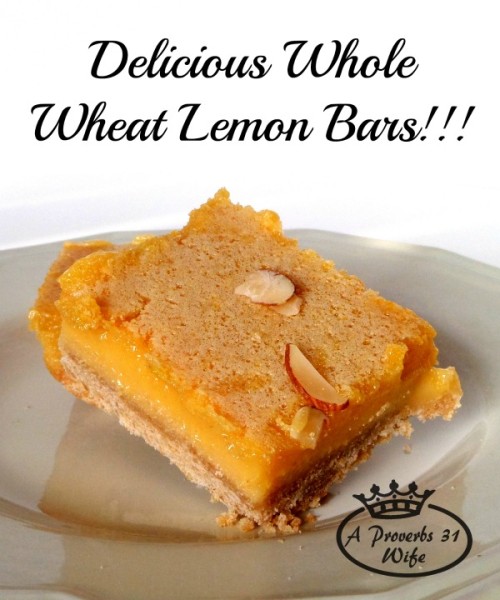 These deliciously healthy, whole wheat lemon bars will have you and your family coming back for more! Just enough sugar to make it yummy, while the tartness of lemon still comes through.
Ingredients
Shortbread crust:
1 cup very soft butter
⅓ cup raw cane sugar
1 teaspoon almond extract
½ teaspoon vanilla extract
⅛ teaspoon salt
2⅓ cup whole wheat flour
Lemon Filling:
2 cups raw cane sugar
6 large eggs
2 tablespoons lemon zest
1 cup fresh squeezed lemon juice
1 cup whole wheat flour
slivered almonds (optional)
Instructions
Mix the shortbread first.
Start by mixing the first 5 ingredients until smooth.
Stir in the flour to make a smooth and slightly creamy dough.
Press into bottom of a 9x13 pan and chill for 30 minutes.
After chilling, bake shortbread at 350 for 20 minutes.
While shortbread is baking, mix up the lemon filling.
Whip sugar, eggs, zest, and juice together until frothy.
Set your mixer on medium and slowly shake the flour into the mix. Continue beating until all flour is mixed in, and the mixture is smooth.
Once the shortbread is baked, pour the lemon filling on top and put back into the oven for an additional 25 minutes.
Sprinkle with almonds if you desire.