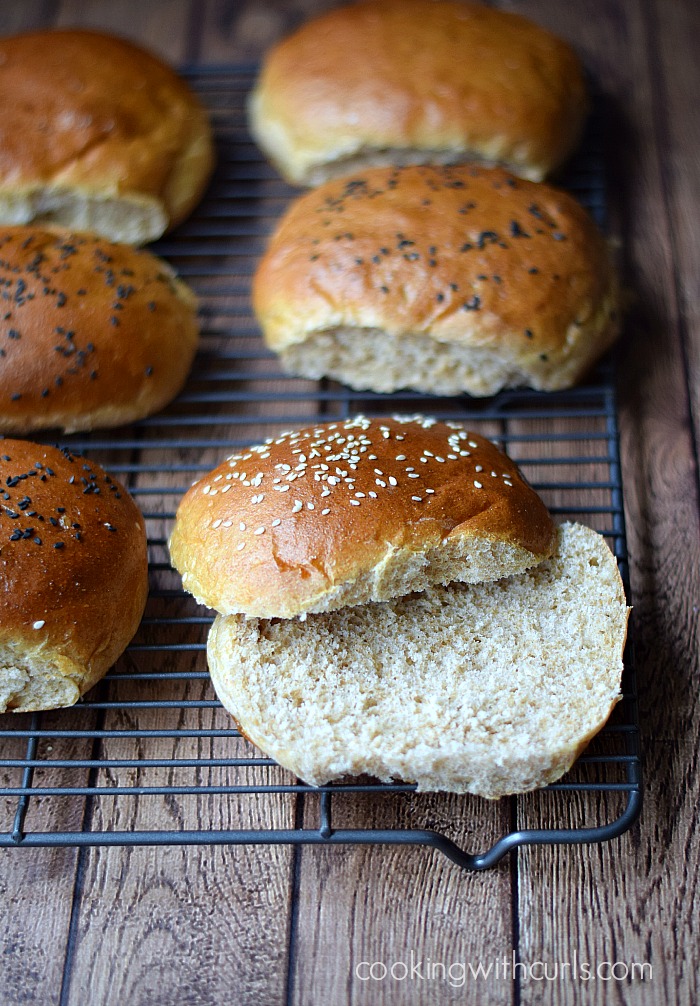 My New Year's Resolution for 2014 is to eat healthier.  To eliminate the white, nutrient devoid flours from my diet, and make a conscience effort to consume more whole grains.  The obvious place for me to start is with hamburger buns.  If you have ever been to my blog, you will already know that I have a slight obsession with burgers!
I have already switched to grass-fed beef, and uncured/sulfite free bacon, but I didn't want to give up my soft, fluffy burger buns.  Well guess what, I didn't have to.  As you can see, these Whole Wheat Hamburger Buns are still soft, fluffy, and amazingly delicious!!  I was originally going to make them with all wheat flour and vital wheat gluten, but I did not have any.  So…I used some bread flour to ensure that there would be enough gluten to achieve the nice, fluffy buns that I was after.
It could not have been any easier to create my whole wheat flour.  The Wonder Mill did all of the work for me.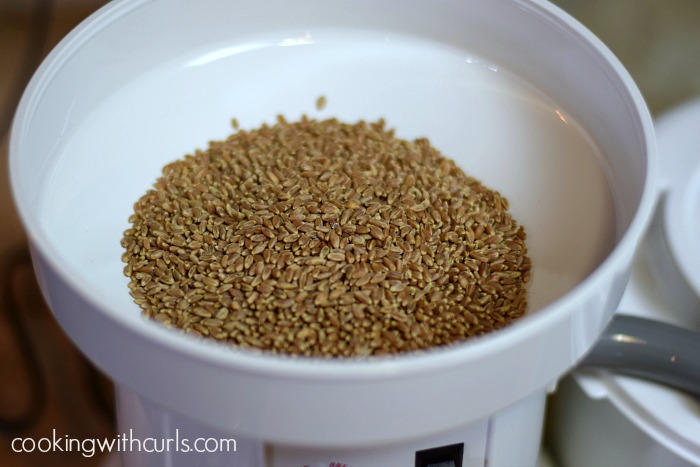 From wheat berries to flour in no time.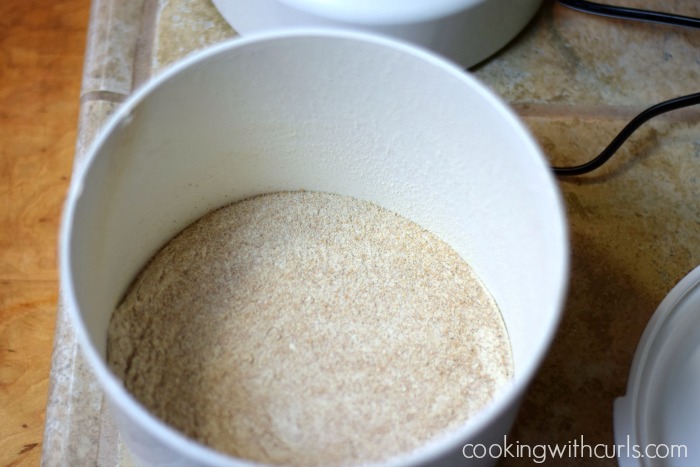 I also have a confession to make, I use the dough cycle on my trusty bread machine to make all of my yeast dough.  Don't worry, this dough also works beautifully in a stand mixer with a dough hook. 😉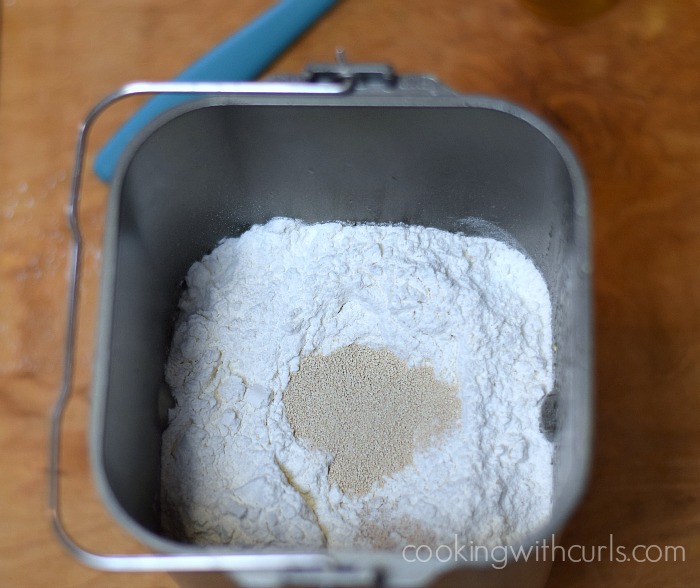 When the dough is ready, I just have to divide into 8 equal pieces and shape into lightly flattened balls.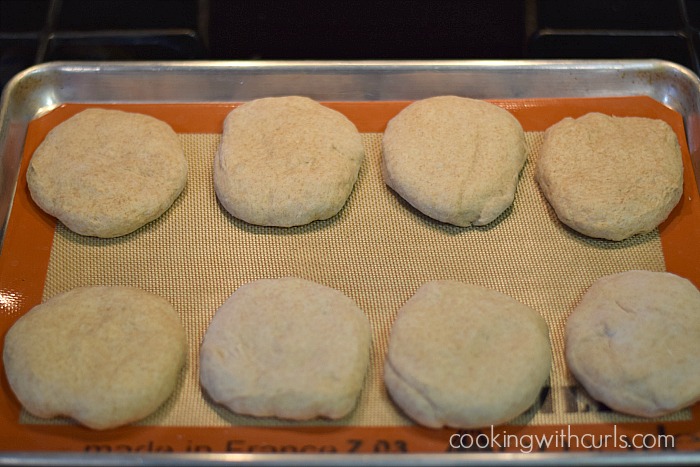 Then just cover and allow it to rise one more time before baking.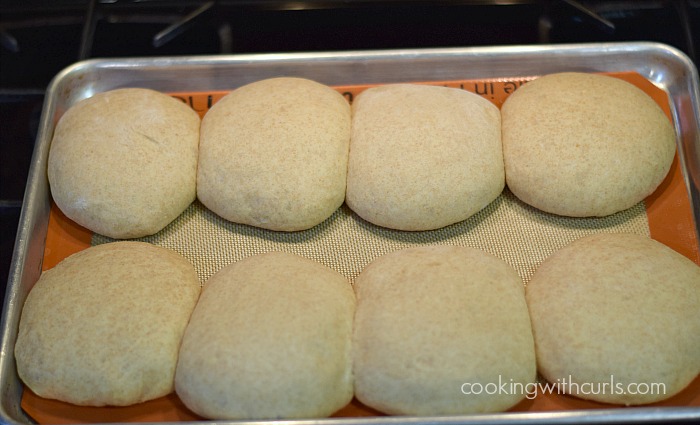 You can leave them plain or top them with sesame seeds, poppy seeds, or dried onions.
Healthy – check
Light and fluffy – check
Delicious – absolutely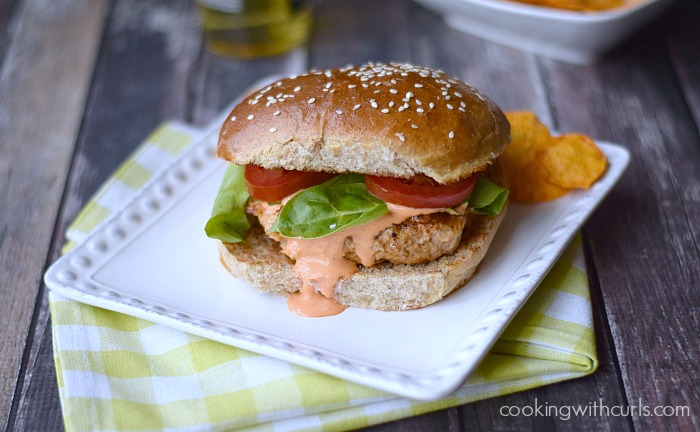 Enjoy!

Whole Wheat Hamburger Buns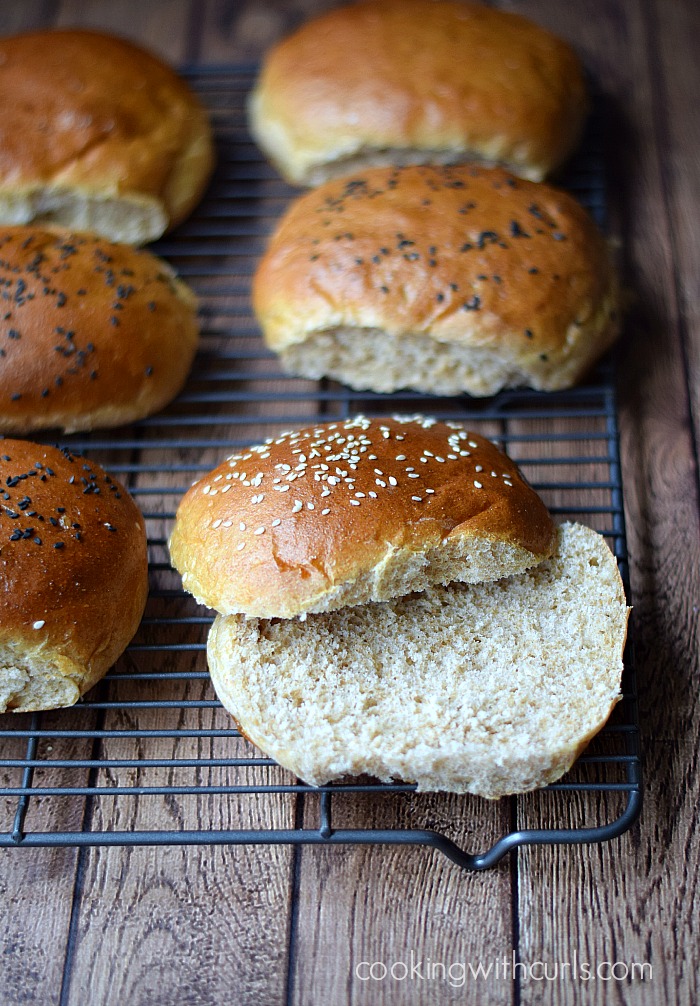 Author:
Lisa @ cookingwithcurls
These whole wheat hamburger buns are soft and fluffy, and perfect for your next barbecue.
Ingredients
1 cup warm coconut milk (110 - 115 degrees)
1 egg, lightly beaten
2 Tablespoons unsalted butter, softened
2½ Tablespoons raw sugar
1½ teaspoons sea salt
2 cups whole wheat flour
1⅓ cup bread flour
1 tablespoon active-dry yeast
Egg Wash:
1 large egg mixed with 1 Tablespoon of water
sesame seeds, poppy seeds, dried onions
Instructions
If using a bread machine:
Add the ingredients according to the manufacture's instructions. Mine is liquids first, then dry ingredients.
Set machine to the DOUGH cycle and press start.
When it beeps, check to see that the dough has doubled. If not, leave the lid closed and allow to sit for an additional 30 minutes.
Divide dough into 8 equal pieces and roll into lightly flattened balls.
Place dough balls on a silpat or parchment lined baking sheet. Cover and allow to rise until doubled, about 1½ hours.
Brush with egg wash and sprinkle with toppings if desired.
Bake in a preheated 400 degree oven for 15 minutes, or until golden brown.
Remove from oven and place on a wire rack. Allow to cool completely.
If using a stand mixer:
Add the yeast to the warm milk and allow to sit for five to ten minutes until bubbly.
Add mixture to the bowl of a stand mixer, and add remaining ingredients.
Beat until thoroughly combined, about four minutes.
Place in a greased bowl and cover. Set aside in a warm, draft free location to rise for 1½ hours.
Notes
Substitute milk of your choice for the coconut milk if desired.