In the Miller Household we, we have a holiday, birthday and special occasion tradition of making our version of Egg-McMuffins (now called Egg-McMillers).  They are, if I may say far better than the fast food ones.  But for years, I was timid of making the English Muffin myself.  I was just sure I couldn't compete with the store bought English Muffins.
Well,  budget often dictates my enthusiasm to give things a try.  I calculated the cost and nutritional benefit of making English Muffins at home and was overwhelmed with motivation to tackle them.  I was very  pleasantly surprised at how easy they are to make!  I hope you enJOY this recipe and try them yourself.  I'd love to hear how your adventure goes too!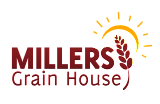 Whole English Muffins
Makes about 12
Ingredients:
1 Cup warm (100-110 degree) water
½ C Milk
2 tsp Organic Sugar
4 C Freshly Milled Hard White Wheat
2 tsp Instant Yeast
3 TBS Softened Butter
2 tsp salt
1 Cup Freshly Milled Corn Meal (not 'ingredient' but dusting)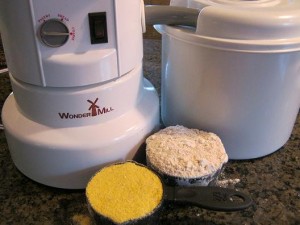 First and foremost of course – mill your two grains in the Wondermill or Wondermill Jr. Deluxe (o:
Then move on to the directions below:
Directions: Combine water, milk & sugar and salt.  Combine yeast with 2 cups of flour and then mix into the liquid.   This will be a very loose batter.  Let 'sponge' (rise) in a warm place (80-90 degrees is ideal) for 1 hour.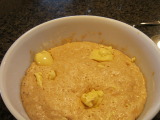 When risen, beat in the softened butter with a spoon and knead in remaining flour to form a smooth, soft dough (only kneading approx. 5 minutes).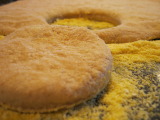 Turn the soft light dough out on a surface powdered with cornmeal.
Press dough to approx. ½ inch thick and cut into 3-4 inch rounds.
Place on a cookie sheet and let rise in a warm place until doubled.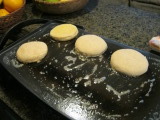 With a thin pancake turner, lift the muffins carefully to a greased griddle heated to about 350.
(*optional) Cover each with a wide-mouth canning jar ring and place a cookie sheet over the top.
Cook for about 5-8 minutes.  Flip and cook 5-8 more minutes.  Remove to a wire rack and once cooled pierce with a fork.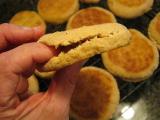 Store in an airtight bag on the shelf for 4 days if storing longer keep in the refrigerator.
These also freeze well after completely cooled and fork pierced. ENJOY!
Donna and her husband own and operate Millers Grain House and are delighted to be associated with and recommend (and USE) the Wondermill & Wondermill Jr. Deluxe.