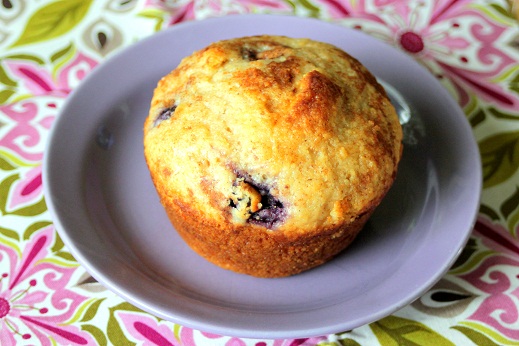 I just love baking with whole wheat, so before I get to trying out grinding some other grains in the WonderMill I wanted to test out whole wheat flour on these blueberry muffins.
My kids LOVE blueberry muffins and they're healthy-ish I guess…but using home ground whole wheat flour is obviously a much healthier option.
Here's the recipe I used blueberry muffins, substituting whole wheat flour for the enriched white flour.
recipe from McCormick.com
Makes 12 (1 muffin) servings.
Prep Time: 15 minutes
Cook Time: 25 minutes
2 cups flour
2/3 cup plus 2 tablespoons sugar, divided
1 1/2 teaspoons baking powder
1/2 teaspoon baking soda
1/4 teaspoon salt
1 cup sour cream
1/4 cup milk
1/4 cup vegetable oil
1 egg, lightly beaten
1 teaspoon grated orange peel
1 teaspoon McCormick® Pure Vanilla Extract
1 cup blueberries
1/2 teaspoon McCormick® Cinnamon, Ground
1. Preheat oven to 400°F. Lightly grease 12 muffin cups or line with paper baking cups. Set aside.
2. Mix flour, 2/3 cup sugar, baking powder, baking soda and salt in large bowl. Mix sour cream, milk, oil, egg, orange peel and vanilla in medium bowl. Add to flour mixture; stir just until dry ingredients are moistened. (Batter will be thick and slightly lumpy.) Gently stir in blueberries.
3. Spoon batter into prepared muffin cups, filling each cup 2/3 full. Mix 2 tablespoons sugar and cinnamon. Sprinkle over muffins.
4. Bake 20 to 25 minutes or until toothpick inserted in center of muffins comes out clean. Serve warm with Honey Butter, if desired.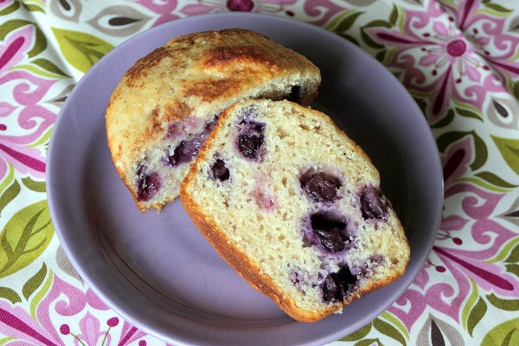 The result was delicious – it tasted more hearty and healthy, but was still sweet and delicious. I will never make blueberry muffins with anything but home ground whole wheat flour again!