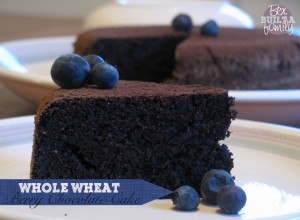 That's quite a title, and this is quite a cake! It's easy, and uses simple ingredients, and it cooks up fast making use of the pressure cooker. When combined with flour milled straight from the Wonder Mill grain mill, you can max out the healthful benefits of fast cooking desserts.
I used dark chocolate powder in this recipe, but you can use regular unsweetened cocoa powder if you prefer. You can also make this a vegan recipe by omitting the egg and using your favorite egg replacer instead.
Experiment with your favorite berry flavors. Blueberries happen to be my favorite, but you can try black berries, raspberries or evens strawberries.
In order to remove your casserole dish from the pressure cooker, you will need to make foil "handles". It's easy to do this. Tear a long sheet of foil off. I use my stove top as a guide.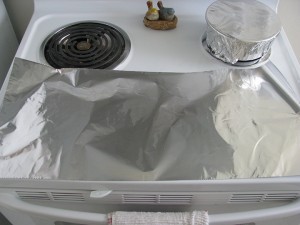 Fold the foil sheet in half length wise, and then in half lengthwise again.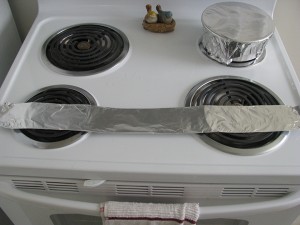 Place these handles underneath your casserole, and bring them up around. There's your handles!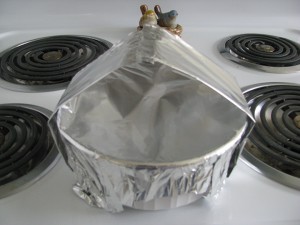 Fold your handles down so you can easily grab them when you're ready to pull the hot dish out.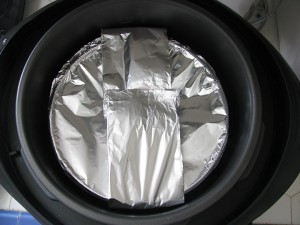 When you place your casserole in the pressure cooker, make sure it doesn't sit higher than the "max fill" line. It's a good idea to check that before hand. Mine just made it!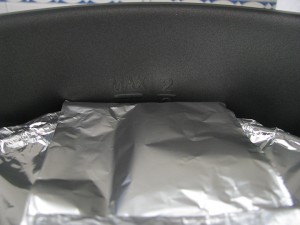 While I chose to make use of my pressure cooker, you can cook this in the oven if you don't have one. Just preheat your oven to 350˚ before mixing ingredients, pour the batter in a greased and floured 9″ cake pan, and bake for 30 minutes. As you can see, this simple recipe has tons of possibilities. It's a good one to keep on hand.

Ingredients
1¼ cups whole wheat flour plus additional for flouring pan
6 Tablespoons dark unsweetened cocoa powder plus additional for dusting
1 teaspoon baking powder
½ teaspoon baking soda
¼ teaspoon salt
¾ cup water
½ cup pureed blueberries (or blueberry preserves)
1 egg
½ cup simple syrup, or honey (to make simple syrup, heat ½ sugar and ½ cup water in a sauce pan and stir until sugar dissolves completely. Do not boil)
Butter or oil for greasing the dish
Additional berries for serving
Instructions
In a large mixing bowl, combine dry ingredients. You can sift them together if desired, but I usually don't.
In a smaller bowl, whisk wet ingredients until thoroughly combined
Add wet ingredients to dry ingredients, and stir until smooth
Grease a casserole dish that fits in your pressure cooker with butter, and coat with flour
Pour batter into casserole dish
Cover dish tightly with foil
Make foil handles to help you remove the casserole dish after cooking (see above!)
Place a trivet or foil coil in the bottom of the pressure cooker (to prevent the casserole from touching the bottom)
Pour 2 cups of water plus 1 tablespoon of vinegar in the bottom of the cooker (the vinegar prevents the white milky coating from happening in the cooker, your food will not taste like vinegar)
Place casserole in pressure cooker, and close and lock lid
Set the pressure cooker on high pressure (or use the rice/vegetable setting) and set the timer for 14 minutes. Start the cooker.
After the cooker is done, allow the pressure to release naturally (don't do anything, just let it sit until you can open the lid)
Use the foil handles you created to remove the casserole dish and remove the foil covering.
Once cool enough to handle, loosen the cake with a knife and turn onto a rack to cool
Dust with cocoa powder to serve
To get the flat top, I simply held my knife level and cut the "bump" off the top of the cake, then placed it upside down on the cake platter.