Whole Wheat Banana Chocolate Chip Muffins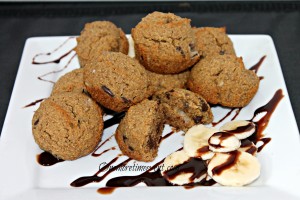 Author:
One More Time Events
Ingredients
½ cup butter or margarine
½ cup sugar
½ cup brown sugar
1 tsp baking soda
1 egg
¼ tsp vanilla
1 cup milk
2 cups whole wheat flour
1 cup Chocolate Chips
1 banana (smashed with fork)
Instructions
Pre-heat oven to 400 degrees. Line the muffin tin using paper baking cups or use cooking spray to coat the bottom of the muffin tin.
In mixer, cream together the margarine, granulated sugar, brown sugar and baking soda, scraping bowl with spatula.
In a separate small bowl, using a fork, beat together the egg and vanilla; add to creamed mixture. Beat until light and fluffy.
Add the milk and then gradually add the whole wheat flour and lightly stir the ingredients together just until combined. Don't over mix your muffin batter!
Stir in chocolate chips and banana
Fill muffin tins ⅔ full and bake 15 to 17 minutes or until browned and done.