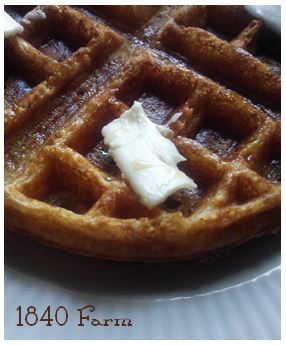 We started using our WonderMill at 1840 Farm several months ago.  Since then, I have been incorporating our freshly milled flours and meals into our favorite recipes.  I have been amazed at the flavor that even a small amount of freshly ground flour adds to each recipe.
This recipe is no different.  These waffles have been our favorite for several years.  When I announce that they are on the menu, I am guaranteed to see smiles on my family's faces.  It's no wonder that I serve them regularly for breakfast and dinner.
I first found this recipe for "Waffles of Insane Greatness" on Food52 in their genius recipes section.  The recipe hails from Aretha Frenkenstein's Restaurant in Chattanooga, Tennessee.  In a truly genius moment, they utilize cornstarch in the batter to stifle the gluten formation and produce a waffle that has a crisp, delicate crust with a fluffy, moist interior.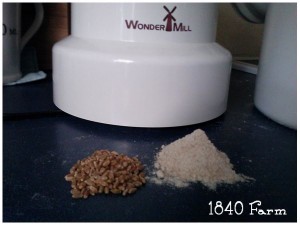 I had made a few changes to the original recipe long before we started milling our own flours and meals.  When I made the first batch of whole grain flour using our WonderMill, I knew that this would be the first recipe that I would be testing.  With the first bite, my whole family was sold on milling our own flour.  The flavor was so fantastic that it made believers out of all of us.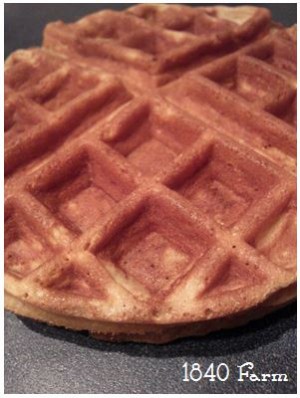 I like to use both our freshly ground whole wheat flour and cornmeal in this recipe.  I use a hard red winter wheat when grinding the whole wheat flour for this recipe and organic popcorn for the cornmeal.  The whole wheat flour adds a delicious, earthy flavor to the batter while the cornmeal delivers a crispy exterior that remains crisp even when topped with butter and real maple syrup.
The result is a waffle that lives up to the original recipe's promise of greatness.  I hope that your family will enjoy these waffles as much as mine does.  If I ever find myself in Chattanooga, you can bet that I'll be stopping in at Aretha's to have a taste of the original!
Whole Grain Waffles
adapted from
Aretha Frankenstein's Waffles of Insane Greatness
Makes 6 large Belgian waffles
Our version of the original recipe has evolved quite a bit since that infamous first bite. I substitute our freshly milled wholegrain flour for much of the All-purpose flour called for in the original recipe. Adding a bit of our freshly ground cornmeal helps to create a waffle with fantastic texture.
I also like to use both butter and vegetable oil in the batter. I find that the butter delivers a crispier crust while the oil keeps the interior of the waffle moist. Instead of using sugar to sweeten the batter, I like to substitute real maple syrup. When combined with our home brewed vanilla extract, it lends a sweet, earthy flavor to the batter.
Ingredients
¾ cup (90 grams) freshly milled whole wheat flour
½ cup (60 grams) freshly ground cornmeal
¼ cup (30 grams) All-purpose flour
½ cup cornstarch
1 teaspoon baking powder
½ teaspoon baking soda
½ teaspoon salt
6 Tablespoons butter
1 ¾ cup (14 ounces) milk
1 Tablespoon apple cider vinegar
¼ cup vegetable oil
2 large eggs
2 Tablespoons pure maple syrup
1 Tablespoon vanilla extract
Instructions
In a large bowl, combine the flours, cornmeal, cornstarch, baking powder, baking soda, and salt. Gently whisk to combine.
In a microwave safe bowl or measuring cup, melt the butter by microwaving in 20 second intervals. Add milk, apple cider vinegar, and oil to the butter and whisk to combine. Add the eggs, maple syrup, and vanilla to this mixture and whisk until smooth.
Add the liquid ingredients to the dry and whisk until completely smooth. Allow the batter to rest at room temperature for 30 minutes.
Near the end of the half hour, preheat your waffle maker. Preheat the oven to 200 degrees Fahrenheit. Once they come to temperature, oil the plates of the waffle iron using oil or pan spray. Follow the guidelines for your waffle maker to fill and cook the waffles.
Keep the cooked waffles warm by placing them on a wire rack in the preheated oven. Continue preparing the waffles until you have used all of the batter. Serve hot with butter and pure maple syrup.
Leftover waffles can be frozen for later use. Allow the waffles to cool to room temperature before freezing. Frozen waffles can be reheated in a toaster, toaster oven, or waffle maker.