I've been grinding most of the flour I use for bread making and pastries for the past few years using the WonderMill Electric Grain Mill. I really enjoy milling my own flour because it's so easy!  And, it's fun to watch the grains transform from crunchy berries into soft and fluffy flour. I didn't want to keep all of the fun to myself, so I decided to jump on the grain wagon and share some of my experiences with you.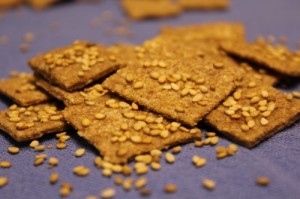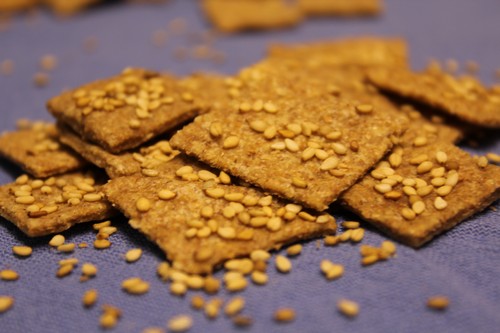 For some reason, I've been on a cracker-baking binge lately. I went out of the country for a couple of weeks and while I was in the UK, I enjoyed biscuits, scones, shortbread, Irish Soda Bread and cream crackers. However, once I got back to the U.S., all I wanted to do was bake crackers – any kind of crackers.
For this challenge, I decided to bake some whole wheat crackers using freshly-milled flour. My inspiration for these crackers came from The Cracker Book by Lee E. Cart. After trying several different types of crackers from several different sources, I finally settled on a healthy version made with whole wheat pastry flour and olive oil.  I added cardamom to bump up the flavor and provide some peppery undertones. Then, to give the crackers a nutty flavor and added texture, I sprinkled the tops of crackers with sesame seeds.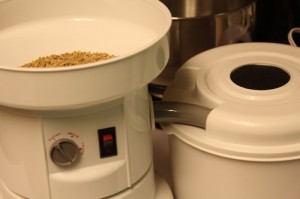 I used hard red spring wheat berries for this recipe, but you can use white winter wheat berries if you like a milder wheat flavor. I milled my wheat berries on the pastry flour setting of the WonderMill Grain Mill, but you can use bread flour if you prefer.
Whole Grain Crackers with Cardamom & Sesame Seeds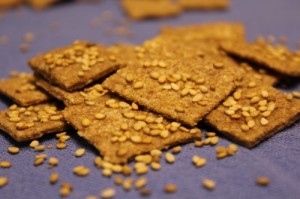 This is a versatile recipe. If you're not fond of cardamom, just substitute your favorite herb or some sugar instead of the cardamom. Or, sprinkle kosher salt on the tops of the crackers instead of using sesame seeds. If you prefer a lighter cracker, add a little bit of all-purpose flour instead of using all whole-wheat. This recipe makes a couple dozen crackers depending on how big you cut them and what type of shape you use.
Ingredients
1 ¼ cups whole wheat pastry flour (or regular whole wheat flour)
½ teaspoon salt
1 ¼ teaspoon Cardamom
2 tablespoons + 1 teaspoon Olive Oil
6 -10 tablespoons water*
Extra Olive oil or flour for rolling out the dough
* Freshly milled whole wheat flour absorbs more water. You might need less water if you are using commercial whole wheat flour.
Instructions
Preheat the oven to 350 degrees F.


Stir together the whole wheat pastry flour, salt and cardamom. Add the olive oil and water and blend the wet ingredients into the dry ingredients until you have a soft pliable dough.




Spray the rolling pin with olive oil and spray or spread olive oil on a sheet of parchment paper. Roll the dough out to a ⅛-inch rectangle. Be sure to roll the dough thin or you'll get chewy instead of crispy crackers.




Brush olive oil over the dough and sprinkle with sesame seeds. Cut the dough into squares, triangles, circles or any shape you prefer. I used a pizza wheel to cut the dough into squares. It makes things really easy.




Prick each square (or whatever shape you use) two or three times with the tines of a fork.


Gently slide the parchment paper onto a baking sheet. I used 2 sheets of parchment paper and 2 baking sheets for this recipe.


Place the baking sheets on the middle and bottom rack of the oven. Bake about 15-18 minutes, or until the bottoms are golden brown. Rotate the pans halfway through the baking cycle to ensure even baking. You may need to remove the outer layer of crackers and continue baking the remaining crackers until they are done.



These Whole Wheat Crackers taste good plain, but they also make a delicious accompaniment to fruit and cheese.  Enjoy!
Happy Baking!
Cathy