I love homemade bread in almost any form. It's one of those foods that is absolute heaven when slathered in real butter. The aroma of fresh baking bread emanating from a warm oven—especially in fall or winter—has the ability to work magical peace into the heart of all who experience it, as well as eager anticipation for what is soon to come. This recipe is no exception, and because it is simple to grab and go, it makes having fresh homemade bread at an time almost effortless.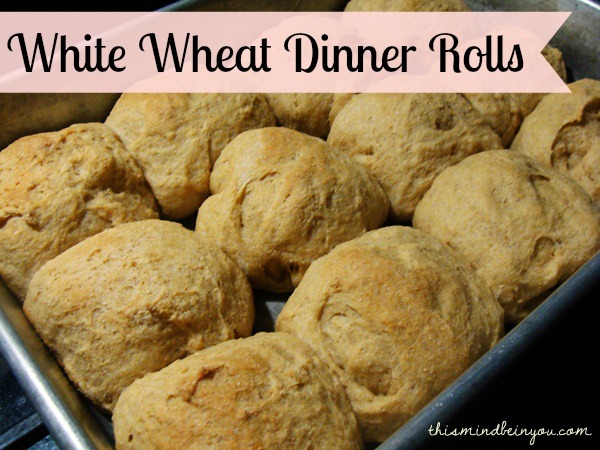 In our home, we have one basic  dough recipe that we use for a few different breads.  This recipe uses my Delicious Half and Half Loaf Bread recipe that I shared here last week, which was adapted from a recipe known as EZ White Bread, from a website called Every Day Food Storage. I tweaked it just enough that using the same bread dough yields a different, mouthwatering and inviting product.
This time around I filled the hopper with hard white wheat, with the plan to use only freshly milled grain in the recipe. This was the first time I had ever used 100% milled grain in this recipe (last time I used half milled grain and half store-bought all purpose flour).  The WonderMill was, of course, very quick to mill the five pounds that I would be needing for my recipes and my pantry shelf.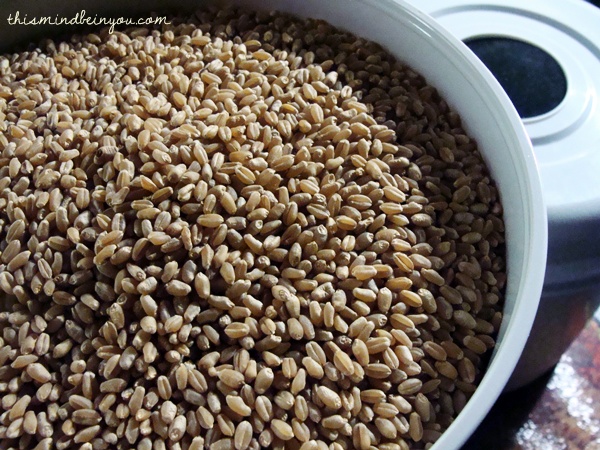 The grain that I was using this day came in a cute little burlap sack, which I'm thinking of turning into a purse! How very enthusiastic of me, don't you think? WonderMill has definitely convinced me that milling whole grain for all of my flour needs is the way to go, so I see plenty of burlap in my future!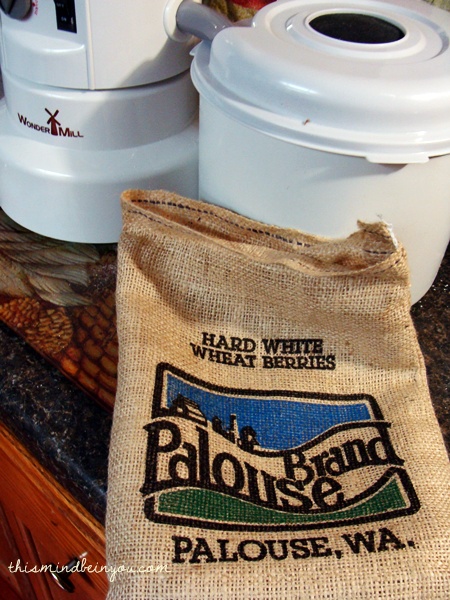 These rolls are simple to make and delicious as part of any breakfast, lunch, or dinner. My favorite ways to use them are for biscuits and gravy, for mini sandwiches, or as a side at dinner.
Enjoy!
White Wheat Dinner Rolls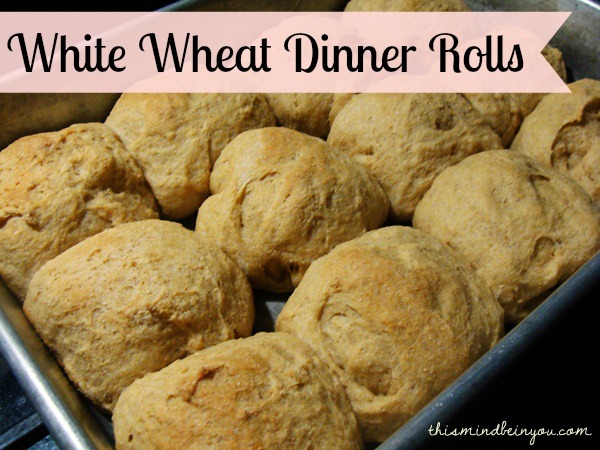 This is our go-to sough recipe for making dinner rolls!
Ingredients
1-1/4 cup warm water
1 Tbsp. active dry yeast
⅓ cup sugar
2-3/4 cup freshly milled hard white wheat flour
¼ cup vital wheat gluten
1 tsp. salt
2 Tbsp. nonfat instant dry milk
1 Tbsp. melted butter
1 Tbsp. vinegar
1 Tbsp. potato flakes (not pearls)
Instructions
In your mixing bowl, whisk together warm water, yeast, and sugar. Set mixture aside to stand for 5 minutes, allowing the yeast to proof. After 5 minutes, add the remainder of your ingredients and mix on low speed for 5-7 minutes until the dough has cleaned the sides of the mixing bowl. If your dough is too wet, mix in small amounts of flour until it is no longer sticky. If your dough is too dry, mix in small amounts of water until it is no longer dry. Once the dough is thoroughly mixed, remove the bowl from the mixer, over with a clean kitchen towel, and set in a warm location to rise for 1-1/2 hours.
After 1-1/2 hours, punch down your dough and knead for 2-3 minutes. Divide the ball of dough into twelve equal parts and roll each one into a ball. Place each ball into a 13x9x2 baking pan, evenly spacing them in the pan. Allow to rise for 30 minutes, or until the balls of dough are nice round mounds, and fill up the pan.
Bake at 375 degrees for 25 minutes. Makes 12 rolls.