Pizza has always been a favorite weekend food in our house.  I am sure it is in many households!
For years, I have had a recipe that I have sworn on.  It makes enough dough for 2 pizzas and that is just right for my family.
Since we are eating more healthy this year, I thought I would subsitute some of the white flour with wheat flour that I had ground using my Wonder Mill!
I think I have found a new favorite!  I know the crust was more healthy for all of us, and it still had a light taste to it.
We sauted a few veggies that were in the refrigerator, added some cheese and ended up with a perfect pizza!
Vegetarian Pizza and a Light Wheat Pizza Crust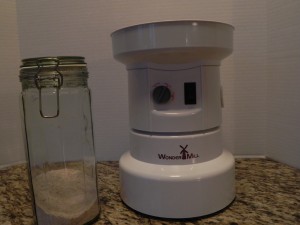 Author:
Cynthia L. at http://FeedingBig.com
Vegetarian Pizza with a light wheat crust
Ingredients
1 cup whole wheat flour
2 cups white flour
1 Tablespoon yeast
½ tsp salt
1 cup warm water
2 Tablespoonos oil
Instructions
Mix yeast and water in a small bowl.
Let it sit for about 5 minutes, until it begins to bubble
Add flours, salt and oil in a large bowl.
Add yeast mixture.
Mix well.
Place mixture on well floured surface and knead for about 5 minutes.
Place dough in a well oiled bowl and cover. Let it sit for about an hour or until doubled.
Split dough in half and roll out to the size and thickness you want.
Let the dough sit for about 30 minutes.
Top with ingreadients of choice.
Bake in a 400 degree oven for about 20 to 30 minutes. Cook time will vary depending on amount of ingredients.