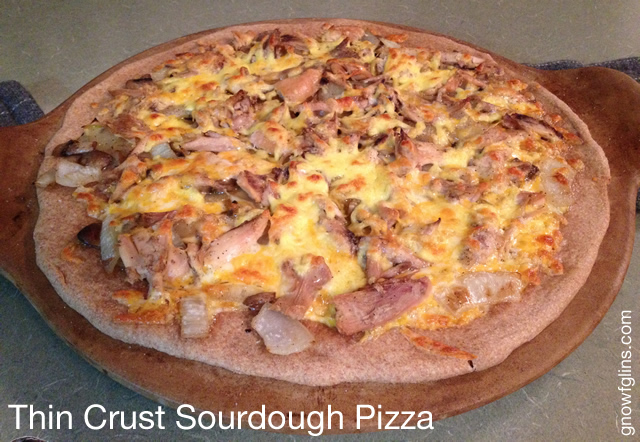 Mmmmm…. homemade pizza. We like our pizzas thin and crisp, but if you prefer a thick crust, just double the dough recipe. This is sourdough — I love sourdough! — and not only do you get a pleasant tang but the souring process helps make the whole grain flour more nutritious and digestible. (More info about that here.) You can top your pizza however you'd like. Below you'll see one of our favorite pizza recipes: topped with pastured chicken, mushrooms, onions, garlic, and cheese. Enjoy!
Sourdough Pizza Crust
1 cup sourdough starter
1/2 cup water
1 teaspoon sea salt
1 tablespoon olive oil
1-1/2 cups fresh-ground whole wheat or spelt flour (plus additional)
Makes 2 thin pizza crusts. (Double if you prefer thick crusts.)
In a medium size bowl, stir together sourdough starter and water. Add sea salt and olive oil. Mix well. Add 1-1/2 cups of flour to the mixture. Stir to incorporate. Continue adding flour slowly until you have an easy to knead consistency and the dough cleans the side of the bowl. Turn dough onto a clean counter and knead for a couple of minutes. You are looking for a soft and not sticky dough. Roll dough ball in a bowl lightly coated with olive oil. Cover and allow to sour for at 5 to 8 hours.
Preheat oven to 450 degrees Fahrenheit. Split dough in half. Roll each piece directly onto pizza stones, lightly greased or parchment paper lined cookie sheets, or a piece of parchment paper ready to top a hot pizza stone. Pre-bake for 5 to 7 minutes. Remove from oven. Proceed with pizza recipe (next).
Chicken, Onion, and Mushroom Pizza
1/4 cup butter
3 medium onions, sliced thinly
3 cloves garlic, crushed
1 pound organic crimini mushrooms, sliced (or other mushrooms)
2 pre-baked sourdough pizza crusts (see previous recipe)
extra virgin olive oil
1/2 of a cooked pastured chicken, cut into bite-size pieces
1 pound+ shredded cheddar or mozzarella
salt and pepper, to taste
Makes 2 thin-crust pizzas.
Saute onions, garlic, and mushrooms in butter until soft and translucent. Salt and pepper to taste. Set aside. Brush pre-baked pizza crusts with extra virgin olive oil. Sprinkle one-fourth of the total cheese on one crust, and then another one-fourth of the total cheese on the other crust. Spread the onion mixture all over both crusts. Spread pieces of chicken over both crusts; salt and pepper. Add remaining cheese divided between both crusts. Bake at 450 degrees Fahrenheit for 15 to 25 minutes or until cheese and pizza crusts are beautifully browned.
Variation: For an extra crispy crust, slide pizza directly onto the oven rack for the final 5 or so minutes of baking.
For more on sourdough — both how-to and recipes — check out my blog, my Sourdough A to Z eBook, or my online class in sourdough.