There's nothing quite like the smell of freshly baked cookies filling the house to let you know that fall is coming. I decided to cook up the first batch of cookies using the freshly ground flour I made with my WonderMill electronic grain mill.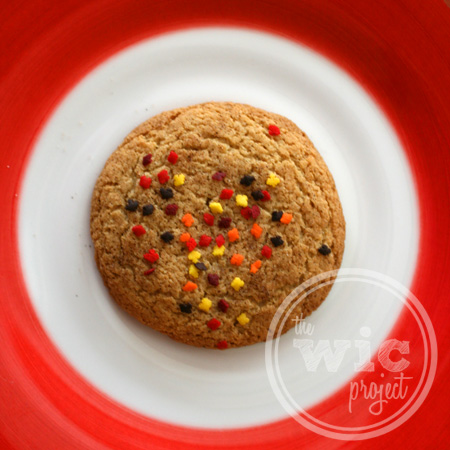 Sugar Cookies
Recipe modified from allrecipes.com.
1 cup white sugar
1 teaspoon baking powder
1/2 teaspoon salt
1/2 teaspoon baking soda
1/2 cup butter – softened
2 tablespoons milk
1 teaspoon apple pie spice
1 teaspoon vanilla extract
1 egg
1 cup whole wheat flour (
1 cup all purpose flour
2 teaspoons white sugar
1/2 teaspoon ground cinnamon
Fall color sprinkles or mini M&Ms
Directions
Preheat oven to 375 degrees F (190 degrees C).
In large bowl, combine first 10 ingredients and blend well. Stir in whole wheat flour.
Shape into 1 inch balls and place on ungreased cookie sheet, 2 inches apart. Flatten each cookie slightly with a fork.
Combine sugar and cinnamon and sprinkle over each cookie. Decorate with M and M's.
Bake in pre-heated oven for 8 to 10 minutes or until light golden brown.
This is a fun recipe that you can make with the kids. First mix the ingredients together in the bowl as instructed.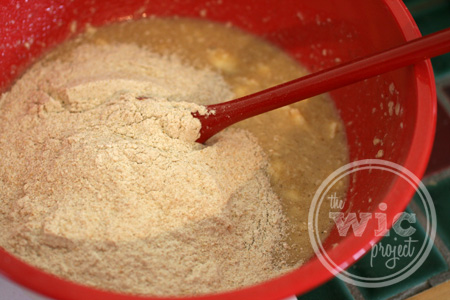 Then, you and the kids can have fun making the dough balls and putting them on the cookie sheets. I found that using a rounded tablespoon to get the dough and then rolling the dough in the hand to make it round helped ensure my cookies were similarly sized.
Then you'll flatten the dough with a fork (or your fingertips, which I found easier) and top with the sugar mix and sprinkles (or M&Ms.)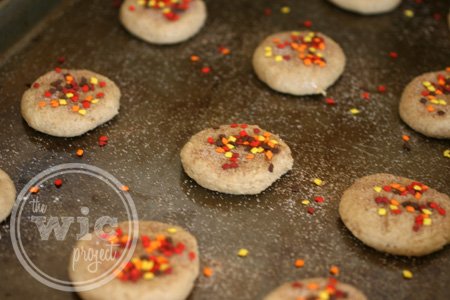 Bake in the oven for 8 to 10 minutes (my oven was closer to 10) and your house will be filled with freshly baked cookie smell.
These cookies are delicious. Not too hard. Not too soft. The apple pie seasoning really adds some depth. This is sure to please anyone and would be a great sweet treat for any fall parties.