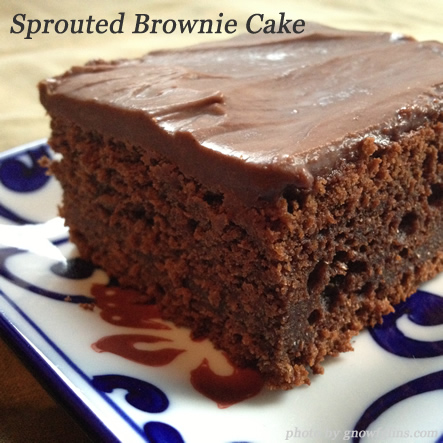 This was my birthday cake in early December, and I made it again for our Christmas Day dessert. I adapted it from this chocolate brownie recipe.
It is both cakey and gooey, and that's why I call it a "brownie cake" — the best of both worlds!
Sprouted Chocolate Brownie Cake
4 pastured eggs
2 cups whole milk
1-1/2 sticks unsalted butter, softened
1-1/2 cups sucanat, rapadura, maple sugar, coconut/palm sugar, or evaporated cane juice
1 tablespoon vanilla extract
1 tablespoon Roma, Caffix, Dandy Blend, or other instant coffee substitute (optional, but makes chocolate flavor "pop")
1 teaspoon sea salt
3/4 cup organic cocoa powder
3 cups *sprouted spelt or soft wheat flour (see below for **soaked variation)
1 tablespoon aluminum-free baking powder
*To sprout grains for flour, follow these (easy) instructions.
**Soaked variation: Use 1 cup plain yogurt or kefir with active cultures in place of 1 cup of the milk. Combine 1 cup milk and 1 cup yogurt/kefir with unsprouted flour. Soak overnight, covered, at room temperature. Then combine with the rest of the ingredients and bake.
Preheat oven to 350 degrees Fahrenheit. Grease a 9″x13″ cake pan.
In a mixing bowl, beat eggs. Add milk, butter, sweetener, vanilla, coffee substitute (if using), sea salt, and cocoa powder. Mix well. Add flour and baking powder. Mix well.
Pour batter into cake pan. Bake for 30 to 45 minutes, until a toothpick inserted comes out clean. Frost when completely cool.
Suggested frosting: Cream Cheese Frosting. (Pictured with this coconut cream frosting.)