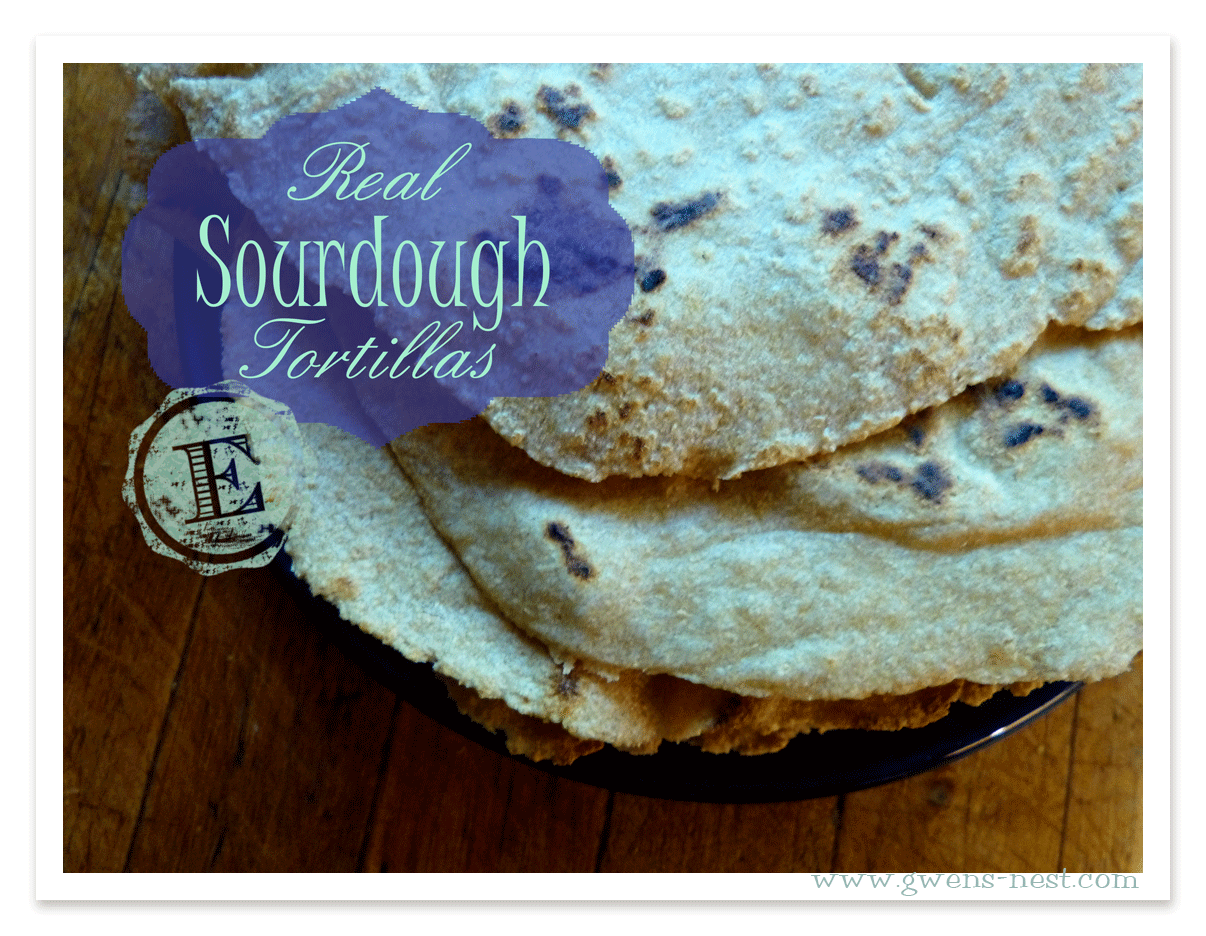 This sourdough whole wheat tortilla recipe is made with the sourdough starter that I posted here a few weeks back: Sourdough Starter-the Easy Button.  I've really enjoyed learning and playing with sourdough recipes, to support my healthy new eating style.
I *might* have mentioned before that I am LOVING eating on the Trim Healthy Mama plan…I'm 50 pounds down, and I get to eat real and AMAZING food like this! 🙂  Sourdough grains are E or 'energizing' food, and they're a healthy source of slow carbs.  I've reduced the fats in these tortillas to fit perfectly into an E setting.
Unlike the popular Easy Bread on my blog that is fermented with bakers yeast (technically a 'batard' and not a sourdough), a real sourdough culture is host to a whole healthy colony of microbes that breaks down the nutrients in the flour to make them very easy to digest.  This includes making the vitamins and minerals in wheat far more bio-available, and altering and slowing down the carb conversion when it hits the blood stream.  Rumor has it that a true 24 hour cultured sourdough product is even safe for those with gluten sensitivities.  And a 2002 study showed some interesting results to this same effect.
Well, this is a REAL sourdough cultured recipe.  And it tastes GREAT with a nice little twang.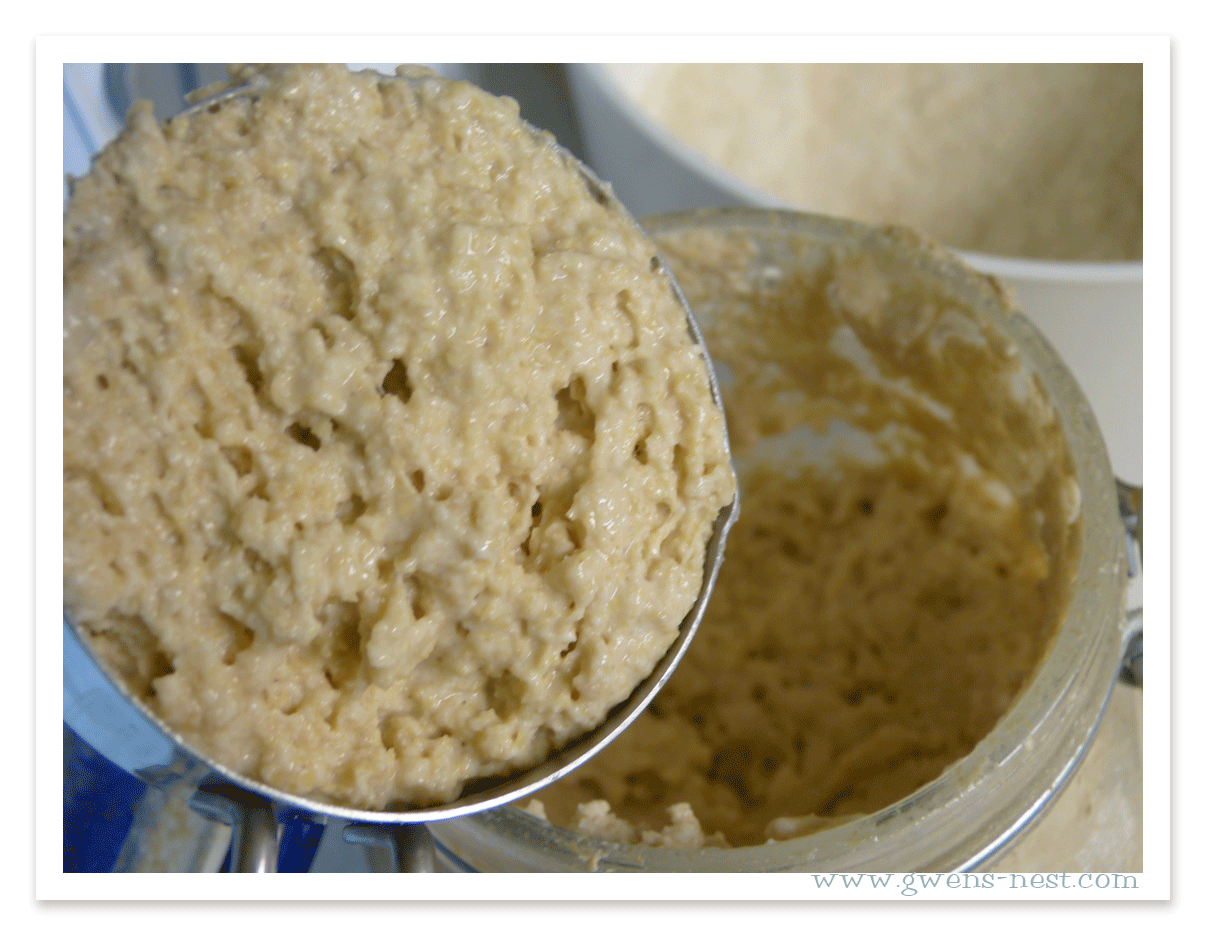 You might have read that sourdough is difficult, time consuming, or tricky.  I've read those in depth blog posts too.  I already have 4 kids and a cat.  I don't need high maintenance bread.  So I have looked for and tweaked the EASIEST methods for cultivating and baking true sourdough.  Turns out, it's WAY simpler than the foodie bloggers make it out to be.  Basically, after building my sourdough, I stuck it in the fridge.  And left it there.
When I was ready to make the tortillas, I took it out of the fridge, and measured out the amount I needed.  Then I added in flour and water to cover what I'd taken out, and stuck it back in the fridge.
This sourdough tortilla recipe is the BOMB.  Because so many of you have wanted a bread machine friendly recipe,  I used my bread machine to knead and get the dough ready. Though you can TOTALLY knead in the flour by hand as well if that floats your boat.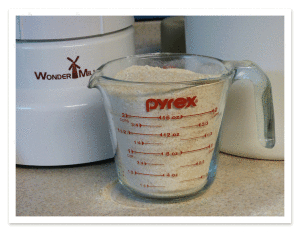 I used white hard wheat berries, and got a nice hearty texture sort of like Naan.  If you want a softer traditional tortilla texture, try using white winter wheat, which is a pastry style flour.
It's amazing to me, being a newby to wheat grinding, how different one flour behaves from another.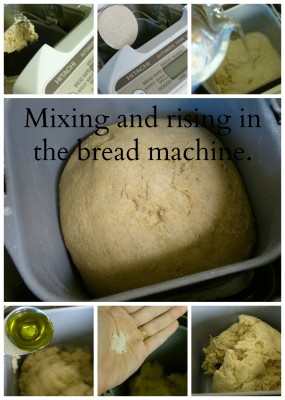 This was so super easy…I dumped EVERYTHING into my bread machine, and turned on the dough setting.  I turned the machine off after the kneading stopped, and just let it sit for 24 hours.
Which means that you kinda want to start it around the same time that you plan on rolling/cooking the tortillas the next day.  Which means that even working Mamas can work in a cool and fun project like this if they want to!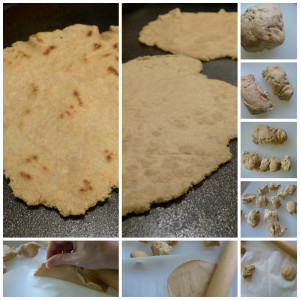 And speaking of rolling and shaping, this dough was just beautiful to work with!
I'm not a pro (obviously), but even without flour, the dough was easy to roll out without sticking. One trick I did find is that you get a better shape if you roll the dough and flatten it out with your hand first.  Then roll it as thin as you can.
I used a piece of parchment paper under the dough to make it simple to peel up.  I heated up my griddle to medium high heat, and tossed a couple on to cook as I kept rolling
This process maybe takes about 20 minutes.  The recipe makes a dozen fajita sized tortillas!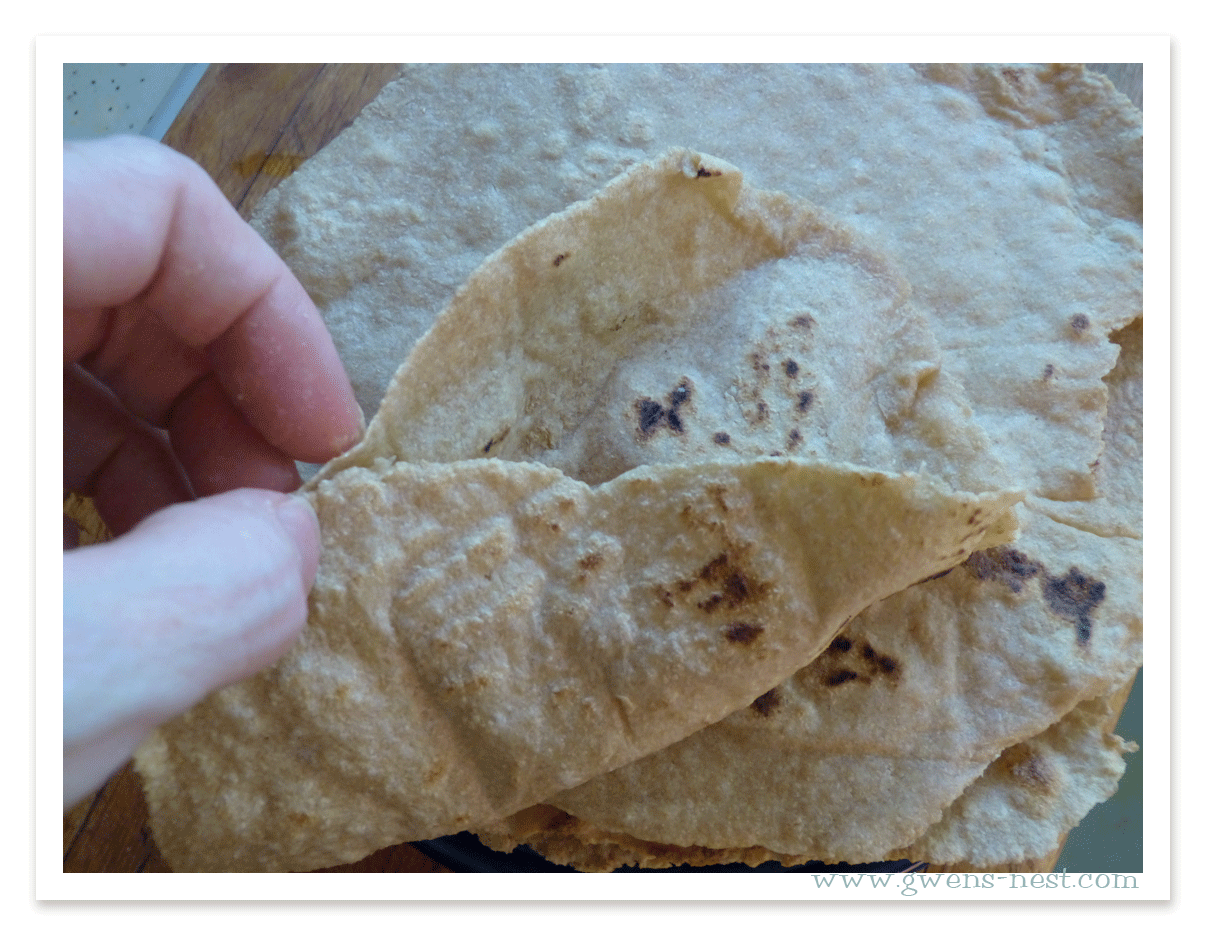 Here is your printable REAL Sourdough Tortilla Recipe…

Sourdough Whole Wheat Tortilla Recipe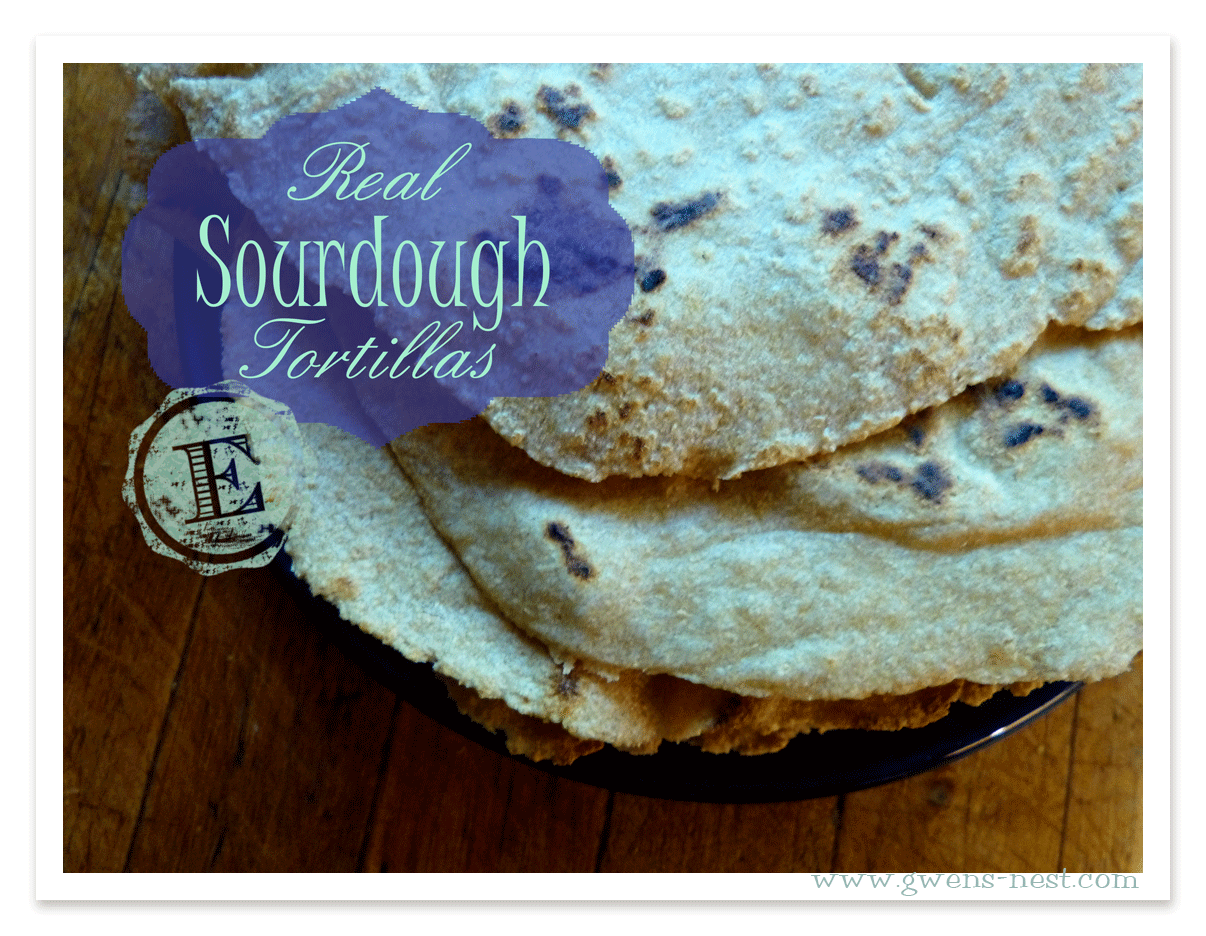 Cuisine:
Middle Eastern/Mexican
A true sourdough tortilla that's easy, nutritious and filling. On Trim Healthy Mama,
Ingredients
¾ c. sourdough starter, straight from the fridge
3 cups whole wheat flour*
¾ c. water
2 T olive oil
pinch salt
Instructions
Combine all ingredients in a bread machine or in a bowl.
If you're doing the recipe by hand, combine until dough comes together and then knead until smooth.
Place in a lightly oiled bowl, and cover. Let rest for 24 hours before shaping.
If using a bread machine, turn to dough setting, and allow to knead. Turn off machine, and allow to rest for 24 hours.
To shape: divide dough in half, then divide each half into half again.
Pinch each of the pieces into equal thirds, which should give you 12 equal pieces.
Roll each piece into a ball, and cover resting pieces with a damp paper towel while you work with and roll/bake the tortillas.
Lay out a piece of parchment paper to roll out the tortillas.
Heat a cast iron pan or griddle to medium high heat.
Take one ball of dough at a time, and roll it as thin as you can get it.
Gently peel up from parchment and place on the griddle for about 30 seconds to 2 minutes, until slightly browned.
Flip and cook other side.
Continue to roll other tortillas while you cook.
Allow to cool, and store in an airtight bag in the fridge.
Notes
*If you like a tortilla with a firmer, heartier texture (like Naan), then use hard white wheat. If you prefer a softer, more tender tortilla, then use a soft white/winter wheat or whole wheat pastry flour
After removing the sourdough starter for the recipe, re-feed your starter with an equal amount of flour and water (about a cup of each) and replace mix to the fridge.

I figure these to have about 22 net carbs and about 3 grams of fat, plus 5 grams of protein per tortilla-for 1/12th of this recipe. The carbs are not adjusted for sourdough process, because I have no idea how to do that. 🙂

These would be a Trim Healthy Mama E food.