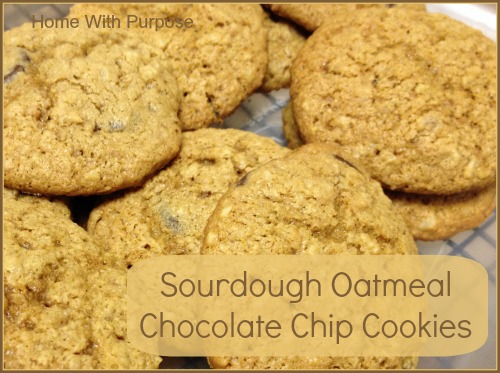 I've always loved sourdough bread, but I had no idea how versatile a sourdough starter really is! A couple of years ago I took an online course about sourdough, and a whole new world opened up to me! Who knew you could do so much with it? Since then, I've made not only bread, biscuits, and pancakes, but also pie crust, cake, cookies, batter for frying onion rings, okra, and fish, and even donuts!
These cookies are based on the cookie recipe I learned in that course. I've tweaked the ingredients, adding oats for their chewy texture, and chopped nuts and chocolate chips or cacao nibs. They combine the health benefits of freshly-ground spelt, rolled oats, sourdough, and unrefined sweeteners to create a delicious treat you don't have to feel guilty about indulging in!
This recipe require a two-step process. The night before (or 8-12 hours before you plan to bake them), the flour needs to be ground and mixed with the butter, oats, and sourdough starter and left to sour. Don't worry – the cookies do not have a sour flavor like you would associate with sourdough bread! But, the souring process breaks down components in the spelt and oats, making them more nutritious and easier to digest.
Your hands and a wooden spoon are adequate, but I prefer to use my mixer to break up the thick dough after it's been sitting all night. I fold the nuts and chocolate chips/cacao nibs in by hand with a wooden spoon after combining all the other ingredients. Walnuts are my preferred nut, but feel free to use whatever your family most enjoys! We've also found that we enjoy the flavor of the 100% pure cacao nibs in place of chocolate chips, and then we don't have to worry about the soy, sugar, or any other added ingredients in them.
I always use my baking stones for cookies, but an ordinary cookie sheet and parchment paper will work great too!
A batch of these cookies will yield about 6 dozen, depending on the size of your cookie scoop and the consistency of your dough.

Sourdough Oatmeal Chocolate Chip Cookies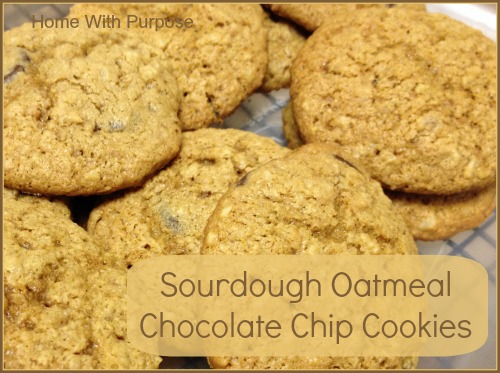 Ingredients
1 cup sourdough starter
1 cup unsalted butter, softened
2 cups flour (spelt, whole wheat pastry, or hard white)
1 cup rolled oats
1⅓ cup sucanat
2 eggs
1.5 tsp vanilla
1 tsp sea salt
2 tsp baking soda
1 tsp baking powder
chopped nuts to taste
chocolate chips or cacao nibs to taste
Instructions
Blend starter and butter in a medium mixing bowl. Add flour and oats and stir to incorporate, until you have a thick dough. I like to use spelt; soft white wheat (pastry flour) or hard white wheat will work well also. You may need more or less flour, depending on the type you use and the thickness of your starter. Cover and allow to sour for 8 to 12 hours (the longer it goes, the more distinct the sourdough flavor will be. At 8 hours, we hardly notice a tang).
Preheat oven to 375. I use baking stones, so greasing isn't necessary, but if you're using ordinary cookie sheets, grease or use parchment paper.
Mix eggs, sucanat, vanilla, sea salt, and baking powder in a small bowl. Break up the soaked dough with a wooden spoon or your hands (it will be very firm), then pour egg mixture over it and mix well. Sprinkle baking soda over dough and incorporate, then add nuts and chocolate chips or cacao nibs.
Drop by Tbsp full on cookie sheets, bake approximately 10 minutes. Cool on wire rack.
Enjoy! 🙂