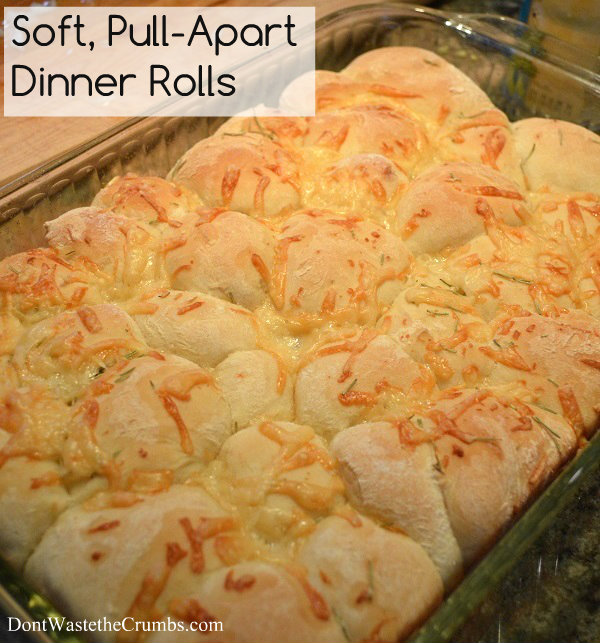 Our local grocery store bakes specialty breads daily, and their variations are SO tempting!
Jalapeno cheddar…
Blue cheese with black pepper…
Rosemary with Parmesan…
Mmm… They're all the soft, pull-apart variety too.  The kind that seems tricky to nail at home… unless you've got a good starting recipe to begin with!
We love this focaccia recipe since it only involves one rise and lets me use my stand mixer for other things once the bread is done kneading.  My friends have used it for pizza dough countless times and it's recently earned the title of "soft, pull apart dinner roll recipe" in our house since I stumbled across one tiny little trick:
Roll the dough into balls instead of pounding it out into dish!
Yes, it's really that easy!  Of course freshly ground spelt flour makes a big difference too with it's super-soft texture and high-gluten content.
One batch and these fluffy dinner rolls will become your new go-to homemade dinner recipe too!

Soft, Pull-Apart Dinner Rolls
Ingredients
2¼ tsp yeast
1 Tbsp granualted sugar
1⅓ cup warm water
3½ cups freshly ground spelt flour (on bread or pastry setting)
2 Tbsp olive oil
1 Tbsp salt
Sea salt for topping
Additional toppings (optional, see notes)**
Instructions
Combine yeast, sugar and warm water in a large bowl or in a stand mixer and allow it to bloom, approximately 10 minutes.
Add olive oil, salt and freshly ground flour and knewad by hand or with a mixer until dough is smooth and elastic, about 10 minutes.
Pour dough onto a lightly floured surface and divide into two equal pieces.
Tear off pieces of dough, approximately ½" - 1" in diameter, and place balls in a buttered 9″ x 9″ glass pan about ½" - 1" apart. Sprinkle optional toppings on top of and around balls of dough.
Preheat the oven to 400F and repeat for the second half of dough.
Cover the dough with a towel and allow to rise is a warm place for 1 – 1½ hours.
Add remaining sea salt and any other remaining toppings and bake for 25 minutes, or until golden brown on the edges and surface.
Remove pans from the oven; remove bread from the pans and allow to cool on a rack. Serve warm or at room temperature.
Notes
** Jalapeno Cheddar: ½ cup diced pickled jalapeno and 4oz cheddar cheese, grated
** Blue Cheese & Black Pepper: 6oz crumbled blue cheese and 1 tsp freshly ground coarse black pepper
** Rosemary and Parmesan: 3 Tbsp fresh or dried rosemary and 3oz Parmesan cheese, grated