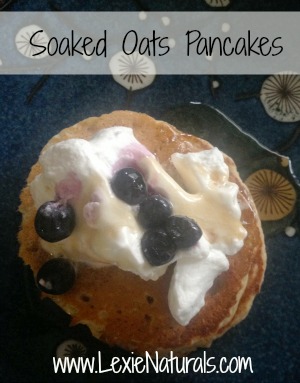 Ok, I'm just going to say it – this recipe takes a small amount of planning, so if you are reading this in the morning as you hunt for a recipe, bookmark or pin this one and come back to it next week.  You will be so happy that you did!  It's totally worth the extra planning and thought!  These pancakes are seriously delicious and very filling.  They are great for those days when you know you will get a late lunch.
I found this recipe a long time ago and have adapted it to meet my family's needs/desires/deep wishes/concerns.  🙂  I don't even know where the original recipe came from, but I've changed it so much that it really doesn't matter.
The oatmeal in these pancakes can be crunchy or not.  Since I started using steel cut oats, I prefer no crunch because it's just a bit too much (see recipe for how to rid the pancake of the crunch).  If you enjoy the crunch, just skip the blending step.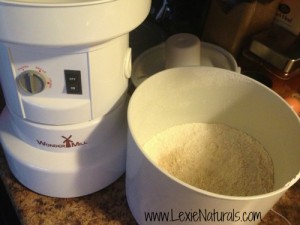 Soaked Oats Pancakes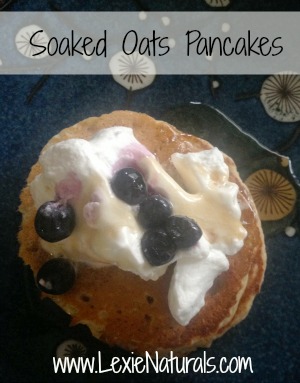 Author:
Lexie @ Lexie:Naturals
Ingredients
1 cup steel cut oats
1 cup buttermilk (or 1 tablespoon white vinegar plus enough milk to make 1 cup)
½ cup freshly milled flour (I use hard white wheat)
1 tablespoon sucanat or honey
1 teaspoon baking powder
1 teaspoon baking soda
⅛ teaspoon real salt
1 egg, beaten (or egg substitute)
1 teaspoon homemade vanilla
2 tablespoons coconut oil or butter, melted
butter or oil for skillet
½ cup fresh fruit, optional
homemade whipped cream, optional
Instructions
Place the oats and buttermilk in a bowl, cover, and refrigerate overnight.
The next day, combine the freshly milled flour, sucanat, baking powder, baking soda, and real salt in a medium bowl. Set aside.
Whisk together the egg, vanilla, and oil in a separate bowl. Set aside.
Place the buttermilk/oat mixture into a blender or food processor and blend until smooth. You can skip this step if you like a more crunchy pancake, but I've found this step is key to the perfect oatmeal pancake.
Add the buttermilk/oat mixture to the other wet ingredients and mix well.
Add the wet mixture to the flour mixture and stir together until just combined (do not over-stir, you want a few lumps). You will want to fold the fruit in if you are using it.
Heat a large skillet over medium heat and add oil to the skillet.
Ladle ¼ - ½ cup of the batter into the pan.
Flip the pancakes when the bottom is brown and the sides have set. Cook until the flipped side is browned.
Repeat with the remaining batter.
Serve immediately with fresh fruit on top. You may also keep them warm in a 200 degrees F oven until ready to serve.
link