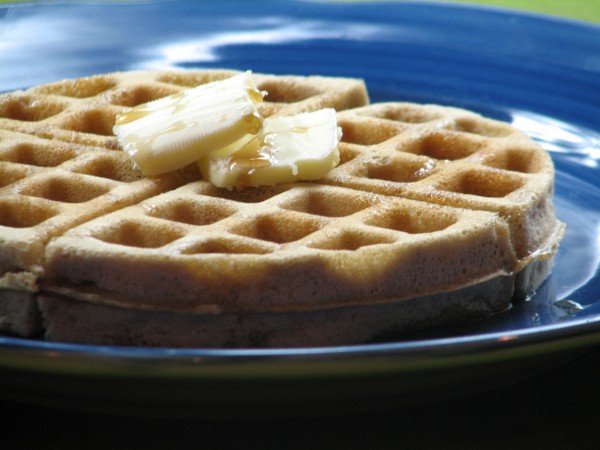 Waffles are a favorite breakfast in our household. My children ask for these waffles regularly.  I like to make double and triple batches and freeze the extras so that we have a quick breakfast for busy mornings.  They freeze wonderfully.  For special occasions, I serve these waffles for breakfast with butter, maple syrup and a little whipped cream.
With a little preparation the night before, these waffles are a snap to throw together in the mornings.  The freshly milled flour is soaked overnight to reduce the phytic acid and allow your body to absorb more of the nutrition from the grain.  I normally mix up my dry ingredients and put them in a covered bowl the night before.  In the morning, all I have to do is to melt a little oil, beat my eggs and whisk it all together.
I used a mixture of sorghum, rice and buckwheat flour milled in my WonderMill on the pastry setting.  You can change which flours you use or the ratio, so long as you have 1-1/4 cups of flour total.  If you like a lighter and crispier waffle, you can use 1 cup of flour and 3/4 cup of tapioca starch.  You can substitute cornstarch for some or all of the tapioca starch, if needed.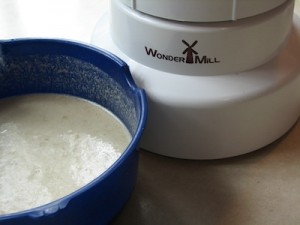 Melted oil is critical to having your waffles turn out correctly.  The melted fat is what spreads throughout the batter and keeps it from sticking to the waffle maker.  Sugar can also make a waffle batter stick to the waffle maker. I normally only put 1 tsp of sweetener in the batter or leave it out all-together in order to avoid any problems with sticking.  Using a drizzle maple syrup on top of the waffles keeps the kids from realizing that there's no sugar in the batter.
If you don't wish to soak the flour the night before or you forget, you can simply stir all of the wet ingredients together in one bowl, stir all of the dry ingredients together in another bowl and then stir the wet into the dry, then make your waffles as normal.
Soaked Gluten-Free Waffles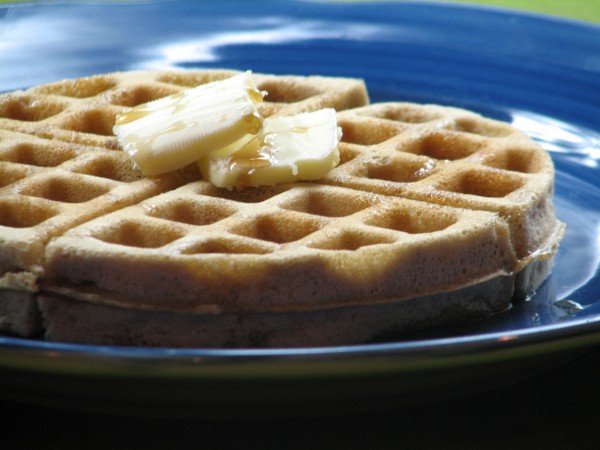 Author:
KerryAnn from CookingTF.com
Ingredients
½ cup sorghum flour
½ cup white rice flour
¼ cup buckwheat flour
1-1/2 cups unsweetened almond or dairy milk
1-1/2 Tbs lemon juice
¼ cup melted coconut oil or butter
2 eggs, beaten, or use egg replacer
1 tsp rapadura or other sweetener
½ cup tapioca starch
2 tsp baking powder
1 tsp sea salt
Instructions
In a medium bowl, whisk together the sorghum rice and buckwheat flours with the milk and the lemon juice. Cover and allow to sit overnight.
The next morning, uncover the flour mixture and whisk in the melted oil, eggs and rapadura. Set aside.
In a separate, small bowl, whisk together the starch, baking powder and sea salt. Whisk into the wet ingredients.
Cook according to the instructions of your waffle maker. For my waffle maker, I have it set to a medium-high time setting in order to get the waffles done all the way through.