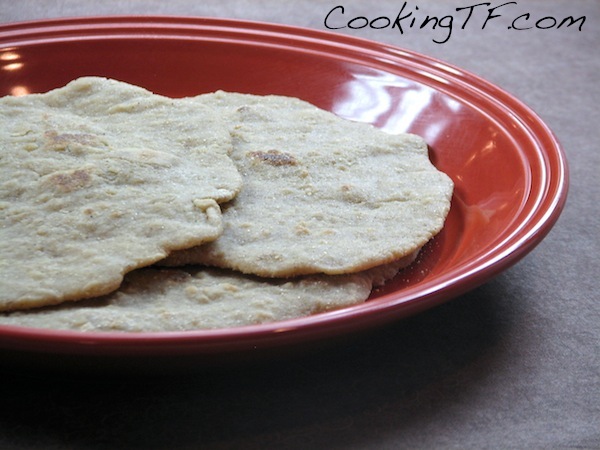 I love flatbread.  It's great with Indian food or in place of a wrap or bread for sandwiches. It can make any messy meal easier to eat and kids love it.
When I went gluten-free in 2006, I struggled with replacing bread, and then eventually gave it up all together for a time. I was a typical bread-addicted celiac, and the best way to recover was to cut it out of my life all-together since the commercially purchased gluten-free breads are related to cardboard. Indian food led me back to enjoying bread, when I discovered that I could make a gluten-free naan bread.  Finding that I could make it soaked was an added bonus.
Soaking flour neutralizes the phytic acid, which is bound to the nutrition in the grain. When you soak the flour, the nutrients become more absorbable by your system when you eat the foods.  This is a huge benefit, especially for people who are recovering from celiac disease, gluten intolerance or another illness that negatively affects their ability to absorb nutrition from their food.
I used buckwheat and rice flours ground on the pastry setting in my WonderMill for this recipe.  If you decide to use a different flour than buckwheat, you will need to add additional flour to the recipe.  Buckwheat absorbs a lot of fluid and if you use less absorbent flours, your mixture will be too wet to roll or pat out.  So either add 2-4 extra tablespoons of flour or cut back on the amount of fluid slightly to compensate for it.
This bread can also be used as a pocket-less pita.  It's got a nice, chewy texture that is a great pita replacement.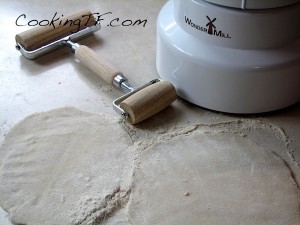 Soaked Gluten-Free Naan Bread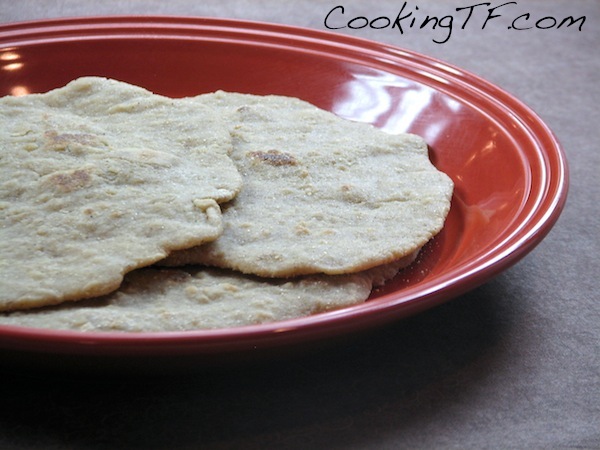 Author:
KerryAnn from CookingTF.com
Ingredients
1 cup warm water
2 Tbs lemon juice
1 cup buckwheat flour
1 cup rice flour
½ cup potato starch
½ cup tapioca starch
1 tsp guar or xanthan gum
1 tsp rapadura, optional (helps with browning)
1 tsp salt
1 tsp baking powder
Melted coconut oil or ghee (don't use butter as it will burn)
Instructions
In a mixing bowl, combine the warm water, lemon juice, buckwheat flour and rice flour. Cover and allow to sit in a warm place 8-24 hours.
When you're ready to make the bread, pre-heat an enameled cast-iron or cast iron skillet over medium heat.
Whisk together the starches, xanthan gum, rapadura, salt and baking powder and stir into the soaked flour. Add more flour or water, as needed, to get the dough into a rollable consistency. Divide the dough out into 8-12 pieces.
Flour a silpat or your kitchen counter. Flour each piece and roll or pat it out into a ¼" thick circle or rectangle.
Coat the pre-heated cast iron pan with melted coconut oil and add the bread to the pan. Coat the top side with melted oil. Cook for 2-3 minutes per side, flipping once.
Serve warm.