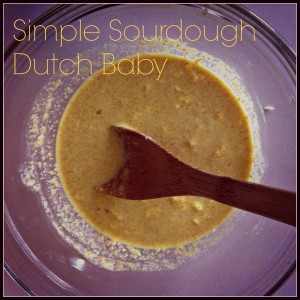 We all have those memories as a kid. Memories that revolve around food. Memories so strong that a certain smell or taste can transport us back to sitting around a table with family, or cherishing the dollars in our pocket that will get us that special snack we loved at the store.
For me, I find that some of the most powerful memories I have as a kid, revolve around food.
For me, one such memory revolves around Finnish pancake. On Sunday mornings dad would often  (and sometimes still does!) make Finnish pancake for mom and all of us kids. I remember sitting in front of the warm stove watching the pancake puff up beautifully in the oven, my mouth watering as I waited for its deliciousness to get in my belly. We would always eat our pancake with canned peaches and sour cream. To this day my mouth waters when I think about it.
I loved, and still love Finnish pancake.
But, I eat differently then I did as a kid. After discovering Nutrition and Physical Degeneration by Dr. Weston Price, I realized that for myself and my new little family I wanted to eat differently then the Standard American Diet (SAD). One big shift in my diet was away from processed white sugar and white flour–both of which were found in abundance in my dad's delicious recipe for Finnish pancake.
Naturally, rather than continuing on the tradition of making Finnish pancake for Sunday breakfasts, I took a break in my own home. So when I got a copy of Nourishing Traditions I was very excited to see a recipe for a whole wheat dutch baby! It was similar in taste and texture to the Finnish pancake my dad had made me as a kid, but I didn't feel as guilty eating my Dutch Baby with Soaked Whole Wheat Flour on a regular basis.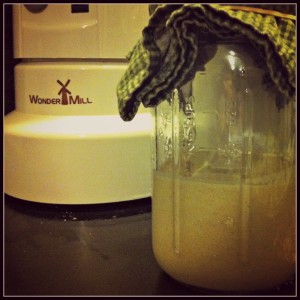 Then I feel in love with whole wheat sourdough.
Naturally, one of the first things I wanted to do was find a recipe for a sourdough dutch baby. This recipe I have for you was inspired by Rebecca who blogs at Cake Walk (see her version here). I changed the recipe slightly to fit my specific preferences. Feel free to change it how you would like.

Simple Sourdough Dutch Baby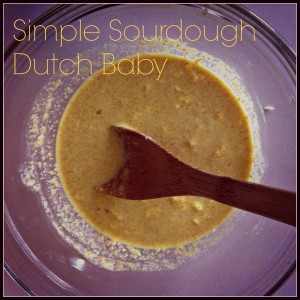 Author:
Jacquelyn at LittleOwlCrunchyMomma
Ingredients
1 T. butter
2 eggs
⅔ c. sourdough starter
¼ tsp sea salt
1 tbs maple syrup (Grade B preferred)
2 T. milk
Cast iron skillet for cooking
Instructions
Preheat oven to 425.
In a bowl mix eggs, starter, salt, syrup and milk until thoroughly combined into a thin batter.
Place butter in cast iron skillet and brown in the oven. Remove from oven.
Pour batter into pan. Place in oven.
Cook for 10-15 minutes or until lightly browned on top.
Serve warm with toppings of your choosing (my favorite is peaches and sour cream).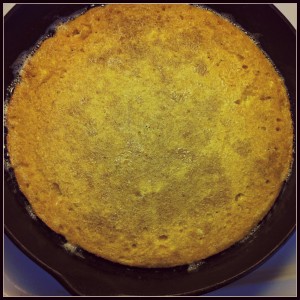 This recipe is fast, simple and simply delicious. I, of course, continue on part of my childhood memory by serving it warm with canned peaches (this time around home-canned with honey rather than store bought) and sour cream (full fat, no additives). 🙂
Fortunately, my dad likes sourdough so he enjoys this pancake, too. However, he still likes his Finnish pancake better.
I like both. 🙂