There was no way I could get the WonderMill Electronic Grain Mill, use it to grind my own whole wheat flour, and NOT try to make bread. And try I did. I tried no less than three different recipes, all of which looked beautiful, but had loaves that collapsed during the baking process, leaving me with dense and heavy bread that looked more like a brick than a loaf. I use a bread machine to bake my breads (hey, I'm still learning) so it was even weirder that the bread didn't come out well since bread machines are supposed to be fool proof.
Then one of my readers asked, "Are you at high altitude"? Since these were my first times baking bread at the new house, I hadn't even considered the change in altitude. That meant I needed to make some adjustments. I added a little less water and a 1/4 teaspoon less yeast than the recipe called four. It really was third times the charm for me since my third loaf came out perfectly.
The following is a simple recipe for honey whole wheat bread baked using a bread machine.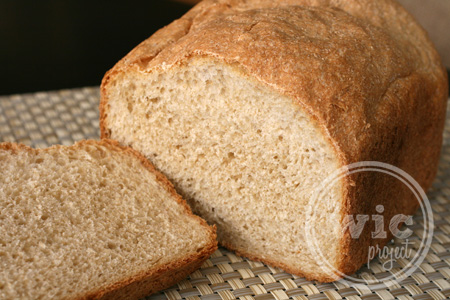 Simple Honey Whole Wheat Bread
Recipe modified from allrecipes.com.
Ingredients
1 cup warm water (110 degrees F/45 degrees C) (minus 1-2 Tablespoons for high altitude)
1 teaspoon salt
1 tablespoon butter, melted
1 tablespoon and 2-1/4 teaspoons honey
1-2/3 cups bread flour
1 cup and 3 tablespoons whole wheat flour
5/8 (.25 ounce) package active dry yeast (minus ~1/4 teaspoon for high altitude)
Directions
Place the ingredients into the bread machine in the order listed.
Depending on the bread machine, select loaf size (mine was 1.5 lb) and crust type. Start machine.
You may need to adjust the water and yeast a little depending on where you live. As I mentioned earlier, baking as is resulted in collapsed loaves for me, but reducing the yeast and water did the trick.
Once the bread is finished baking, remove it from the machine and let it cool on a wire rack. The result is delicious, freshly baked honey whole wheat bread. It doesn't have a super honey flavor but it is light, moist and is perfect for toast and sandwiches. Enjoy!