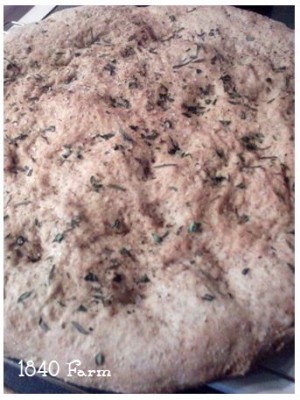 I started cooking and baking when I was about ten years old.  I loved to try new recipes and poured over my Mother's cookbooks, eager to find the next great recipe to try.  As hard as it is to imagine, this was well before the dawn of the Internet and the ease of searching for a recipe online.
I didn't have the option to read other baker's reviews in order to select the recipe I wanted to make.  Instead, I had to rely on my instincts.  I read recipes and carefully judged their list of ingredients, techniques, and my skills in order to determine my ability to successfully make a new recipe.
Early on in my bread baking days, I came across a recipe for flatbread.  It seemed simple enough and I was thrilled when it actually was.  The resulting flatbread was delicious and soon became one of my favorite recipes to make.
Decades have passed and I still enjoy making flatbread.  The technique is so simple and the results are delicious.  I love to keep flatbread dough in the freezer so that I can remove a dough in the afternoon, allow it to thaw at room temperature, and make a delicious, fresh flatbread in time to serve at our dinner table.
Now that we are using our WonderMill to produce our own flour, I love to incorporate it into my bread recipes.  Our homemade breads have taken on a much deeper flavor since I began adding our own flour to the mix.
Every time I mill our flour, I am amazed at how simple the process is.  In a few minutes, I can transform organic wheat berries into wholegrain flour.  Today, I used the still warm, freshly milled flour to make a flatbread to accompany our dinner.
If you are new to bread baking, flatbread recipes are a wonderful way to hone your skills and build your confidence.  Unlike bread, flatbread doesn't require precise shaping.  Stretching the flatbread is simple.  A flatbread is intended to be rustic, with a freeform shape that can be easily achieved.
This time of year, I like to dress my flatbreads with herbs fresh from the garden.  I use whatever is at its seasonal best, but my favorite combination is rosemary and thyme added to the olive oil, salt, and freshly cracked black pepper that always top our flatbreads.  No matter what the topping, the bread will be crispy on top and pillowy underneath.  It's sure to put a smile on your family's face when you serve it on your table.
Rustic Flatbread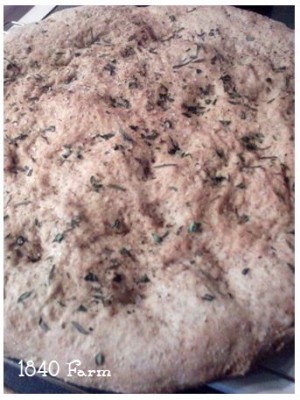 Author:
Jennifer from 1840 Farm
I have made this recipe using a single type of whole wheat flour with good results. I prefer the texture of the flatbread when I mix the two flours and a little fresh cornmeal into the dough. This flatbread can be dressed simply with olive oil, coarse salt, and pepper. You can also add chopped fresh herbs, grated cheese, or your favorite topping.
Ingredients
1½ cups (180 grams) freshly ground white wheat flour
1½ cups (180 grams) freshly ground red wheat flour
½ cup (30 grams) freshly ground cornmeal
1 Tablespoon Vital Wheat Gluten
2¼ teaspoons (1 packet) Active Dry Yeast
1 teaspoon salt
1 cup warm water (105 - 115 degrees)
1 Tablespoon honey
1 Tablespoon olive oil plus more for brushing
Your favorite flatbread toppings
Instructions
In a large bowl, combine all of the dry ingredients, whisking to mix. Combine warm water, honey, and olive oil in a small bowl. Stir to mix and dissolve the honey.
Add the liquid to the dry ingredients and stir to combine. Continue to mix until the dough begins to come together and form a ball.
Transfer the dough to a clean surface for kneading.
Knead the dough for ten minutes, adding more flour if necessary.
Check the dough using the windowpane test by stretching it between your hands until it is nearly transparent. If the dough stretches without breaking, proceed with the recipe. If not, continue kneading the dough until it does pass the windowpane test.
When the dough has been sufficiently kneaded, transfer it to a lightly oiled bowl, turning to coat the dough. Cover with a clean, damp kitchen towel and set in a warm place to rise until double in size, around 30 - 60 minutes.
Test the dough by pressing your finger down through the middle of the dough. If the indentation remains, the dough is ready for the second kneading. If not, replace the towel and allow to rise for 15 - 30 minutes.
When the dough is ready for its second kneading, remove it from the bowl to a clean surface. Knead for 3 - 5 minutes. The dough will be smooth and elastic.
Lightly oil a baking pan or sheet. Gently stretch the dough before placing it on the pan and pressing it outward until the dough is about ¾" thick.
Brush the dough with olive oil and set aside in a warm spot to rise for 30 minutes.
As the dough is rising, preheat the oven to 400 degrees Fahrenheit.
When the time of the second rise has elapsed, use your fingertips to create depressions in the surface of the dough. Add your favorite toppings or seasonings and transfer to the warm oven.
Bake for 20 - 25 minutes, until the dough is lightly browned and sounds hollow when tapped.
Remove from the oven and serve.