Crepes have always been a favorite of mine. I have fond childhood memories of breakfast crepes filled with fresh strawberries and a drizzle of maple syrup. These days it seems that gluten-free is taking over the world as more and more people try to stay away from or can't tolerate wheat. Thankfully gluten-free flours are available. Today I am sharing a recipe for crepes that uses freshly ground rice flour. The result is a slightly more sturdy crepe that could be used for any meal of the day- savory or sweet.
Rice Flour Crepes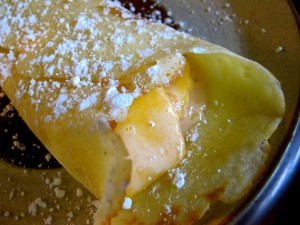 Author:
Sarah @ The Free Range Life
Ingredients
1 cup freshly ground rice flour
1.5 cups milk
2 eggs
Dash salt
1 tsp sugar (optional)
Butter for greasing your pan
Instructions
Heat a skillet over medium heat
In a bowl, whisk together the milk and eggs until well blended
Add the flour, salt, and optional sugar
Whisk until everything is just combined- don't over mix!
Brush butter over the surface of your pan. While holding the pan in the air, pour about ⅓ cup of batter into the pan tilting as you pour so that the batter spreads evenly over the surface.
Return the pan to the heat and allow to cook for about 1 min. When the edges begin to turn up, carefully flip the crepe and allow to cook on the other side for about 30 seconds.
Repeat with the remaining batter. Place cooked crepes under a dishtowel to keep fresh while the rest are cooking.
Serve filled with your filling of choice!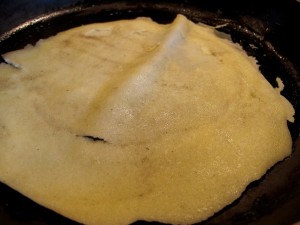 I like to serve these for a special breakfast- served with fresh fruit as a filling and dusted with powdered sugar or drizzled with maple syrup. This time we had them filled with freshly made peaches and cream!