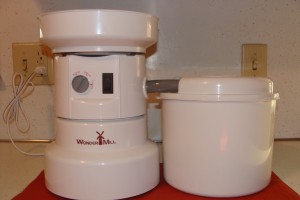 WonderMill put Food Bloggers to the test: Create 5 recipes using flours processed using their mill.
When I first heard about WonderMill's Grain Mill Wagon Challenge, I thought, why not?
There are so many things you can make from flour besides breads and dessert. I made Kamut Noodles and Crackers for example.
Then I got to thinking, grains are not the only thing WonderMill grinds. You can mill beans too! I love lentils. I love brownies. So how about Lentil Brownies!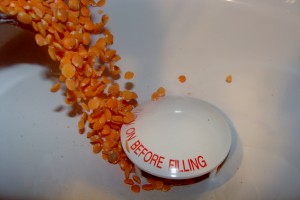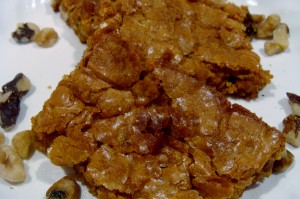 The lentil flour turned out soft, not cakey and very easy to use. Ratio wise, you should use a little less (about 2 tablespoons per cup) than you would use if it were all-purpose flour.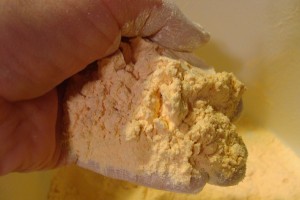 Lentil Brownies
These moist chewy "pink" brownies have the texture of soft oatmeal cookies with no "bean" aftertaste!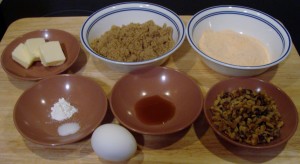 Ingredients
3 Tbsp butter, unsalted
3/4 cup brown sugar – (packed)
1 each egg
1 tsp vanilla
1/2 cup lentils, flour
1/2 tsp baking powder
1/8 tsp salt
1/2 cup walnuts, roughly chopped
1. cream together butter and sugar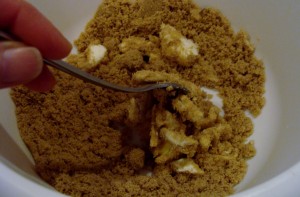 2. add egg and vanilla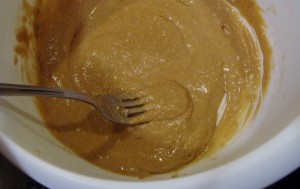 3. in a separate bowl mix lentil flour, salt and baking powder


4. add dry ingredients to creamed butter and sugar. Stir in walnuts.
5. Spread mixture in a greased 8×8-inch pan. Bake at 350 until a toothpick inserted comes clean. (about 15 minutes)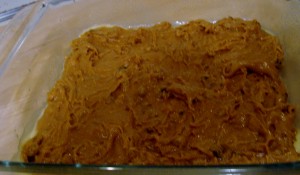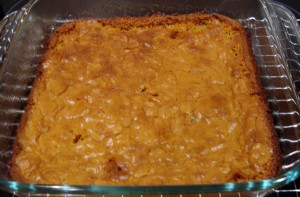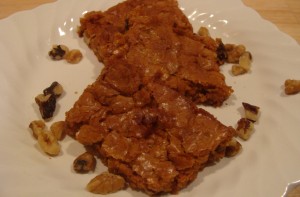 Servings: 12
Oven Temperature: 350°F
Cooking Times Preparation Time: 10 minutes Cooking Time: 15 minutes Total Time: 25 minutes
Nutrition Facts Nutrition (per serving): 126 calories, 56 calories from fat, 6.5g total fat, 23.1mg cholesterol, 55mg sodium, 77.4mg potassium, 16g carbohydrates, <1g fiber, 13.7g sugar, 2.1g protein, 112.9IU vitamin a, <1mg vitamin c.