Fall equals pumpkin and it's everywhere – in our cookies, lattes, pasta recipes and of course pie. I love pumpkin pie. I also love bread so why not find a recipe for pumpkin bread?
Since I received my WonderMill, all my breads, dumplings, cookies etc have been baked from scratch using mostly hard white wheat flour. I love the boost in flavor and nutrients freshly milled flour offers. Plus my food doesn't have that "preservative aftertaste" you sometimes get with store bought products.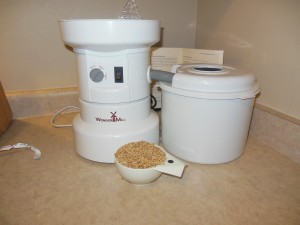 I found this recipe on AllRecipes.com, broke out the WonderMill, put on my apron and dove in. This recipe makes three loaves, but you can scale it down or up to meet your needs.
First, mill the flour. I poured the enough wheat grain into the hopper for the recipe and a little extra to flour the pan. I used just over 3 cups of grain.
Pumpkin Bread - Just in time for the Holidays!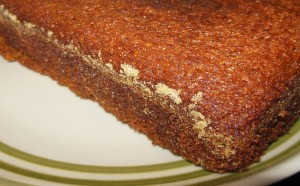 Original recipe makes 3 - 7x3 inch loaf pans
Ingredients
1 (15 ounce) can pumpkin puree
4 eggs
1 cup vegetable oil
⅔ cup water
3 cups white sugar
3½ cups all-purpose flour
2 teaspoons baking soda
1½ teaspoons salt
1 teaspoon ground cinnamon
1 teaspoon ground nutmeg
½ teaspoon ground cloves
¼ teaspoon ground ginger
Instructions
Preheat oven to 350 degrees F (175 degrees C). Grease and flour three 7x3 inch loaf pans.
In a large bowl, mix together pumpkin puree, eggs, oil, water and sugar until well blended.
In a separate bowl, whisk together the flour, baking soda, salt, cinnamon, nutmeg, cloves and ginger.
Stir the dry ingredients into the pumpkin mixture until just blended. Pour into the prepared pans.
Bake for about 50 minutes in the preheated oven. Loaves are done when toothpick inserted in center comes out clean.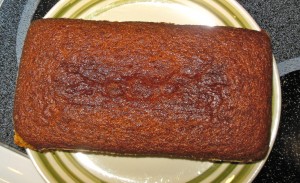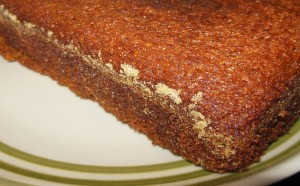 Don't be a dork like me and get impatient. I didn't let the loaves cool enough so when I took the first one out of the pan, part of the bottom stuck. Silly me!!!  But it didn't affect the taste of the bread. So good and moist. I mixed up some honey butter and served the bread with some garlic salmon and green beans. Pumpkin bread was the perfect compliment for my meal. The flavor was amazing with just the right amount of cinnamon and nutmeg. A true treat for the taste buds!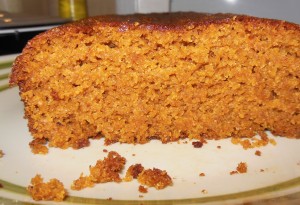 My friend Lisa called the bread "perfect" but she didn't know about my boo boo. Shh… don't tell!