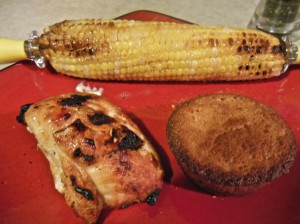 My husband and I belong to a local food co-op and we order every other week. Part of our order is a "produce share" which includes 5 varieties of vegetables and 3 varieties of fruit. We never know what we're going to receive until a day or so before pick-up. I love surprises so I eagerly look for that email telling me what's coming. Surprise, suprise… this time we were getting a whole pineapple.  I was excited and since I'm a big fan of muffins, my immediate thought was "pineapple muffins" and hopped on the internet to find just the right recipe.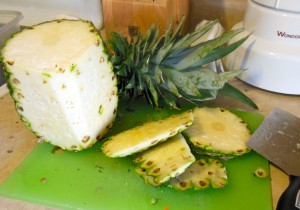 I love fresh baked muffins for breakfast. Or for snacks. Or just about any time. Since receiving my grain mill from the fine folks at WonderMill, I've been a bread baking maniac. I've had friends ask me why I mill my own flour.. they ask what's the point when you can buy flour in the store? I let them know that the health benefits of milled flour exceeds that of all-purpose. Plus, buying whole grain and milling my own ensures there are no preservatives AND I can mill how much I want when I need it.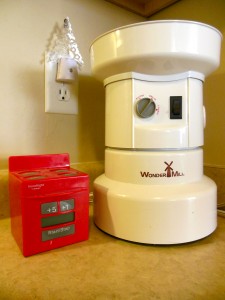 It's that simple. Just measure how much wheat grain you need to make the flour. Since I needed 2 cups of flour, I measured about 2 1/2 cups of hard white wheat grain. I'd rather have a little extra then not enough. Plus I needed some to flour the muffin cups.
To use the WonderMill, plug it in, attach the bowl and flip the switch to "on." I selected the bread flour setting since this is what my recipe called for.  I poured my cups of wheat right into the hopper and within a minute, it was ground into a nice fine powder. My husband watched the process and was amazed at how quickly the flour was ready.
I found this tasty recipe on Allrecipes.com. It's fairly simple for a novice like me and you can make additions to it if you wish. I added honey for a little extra sweetness and moisture.
Ingredients
2 cups freshly milled flour
1/2 cup white sugar
1 tablespoon baking powder
1/2 teaspoon salt
8 ounces fresh pineapple, diced
1/4 cup pineapple juice
1 egg, beaten
3/4 cup milk
1/4 cup honey
1/4 cup butter, melted
Topping
1/4 cup butter, melted
1/4 teaspoon ground cinnamon
1/3 cup packed brown sugar
1/2 cup all-purpose flour
Directions
Preheat the oven to 375 degrees F (190 degrees C). Grease and flour muffin pans, or line with paper liners.
In a large bowl, stir together 2 cups flour, white sugar, baking powder and salt. If using an 8-oz can of crushed pineapple, drain pineapple, reserving 1/4 cup juice. Make a well in the center of the dry ingredients, and pour in the pineapple juice, egg, honey,  milk, and 1/4 cup melted butter. Mix just until blended.
In a separate bowl, stir together the cinnamon, brown sugar, 1/2 cup flour, and 1/4 cup melted butter to make the topping.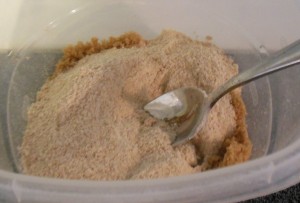 Spoon batter into muffin cups, then spoon crushed pineapple over the batter and sprinkle with the cinnamon topping.
Bake for 30 minutes in the preheated oven, until a toothpick inserted in the crown of the muffin comes out clean.