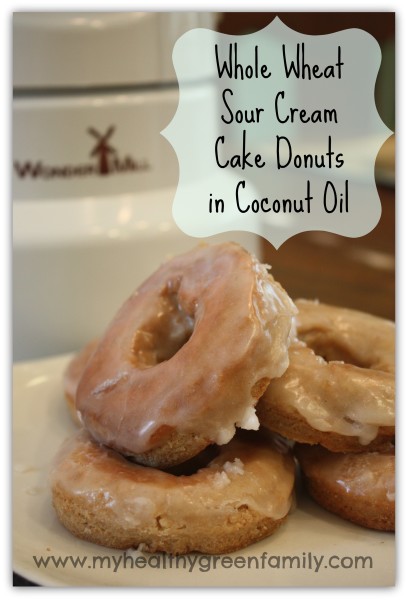 Homemade, old fashioned donuts should be made with homemade, old fashioned ingredients, not trans fats, artificial flavors and preservatives, and GMO sugar.  Here is a recipe that fits the bill!  Made with whole wheat flour and organic cane sugar, and fried in coconut oil (or lard), these donuts are a healthier alternative to modern cake donuts.  They are easy to make and with freshly-milled whole wheat flour, they have a unique, nutty flavor.
This article includes a recipe for making a glaze to dip the donuts in.  You can also simply dip them in cane sugar if you prefer.  You can avoid icing sugar made with GMO sugar beets. Click here to make your own icing sugar from organic white cane sugar or other granulated sweetener.
While experimenting with recipes, I tried making 100% whole wheat donuts.  They tasted ok, but they were super heavy.  I cut back to half white and half whole wheat to give them the nutty goodness of whole grains, and the extra lift from white flour.  Frying them in coconut oil gave them an amazing fragrance, a slightly tropical flavor, and eased my conscience where oil was concerned.
As with all my recipes using whole wheat, I now use freshly milled whole wheat flour ground by my Wonder Mill grain mill.  Whole wheat flour from a bag has been milled who knows how long ago.  The natural oils have gone rancid by the time you use the flour. The comparison between freshly-milled and bagged flour is incomparable.  Gone is the slightly rancid, slightly bitter flavor that I had so long associated with all whole wheat flour.  Instead, a healthy, nutty flavor is found and the bread rises better.
Give them a try!  Let me know what you think!
This recipe was adapted from The Messy Baker: Sour Cream Old Fashioned Doughnuts.

Old Fashioned Whole Wheat Cake Donuts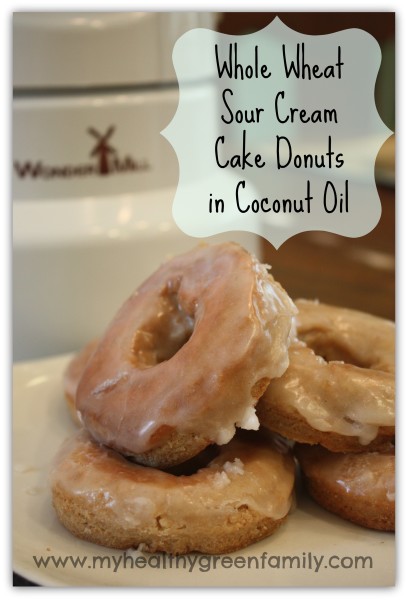 Author:
My Healthy Green Family
Recipe type:
Snack, Dessert
Delicious, nutty-flavored, whole wheat donuts that are made with organic sugar and freshly-ground flour, then fried in coconut oil.
Ingredients
1¼ c. white flour
1 c. whole wheat flour, freshly ground
1½ teaspoon baking powder
1 teaspoon sea salt
¾ teaspoons ground nutmeg
•1/2 c. organic cane sugar
•2 tablespoons butter or lard
•2 large egg yolks
•2/3 c. sour cream
•coconut oil for frying
Instructions
Mix flours, baking powder, salt and nutmeg together well in a medium sized bowl.
With a mixer, mix sugar and butter together until gritty.
Add eggs, one at a time, until well-mixed.
Combine flour mixture with egg mixture. Stir just until combined.
Dump contents of bowl onto floured counter top and kneed a few times to make a ball. Cover ball with plastic wrap and store in fridge for an hour or overnight.
Roll dough on flour-dusted countertop to about half an inch thick.
Cut donuts out of dough using a donut cutter or a large, round cookie cutter, using a bottle cap to cut out donut holes.
Heat about 2 inches of coconut oil to 325F in a frying pan.
Carefully place donuts into frying pan for a few seconds, and then flip when golden on one side.
Remove from oil and place on cooling rack. When cool enough, Dip in icing and allow to cool fully. Serve.
Notes
Listed cooking time does not include the 45+ minutes to chill the dough before rolling out and frying. Please consider this when planning on making the donuts.
Glaze for Old Fashioned Cake Donuts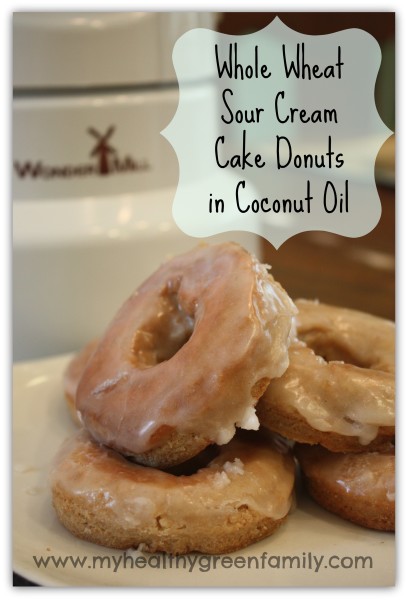 Author:
My Healthy Green Family
Ingredients
3½c. icing sugar
1½ teaspoon maple syrup
¼ teaspoon sea salt
½ teaspoon vanilla extract
⅓ cup plus 1 tablespoon hot water, (plus more if needed)
Instructions
Mix all ingredients together and whisk until smooth.
Dip top of donuts into icing and allow to dry on cooling rack.