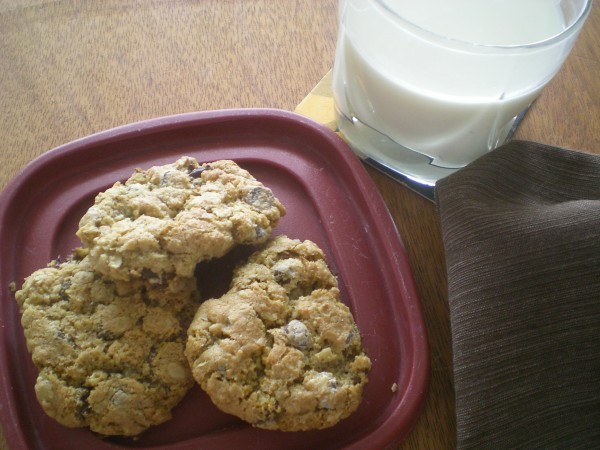 Some people–a very few, I think–love oatmeal raisin cookies.  I am part of the vast majority of society who bite into such a cookie and taste disappointment when we don't taste chocolate.  I'm sure it's happened to you before.  You were probably at your sister's piano recital or at the church potluck, right?  The cookies on the dessert table looked hopeful.  The dark spots speckling the cookies looked deliciously like chocolate chips…but alas!  Raisins.
You don't have to experience this anti-climax if you make your own batch of melt-in-your mouth oatmeal chocolate chip cookies at home.  Oh, and they will melt in your mouth.  Since using a WonderMill I have discovered the difference between plain ole' flour and freshly-ground, whole wheat flour.  You can taste the difference, in a very good way.
Oh, and I suppose you could use raisins in these cookies if you wanted to.  Just give anyone you offer them to a heads up: "Hey, would you like some warm, oatmeal raisin cookies with a glass of raw milk?"  And I bet they'd gobble them up anyway(:
Oatmeal Chocolate Chip Cookies
1 1/2 c freshly-ground whole wheat flour
1/2 t sea salt
1 t baking soda
1/2 c butter, softened
3/4 c sugar or rapadura
1 egg
1 t vanilla
1 c oats
1 c chocolate chips
1. Preheat oven to 375.  In a bowl, mix flour, salt,  and baking soda.  Set aside.
2. Cream butter and sugar in a large bowl.  Stir in egg and vanilla.  Lightly stir in flour mixture; add oats and chocolate chips.
3. Shape dough into balls and place on a buttered baking stone.  Bake for 10-12 minutes, until the edges are lightly brown.  Remove the cookies from the oven (they'll still be quite soft) and let them cool on the stone for a couple of minutes.  Gently remove to a wire rack to cool completely.