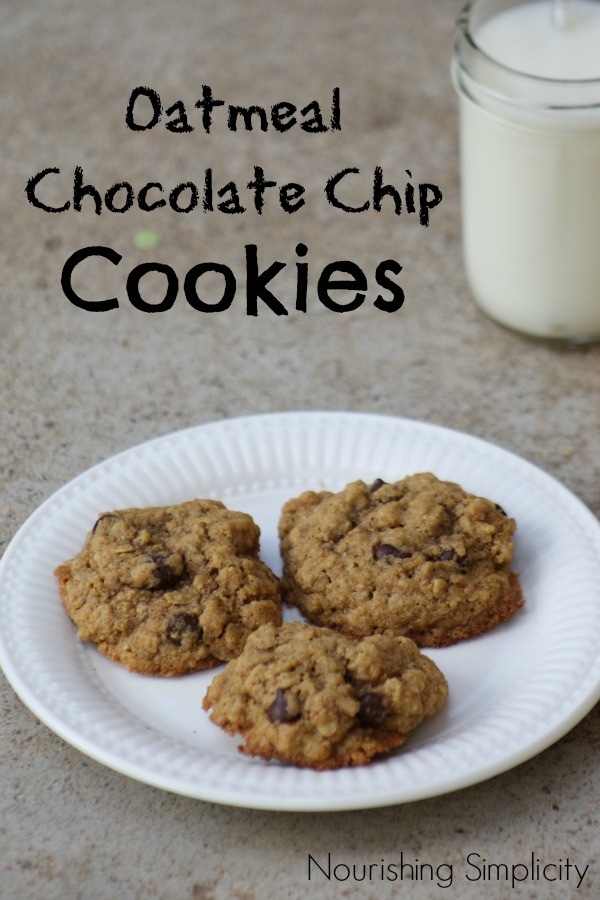 Oatmeal Chocolate Chip Cookies have been a favorite since I knew what cookies where. Ask me if I want a cookie and I guarantee you  that this is the cookie I imagine. If you add a little peppermint extract them I am in heaven.
For these cookies, I choose to use sucanat, sprouted flour and soaked oats.  These ingredients make it easier for your body to process since they are whole, real foods. However, you can substitute brown sugar, unbleached white flour, and raw oats.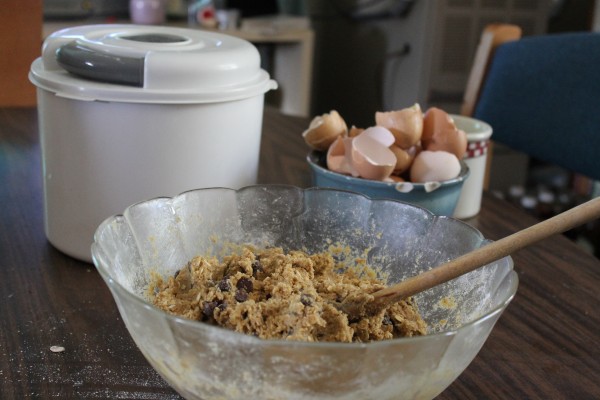 If you aren't in the mood to soak, sprout, and dehydrate your oats and wheat berries you may like these Oatmeal Chocolate Chip Cookie Bars that use the soaking process. They are just as yummy! Be sure to enjoy your cookies with a glass of cold raw milk.
This dough is also wonderful on it's own or in rolled into tiny balls and added to ice cream to make cookie dough ice cream.

Oatmeal Chocolate Chip Cookies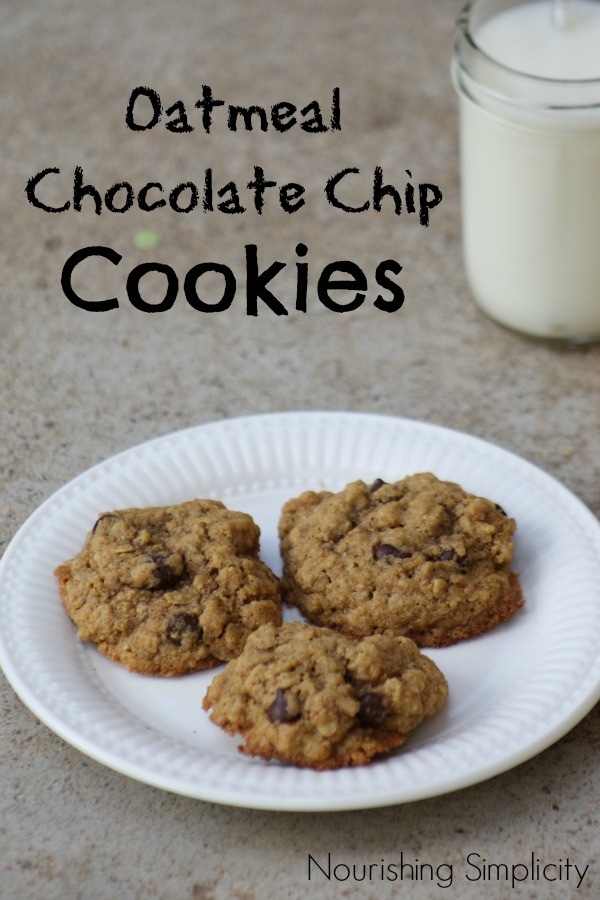 Author:
Katie @ Nourishing Simplicity
Ingredients
¾ cup sucanct
1 cup butter
2 tsp vanila
2 eggs
1 tsp baking powder
¼ tsp baking soda
¼ tsp salt
1½ cups whole wheat flour (sprouted is best)
2 cups oatmeal (soaked and ready oats)
Instructions
In a large mixing bowl beat the butter and sugar together until creamed. (You can use a hand mixer but I do this by hand.) Add the baking soda, baking powder, vanilla extract and salt. Stir or beat until combined
Add the eggs and beat/stir until just combined; you don't want to over mix the eggs.
Add the flour and beat/stir in. Add the oats and chocolate chips. By this point it is best to use a spoon and not a mixer because the dough will be stiff. Stir until combined. (Now is the time to stir in your add-ins if you decide to do so.)
Preheat oven to 350.
Drop dough by using a rounded teaspoon or your hands, two inches apart on an ungreased baking sheet.
Bake for 8-10 minutes or until the edges are golden. Let cool on the baking sheet for 1 minute before transferring to a cooling rack.
What is your favorite cookie?