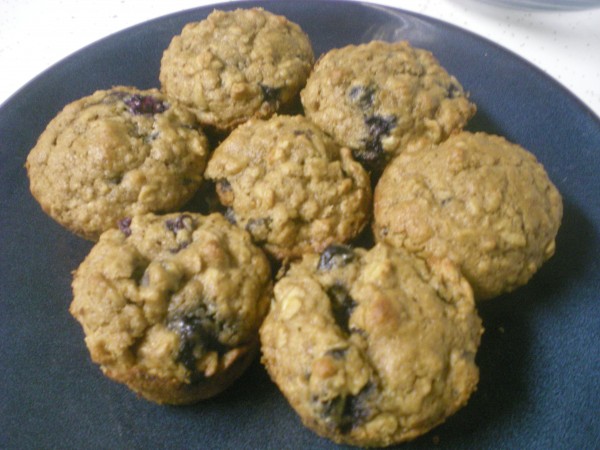 Muffins are one of my favourite things to come out of the oven. I love their potential for customization– you can bake summer and autumn into pumpkin black raspberry muffins, create the perfect tea time treat with lemon blueberry muffins, or fix a savoury muffin for supper.
This particular batch of muffins was especially appropriate for the snowy, wet weather we're experiencing in Michigan right now. The oats share a cozy, hearty flavour, while the blueberries add a note of summer to remember. I hope you find them as tasty as we did!
Here's a little technical tidbit before you get baking: bring the egg and milk to room temperature before you mix them with the coconut oil. The coconut oil may solidify when you add it to cold liquid, and it will be a hassle to regain the proper consistency. It's best to mix the wet ingredients quickly and then add immediately to the dry. If the oil does begin to harden before you can mix it, place your bowl in a dish of hot water for a few minutes.
Oat and Blueberry Muffins
2 c whole wheat flour, freshly ground
1 c rolled oats
1/2 c rapadura/brown sugar
2 t baking powder
1/2 t sea salt
1 t cinnamon
1/4 c coconut oil, gently melted
1 egg
3/4 c milk
1 heaping c blueberries
1. Preheat the oven to 375. Grease/butter a muffin tin. In a large bowl, mix the flour, oats, rapadura, baking powder, salt, and cinnamon.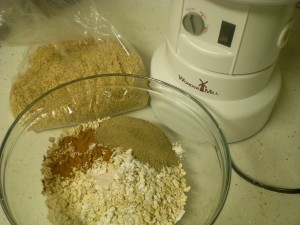 2. In a separate bowl, mix the coconut oil, eggs, and milk. Lightly combine dry and wet ingredients. Do not over mix. Stir in berries.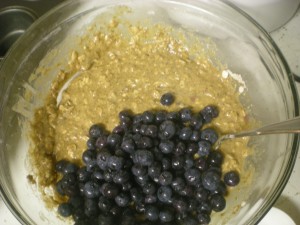 3. Fill muffin cups and bake for about 20 minutes, until a knife inserted in a muffin comes out clean. Let the muffins cool in the pan for a few minutes, then loosen muffins from the pan to cool completely.