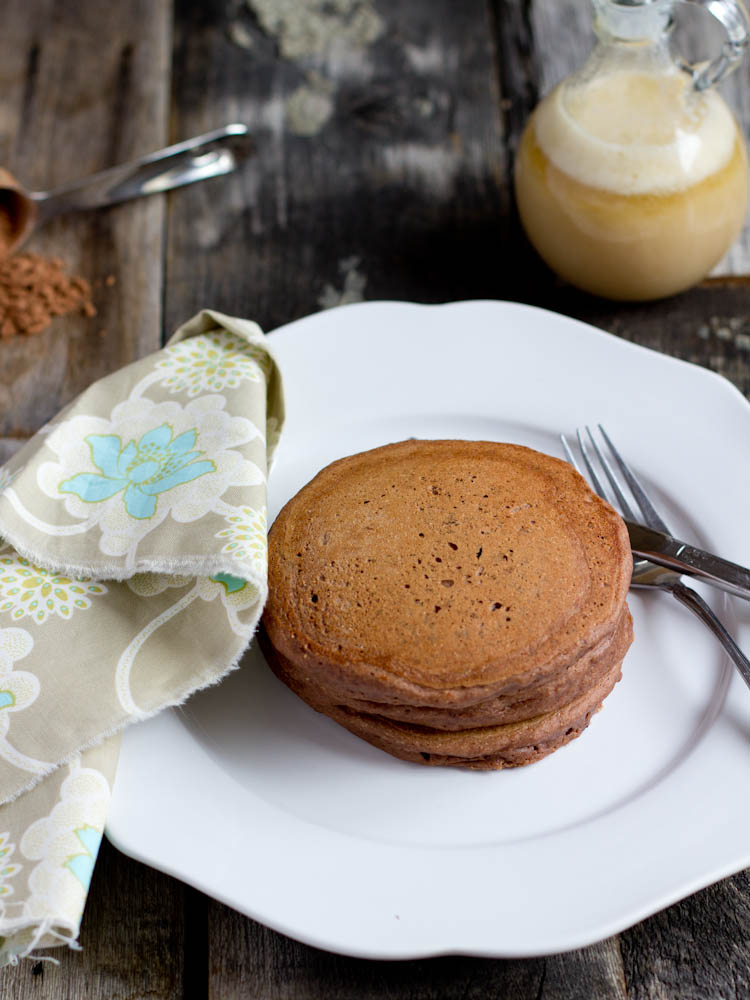 You didn't know you were about to discover, "The World's Greatest Pancakes" did you? I'm sure you think you've had a pretty darn good pancake, but trust me, this one will blow your mind. These chocolate pancakes are not just fluffy and wonderful, they are also healthy. Oh, now don't get all crazy on me. I've had those "healthy" pancakes too. The ones where you kind of want to "accidentally" knock your plate to the dog. Healthy should not always mean gritty, grainy, and flavorless. Sometimes it should  mean, "Booyah! I get to eat an extra one because it's still better than 1 regular pancake!"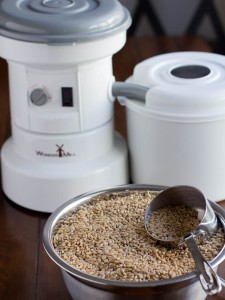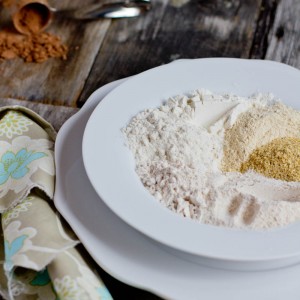 It really isn't that difficult to take something as delicious as pancakes, grind up a few different grains (just select what type of flour- I turned the knob to bread, turn the grinder on, pour in your grain, making sure the tube and canister are attached to the mill, and     ta-da! You've got new flours to work with), play around with how much of each and enjoy!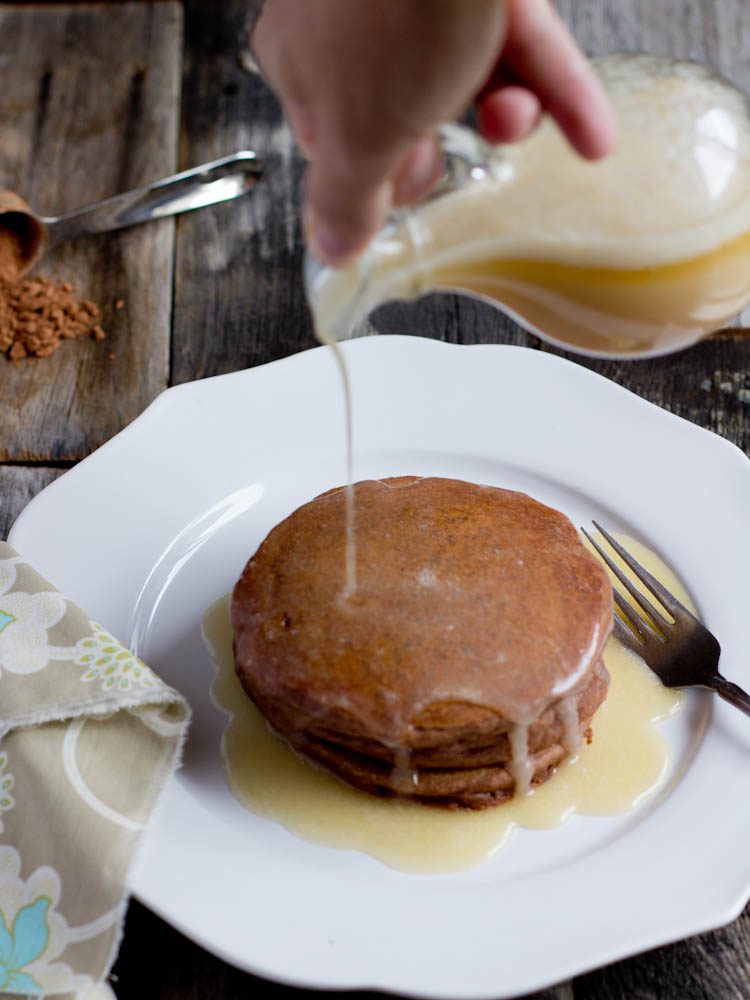 Oh gosh, just look at all of that buttermilk syrup. Have you had it? It is like nothing I've ever had before. Silky, creamy, syrupy goodness that if I was an alcoholic, this would be my drink. Oh, true, it has no alcohol. Well, point being, I could become addicted.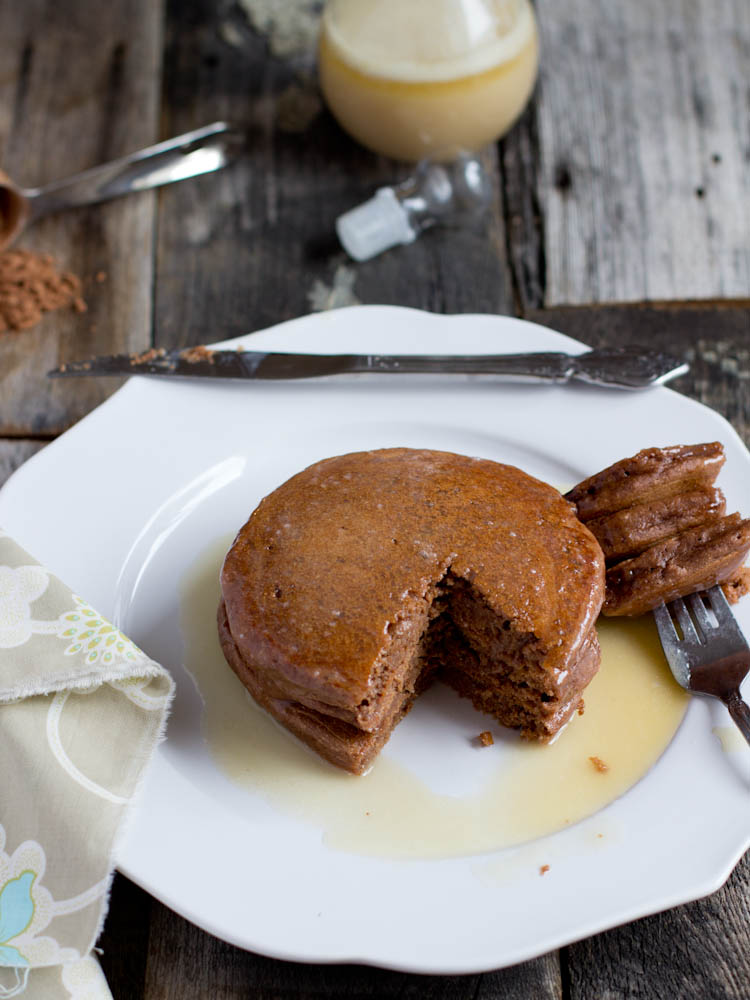 I don't know what it is about breakfast cooking in the morning, but even if you were going to eat something entirely different there's just no way deny hot pancakes. Or any hot breakfast for that matter. However, these multigrain chocolate pancakes provide the perfect way for you to enjoy a hot, fluffy pancake (and did I mention chocolate?) without feeling horrible about all of the white flour, butter, sugar etc that a normal pancake has. Nope, these babies use Kamut, Rice Flour, Spelt, Wheat germ, whole wheat, greek yogurt, bla bla bla. SEE! I told you you could have more.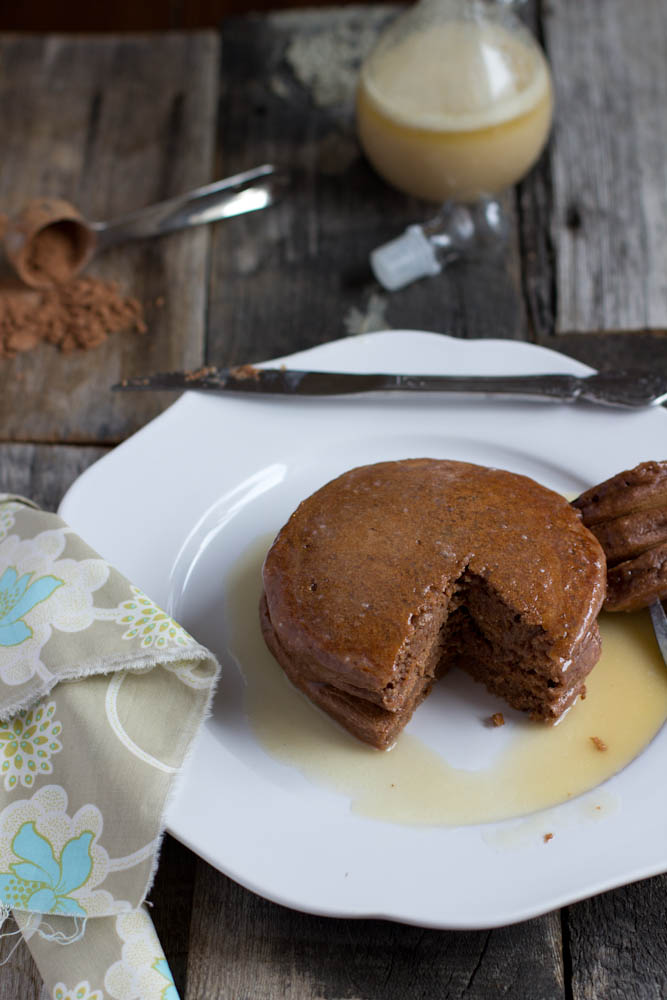 Healthified Chocolate Pancakes
1/4 Cup Spelt
1 1/4 Cup Kamut
1/4 Cup Rice Flour
1/2 Cup Whole Wheat
1/4 Cup White Flour
1 Tablespoon Wheat Germ
2 Tablspoons Cocoa
3 Tablespoons White Sugar
3/4 Teaspoons Sea Salt
2 Teaspoons Baking Powder
1/2 Cup Plain, Greek Yogurt
3/4 Cup Fat Free Milk
2 Large Eggs
1 Teaspoon Vanilla
In a bowl, whisk together the flours, sugar, salt, baking powder and cocoa. Sometimes, there are tiny little clumps of the cocoa. Don't worry, it will all work out.
In a separate bowl, whisk together the yogurt, milk, eggs and vanilla. Create a well in the center of the flour and add the wet ingredients, whisking until smooth.
Heat a griddle or skillet to medium heat and rub with a little unsalted butter. Use 1/4-1/3 cup to scoop out the batter and pour onto the hot pan. Cook until little bubbles have formed and begun to pop. Flip over and cook through, about another minute. Serve with homemade syrup and lots of love. Enjoy!