I tried my first non-wheat grain in the grinder for this week's recipe! Wheat is definitely the grain I grind the most, and I'm loving the challenge to use different grains in the Wondermill and in my cooking/baking.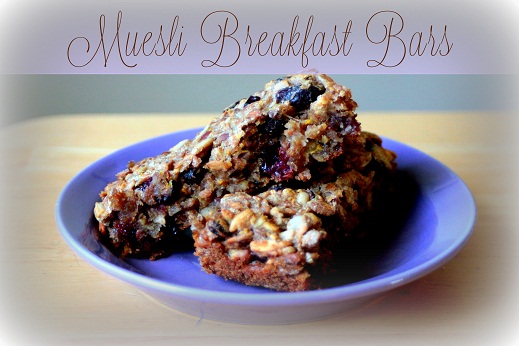 These Muesli Breakfast Bars are hearty, filling, and delicious and they use a little bit of oat flour.
MUESLI BREAKFAST BARS
1/4 c. honey
3 T. orange juice concentrate
2 T. walnut or canola oil
1/2 t. kosher salt
1/2 t. ground cinnamon
1 1/2 c. Muesli
1/2 c. oat flour
1 t. baking powder
1/4 t. baking soda
1/3 c. dried cranberries
3 T. golden flax seeds
2 t. orange zest, tightly packed
1. Preheat oven to 350 degrees and lightly oil an 8″ square baking pan.
2. Bring 1 c. water to a boil in a medium saucepan. Remove from heat and stir in honey, juice concentrate, oil, salt, and cinnamon. Add the muesli, oat flour, baking powder, baking soda, and dried cranberries.
3. Grind the flaxseeds to a fairly fine flour in a food processor (not in the grain mill – they're too oily). Add 1/4 c. water to the flax meal and process until the mixture becomes thick, gummy, and slightly frothy, about 35 seconds. Stir in the orange zest.
4. Fold the flaxseed mixture into the muesli mixture and stir until well blended. Spoon into the prepared pan and press to even out the top.
5. Bake uncovered 40-45 minutes, until the sides and bottom are golden and a toothpick inserted into the center comes out clean.
6. Set the pan on a wire rack and leave to cool to room temperature before cutting into squares.
These bars make a hearty and healthy breakfast (or daytime snack) and your kids will love them too!