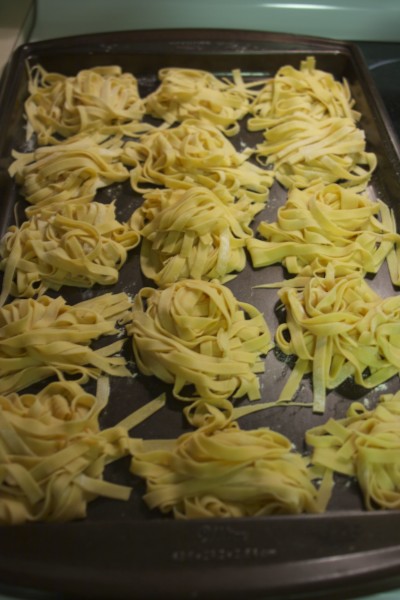 When I was a little kid my Italian grandmother who lived next door would make pasta with me. My mom said one day I came home from making pasta with her, I was about 5 years old. I said in an Italian accent, "Making pasta is a easy. You just put flour on a board, make a hole, crack an egg into it, and mix it up."
Well, my grandmother had been making pasta a long time, so I'm sure it appeared simple. It is a lot easier to make thanks to a pasta attachment you can get for your food mixer. We got one of these for my husband for Christmas, and he was very excited to try to make whole wheat pasta with fresh ground flour thanks to our Wonder Mill.
It was definitely a little tricky to get the hang of putting it through the processor, but the end result was so delicious.  Of course, the pasta had an amazing taste, not like the stuff that comes out of box that can some times taste like the box it came in… no because the whole wheat flour was freshly ground the nuttiness of the grain came through in the pasta. 
The recipe was very standard click here: Little Whole Wheat Pasta
It's not the recipe; it is the quality and freshness of the flour that made this pasta taste exceptional.
Another truly amazing meal… that I would not have guessed could taste so much better… but I can't tell you enough: 
Fresh ground flour with the Wonder Mill makes everything you make with it taste gourment.