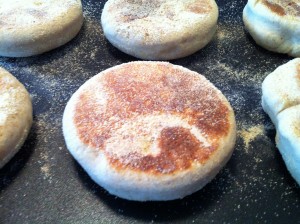 I have always been a fan of English Muffins.  I love popping one out of the toaster and slathering it with butter!  Mmmm…nothing could be better for breakfast or a light snack.
Our family has decided, like many families, to eat more healthy this year.  This doesn't mean we have to sacrifice flavor to do this.   I found a recipe for English Muffins using only white flour, it looked like it could easily be changes up to include some wheat flour.
The muffins came out wonderful!  They were gone in two days!  This was my first time making English Muffins, but it certainly won't be my last.  The recipe was easy to follow and when I think about cost savings – well, that is another story.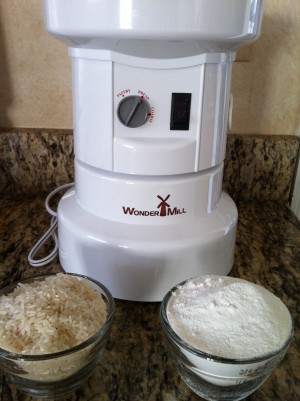 I am loving my Wonder Mill.  It makes the job of baking so much fun.  Grinding my own flour is also saving me a lot of money!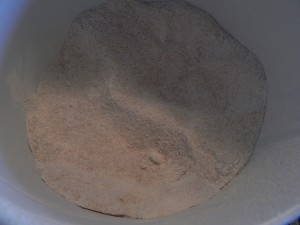 Light Wheat English Muffins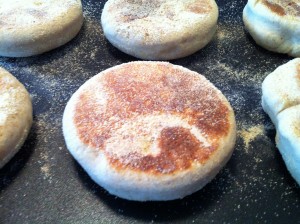 Author:
Cynthia Landrie @ FeedingBig.com
English Muffin with a mix of wheat and white flour
Ingredients
¼ cup warm water
1 package dry yeast (or 1 Tablespoon)
1 cup whole wheat flour
2 cups white flour
1 teaspoon salt
1 cup milk
3 Tablespoons oil
1 Tablespoon honey or sugar
1 egg
cornmeal as needed
Instructions
Sprinkle yeast over warm (about 105 degree F) water and let stand until foamy, about 10 minutes.
In a large bowl, mix fours(s) and salt.
In a separate bowl, mix milk, oil and honey. Add egg and stir until well blended. Stir in the yeast mixture.
Add liquid to about half of the dry ingredients and mix well, with a stand mixer or by hand. Mix in the remaining dry ingredients.The dough will be soft and somewhat sticky. Turn the dough out onto a floured surface and knead for several minutes (about 3 - 5) If necessary add 1 Tablespoon of flour at a time, until you can easily work with the dough. Put the dough in an oiled bowl, cover with plastic wrap or a damp towel. Let it rise in a warm place until double in size. Rising time will vary, but should be about 1 hour.
Turn risen dough out onto a work surface that has been liberally dusted with cornmeal and pat or roll to about ½" thick. Cut into approximately 3 inch rounds with a cookie or biscuit cutter (if you don't have one, you can use a tin can, glass or jar lid). Handle as little as possible. Cover the muffins with a towel and let rise 20-30 minutes.
Heat a griddle or large skillet over medium-low heat. Sprinkle with corn meal. Using a spatula, carefully transfer muffins to hot griddle. Cook about 5 minutes on each side. Then turn and cook another 2-3 minutes until the outsides are golden brown and crusty. The insides shout be soft, but not gooey.
Remove to cooling rack. Cook the rest in batches. (I was able to get all of mine on the griddle.)