By Leigh Ann of Intentional By Grace.
My toddler loves joining me in the kitchen. In order to ensure that I get him in the kitchen each week, we have made Saturday mornings a pancake making tradition. He cracks the eggs and stirs the ingredients and loves every minute of it.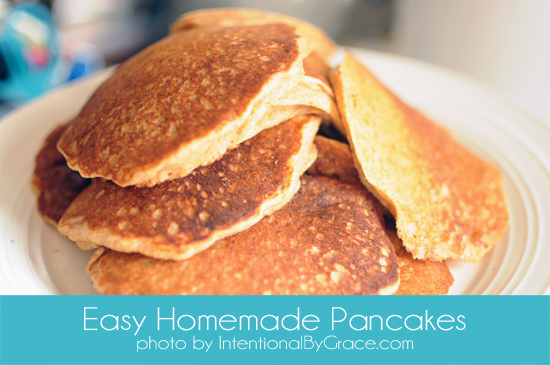 These pancakes are so easy, so fluffy, and so delectable that I rarely branch out and try any other recipe. We use these for neighborhood pancake breakfasts and whenever we have family in town. We've never had a single complaint, nor a single pancake left.
This was my first recipe to try with the Wondermill, and I was impressed with how well it went. I was nervous. You don't mess with a good thing. Amen?
But these were just as tasty and wonderful as my regular recipe!

Easy Homemade Pancakes
Ingredients:
2 cups of freshly ground soft white pastry wheat berries
2 teaspoons baking powder
1 teaspoon baking soda
1 teaspoon salt
1 Tablespoon sugar (we use sucanat)
4 Tablespoons butter
2 eggs
2 cups full fat milk (or buttermilk)
Method:
Mix dry ingredients and wet ingredients in separate bowls. Then mix them together into a large mixing bowl, but make sure not to over mix the batter. Just mix until the dry ingredients are incorporated.
Then ladle individual pancakes onto a hot pan (spray your pan liberally or use non-stick) on the stove, or use your electric griddle set at 350 degrees Fahrenheit. Cook until browned on both sides.
Serve with maple syrup or homemade berry sauce. Enjoy!