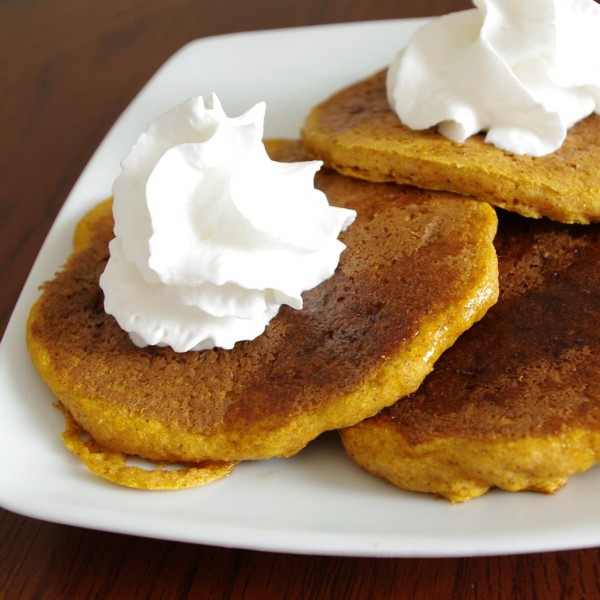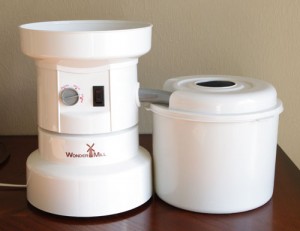 'I don't like pancakes' said no one ever! I just love to eat pancakes for breakfast, lunch, dinner, and for a snack. They good for any meal of the day. In 2012, I started getting into making whole grain pancakes and have found and created some great recipes for them. I have used several types of grains and they all seem to work great with pancakes. Whole grain pancakes have plenty of flavor and they fill you up longer and faster.
Lately I have been on a bit of a KAMUT kick, and these pumpkin pancakes are a product of that kick. The recipe uses 3 items that I have plenty of in my food storage: KAMUT, powdered milk, and canned pumpkin. I love using canned pumpkin in the things I bake, so much that I keep a stash of 30 cans in my pantry at all times because I use it so much.
I kept the ingredients and directions simple for this recipe, just like pancakes should be. I cook my pancakes on an electric pancake griddle, for about $20 – $30 they sure make easy and quick. These pancakes are great topped with maple syrup and whip cream.

Kamut Pumpkin Pancakes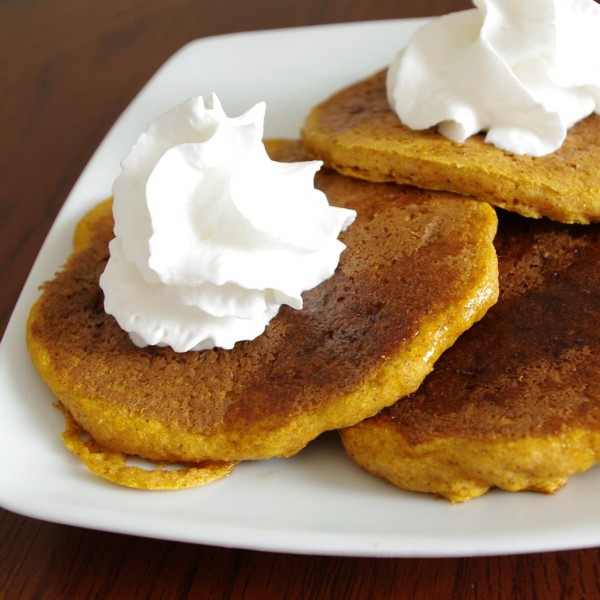 This makes about 13 delicious healthy pumpkin pancakes.
Ingredients
1½ cups KAMUT Flour
1 Tablespoon Sugar
3 Tablespoons *Powdered Milk
1 teaspoon Salt
1 teaspoon Baking Powder
1 teaspoon Baking Soda
1 teaspoon Cinnamon
1 Large Egg
1 teaspoon Vanilla
⅔ cup Pumpkin Puree
1½ cups Water
Instructions
Pre-heat your electric griddle to 375 degrees.
Whisk all dry ingredients together in a mixing bowl.
Whisk all wet ingredients together in a separate mixing bowl.
Combine the dry mix to the wet ingredients and whisk till it is just combined.
Use a ¼ cup measuring cup to scoop and pour your pancakes onto the hot griddle (lightly greased).
Cook about 2 minutes per side.
Notes
* If you want to leave out the Powdered Milk, you can substitute 1 cup of the water for milk.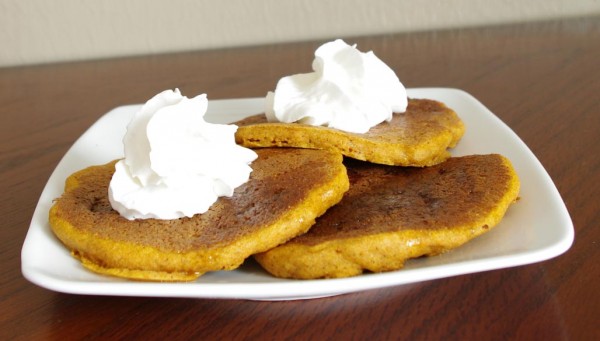 I also shared this recipe on Real Food Wednesday, Nomday Monday recipe linkups.