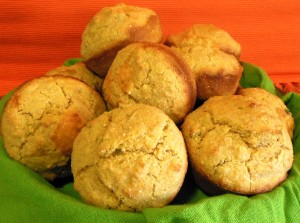 As a kid on the weekends, we used to make breakfast as a family. One staple; corn bread muffins. My sis and I would stand on a stool and mix the batter… we were little and didn't reach the counter back then. Corn muffins have been an all time favorite of mine and as I have grown up, my corn muffins have grown up with me. Now, I add all kinds of things; roasted corn, pine nuts, jalapeno, cheese…. you name it! It's such a versatile recipe.
When the fine folks at WonderMill sent me my grain mill, I knew my recipes would step up another notch. Not only will I make some delicious muffins and breads, but now my food would be more nutritious with home milled flours.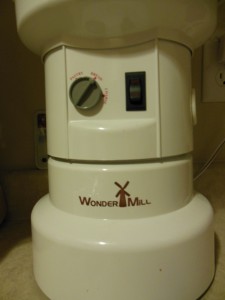 Corn getting ready to go into the hopper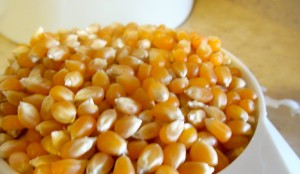 Then after when it's milled
I still cannot belive how quick the WonderMill is when it comes to grinding the corn into corn meal. Not quick as it it takes a few minutes, but more like "don't blink, you might miss it" quick. It amazes me that something that fast can produce high quality corn meal. My husband was suprised by its efficiency.  The WonderMill makes it easy for anyone to grind flour as long as they have the desire to do it.
I found this recipe on About.com's Southern Food catagory page and modified it just a bit for my taste.  It's quick and easy and the results are mouth-watering yummy muffins. Yield: 12 Muffins.
Ingredients:
•1 cup flour
•1 1/4 cups yellow cornmeal
•2 tablespoons sugar (more or less, to taste)
•2 teaspoons baking powder
•1/2 teaspoon salt
•1 cup milk
•2 tablespooons chopped jalapenos (more or less depending on how much heat you want)
•3 tablespoons diced cheddar cheese
•1 large egg
•4 tablespoons melted butter, cooled
Grease a standard muffin tin (about 12 muffin cups). Heat oven to 450°.
In a bowl, combine the flour, meal, sugar, baking powder, and salt. In another mixing bowl, whisk together the milk, egg, and butter. Add the jalapenos and cheese. Pour dry mixture into the wet ingredients and stir just until moistened.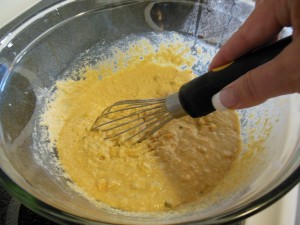 Fill muffin cups about 3/4 full. Bake at 450° for 5 minutes, then reduce heat to 400° and bake for about 12 minutes longer, or until the muffins begin to brown on top.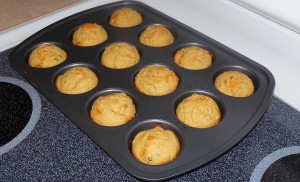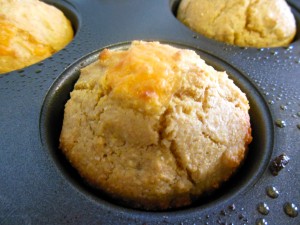 Because I chose to use my own milled wheat flour instead of white, the muffins did not come out as bright of a yellow color as you would normally see. Don't let that scare you from trying it. My muffins were full of flavor and nutrients. The jalapenos added much flavor without the heat since I used jalapenos from a jar rather then fresh.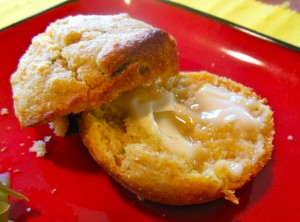 Recipe Source: About.com