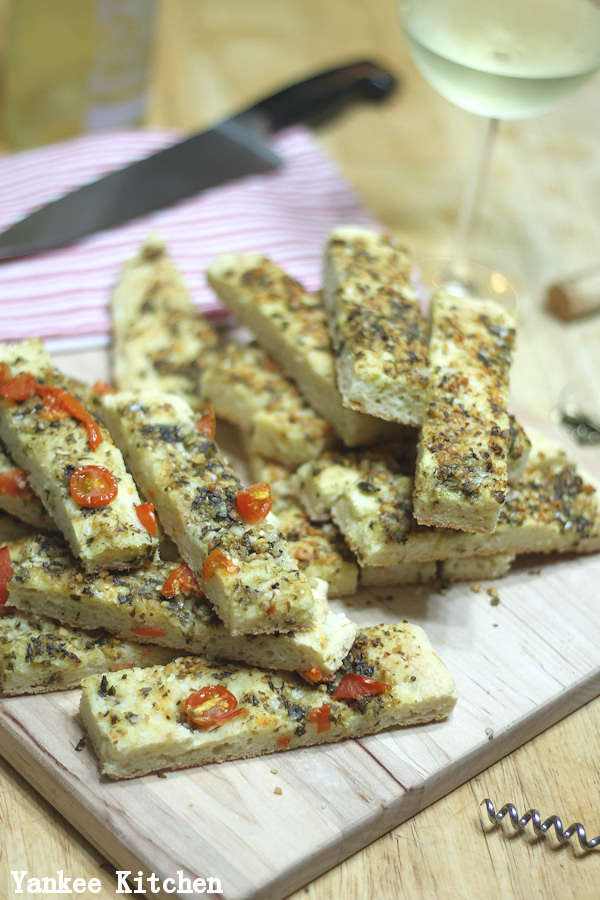 Here in Rhode Island we have a large Italian community which is well known for their culinary skills, so most of us are accustomed to good quality focaccia bread.  I have been creating a great deal of gluten-free recipes lately, since my daughter is on a gluten and casein free diet, and decided to try and tackle creating a gluten and dairy free version of this bread.
Admittedly, this gluten-free focaccia takes a little time to make, and the sticky dough can be a little challenging to work with, but the results are worth the extra effort. My daughter and I enjoyed this flavorful bread as a special snack last Friday night, along with wine for me and juice for her.

Homemade Focaccia Bread Recipe (Gluten-Free and Dairy-Free)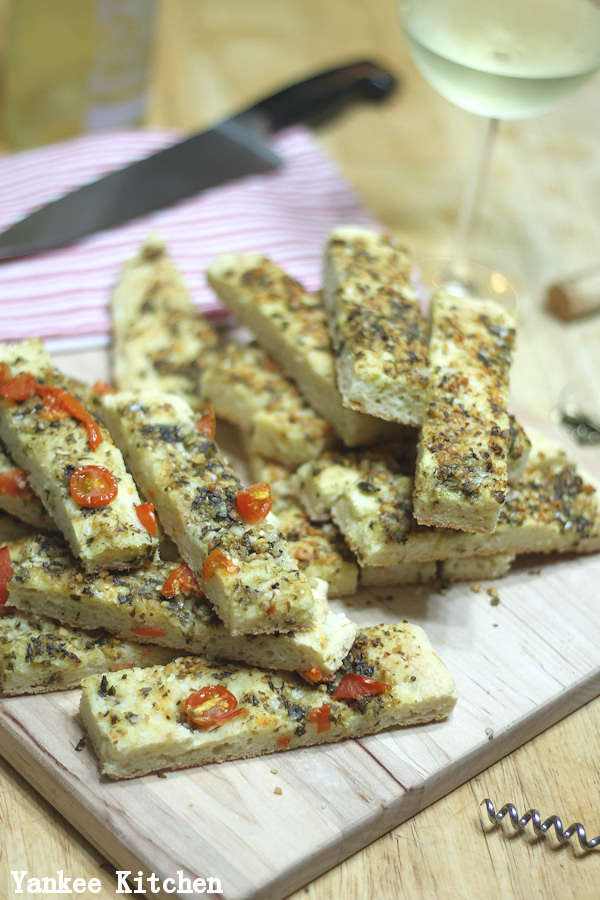 Homemade focaccia bread that is both gluten-free and dairy-free.
Ingredients
1⅔ cup warm water
1 packet yeast
1 tsp sugar
1½ cup brown rice flour
½ cup millet flour
1 cup potato starch
1½ tsp. kosher salt
1 tbs xanthan gum
1 egg
½ tsp vinegar
2 tbs jarred garlic (if using freshly minced or powder reduce amount)
½ tsp fresh thyme
½ tsp freshly ground pepper
¼ cup fresh basil leaves (tightly packed)
2 tbs extra virgin olive oil (plus more to drizzle on top)
¼ cup almonds (substitute pignoli nuts or walnuts if you prefer)
Instructions
Mix together the water, yeast and sugar in a small bowl and set aside to develop.
Combine rice and millet flour, with potato starch, salt and xanthan gum in mixing bowl. Mix well.
Add egg, vinegar and yeast mixture to the flour blend, and mix well ( the paddle attachment on stand mixer is good for this).
Lightly work the dough on a well floured surface. It will be very sticky, and you don't want to work it nearly as much as wheat breads.
Form into ball, coat with olive oil and place in covered bowl. Leave in a warm spot for 30 minutes to rise.
While dough is rising, place the garlic, herbs, oil pepper and almonds in a food processor, and grind into a cheese-less pesto.
Preheat oven to 200 degrees.
Gently stretch the risen dough onto a lightly oiled baking sheet. It will still be quite sticky, so oil your hands to work with it.
Spread the pesto over the focaccia, and loosely cover with plastic wrap.
Place in the 200 degree oven, for about 15 minutes.
Remove and increase oven temperature to 350 degrees.
Once oven has risen to temperature, remove the plastic wrap, drizzle olive oil on focaccia dough and generously sprinkle with sea salt.
Bake for approximately 30 minutes, dough will be cooked through and edges will be starting to lightly brown.
Remove the focaccia from pan and set to cool on rack or double folded towel.
Notes
* This gluten-free focaccia bread is excellent when fresh, but stales quickly, not something you want to make a day ahead. * If you do not care for pesto, this dough can be topped with a thick layer of basil tomato sauce, to make pizza strips.