I think most homemakers want to learn to make a good loaf of bread.
It seems to be one of those "quests" that we want to conquer.
The sight and smell of a fresh-from-the-oven loaf of bread evokes a feeling of yesteryear.
The problem is that a good loaf of whole wheat bread can be hard to make.  Many recipes yield a loaf that is dense, too sweet, or just plain not good. Prior to getting my own NutriMill mill, I found home-ground whole wheat bread to be too dense. I would make a white-wheat bread, because I felt the white flour would smooth out the dough. What a difference the proper tools make! Using the NutriMill results  in perfectly ground whole wheat flour, which results in a perfect loaf of whole wheat bread!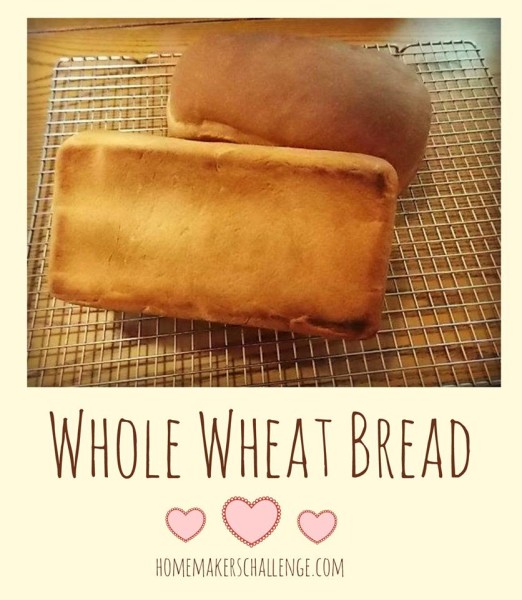 This recipe is the culmination of much trial and error. I hope you like it as much as we do!

Honey Wheat Bread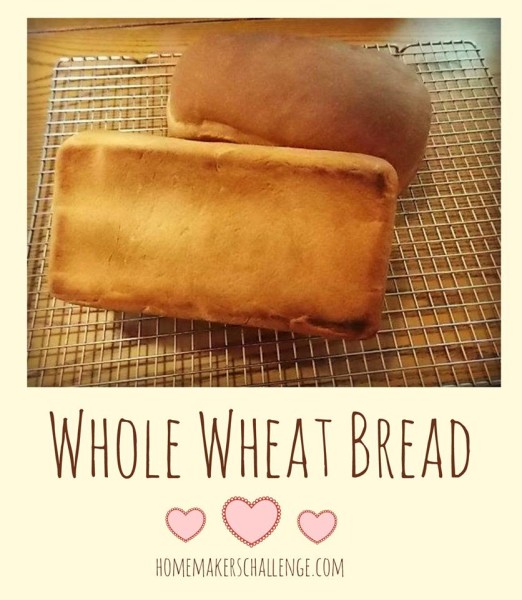 Author:
Laurie of Homemakers Challenge
Ingredients
6-7 cups whole wheat flour, milled on the pastry setting
⅓ cup honey
1-1/2 tablespoons bulk yeast
2-1/4 cups very warm water (120*-130*)
¼ butter, melted
1 tablespoon kosher salt
Extra softened butter, to coat loaves when fresh out of the oven, if desired
Instructions
Place 3 cups flour, honey, yeast, and water in the bowl of stand mixer.
Mix to combine.
Allow to sit for 10 minutes or so to form a sponge.
Add melted butter and salt, mix with the dough hook to combine.
Stir in enough of the rest of the whole wheat flour to make the dough easy to handle, adding one cup at a time. Be sure to stir frequently with a plastic spatula, to incorporate the flour at the bottom of the mixing bowl. Mix with dough hook for 5-7 minutes, the long beat time develops the gluten, aiding in the dough rise.
Once thoroughly combined, turn dough onto lightly floured surface and knead by hand for 5 minutes.
Place dough in greased bowl, turning to grease the top.
Cover with plastic wrap. Let rise in a warm place until doubled in size, 40-60 minutes. (dough is ready when indentation remains when touched)
Punch down dough, divide in half.
Form into loaves, by turning dough over itself, and into a loaf shape.
Pinch edges firmly to seal.
Place loaves, seam side down, into 2 greased loaf pans.
Let rise until doubled, 35- 50 minutes.
Place in oven, turn oven to 350*, bake 40-45 minutes or until loaves are golden brown and sound hollow when tapped.
Remove from pans, cool on wire rack.