There's nothing quite like kicking off the morning with a freshly baked muffin. I recently got a mini-muffin tin so I decided to use my WonderMill Grain Mill to grind up some whole wheat berries (yup, berries – who know, right?) for some fresh flour and bake up some blueberry muffins – mini-style. Because bite-sized muffins are just so much fun.
I used a recipe modified from allrecipes.com to bake-up these tasty blueberry morsels. This was sure to be an adventure – not only was it the first time making muffins with home-ground flour, it was also my first time making muffins from scratch.
First, I mixed the muffin mix ingredients together in a bowl, making sure to mix the dry ingredients first, then the liquid, then combining the two. Make sure you don't over-mix your batter. Then, I made the crumb topping that would go on top of my mini-muffins. Warning, it is YUMMY and you may snack on a little. There will be extra topping. Don't feel like you have to use it all. Adding too much topping could cause you muffin tops to drop. (I learned this the hard way but didn't mind since the topping is so tasty.)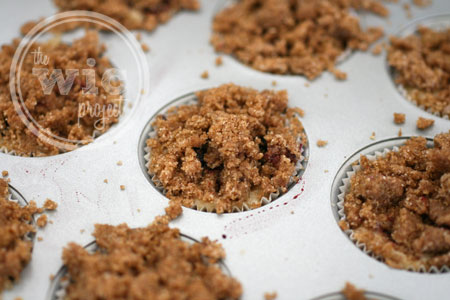 Finally, I filled my lined mini-muffin tin with batter and topped with the crumb topping. Pop the tray in the oven and wait…which is the hard part, especially as the muffins are baking.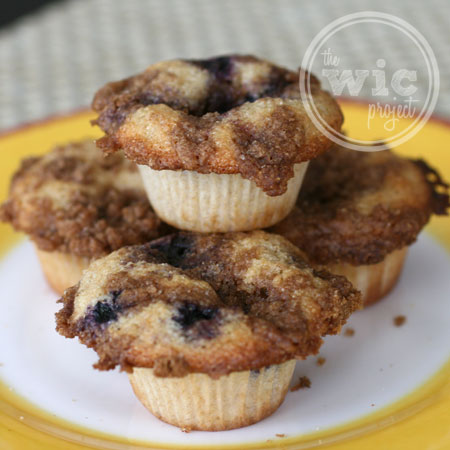 But the wait is worth it since you get amazing homemade blueberry muffins. These were a big hit with the entire family and would be a great breakfast or afternoon party treat.
Homemade Blueberry Mini-Muffins
Based on a recipe from allrecipes.com.
1 1/2 cups all-purpose flour
3/4 cup white sugar
1/2 teaspoon salt
2 teaspoons baking powder
1/3 cup vegetable oil
1 egg
1/3 cup buttermilk
1 cup fresh blueberries
1/4 cup brown sugar
1/4 cup white sugar
1/3 cup freshly ground flour
1/4 cup butter, cubed
1 1/2 teaspoons ground cinnamon
Directions
1. Preheat oven to 400 degrees F (200 degrees C). Grease muffin cups or line with muffin liners.
2. Combine 1 1/2 cups flour, 3/4 cup sugar, salt and baking powder.
3. Place vegetable oil into a 1 cup measuring cup; add the egg and enough milk to fill the cup.
4. Mix this with flour mixture. Fold in blueberries. Fill muffin cups right to the top, and sprinkle with crumb topping mixture.
5. To Make Crumb Topping: Mix together 1/4 cup brown sugar, 1/4 white sugar,1/3 cup flour, 1/4 cup butter, and 1 1/2 teaspoons cinnamon. Mix with fork, and sprinkle over muffins before baking.
6. Bake for 10 to 15 minutes in the preheated oven, or until done.