Need a cheaper solution to avoiding gluten? Make your own homemade mix for just pennies!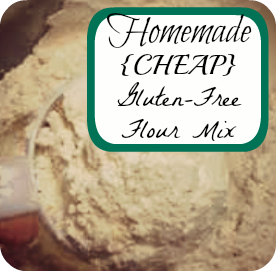 If you've ever even happened to walk into the gluten-free section of a grocery store, I'm sure you've noticed an unfortunate truth: gluten-free stuff is EX. PEN. SIVE. Honestly, I don't know how anyone who *isn't* the CEO of a Fortune 500 company is expected to be able to budget for that stuff. Gee, those GF cookies look good – but I'll have to take out a loan to get them!!!
That's why it's so "worth it" for GF families to invest in a grain mill. Yes, the mill carries a hefty pricetag – but if you plan on eating anything other than rice cakes, it'll quickly pay for itself in the savings on purchasing GF products!
All you need to do to start saving beaucoup bucks is make up your own homemade GF flour mix – and then start using that in all your favorite recipes (SO much cheaper than buying GF cookie mix, or bread mix…or heck, even just plain old store bought GF flours!!!)
Here's an easy homemade mix recipe – and the good news is that two of the three ingredients can be milled in your grain mill! You'll save dozens buying whole ingredients rather than expensive flours!
All you'll need is regular white rice (easy enough to find!) and tapioca pearls (available at most major grocery stores). Potato starch flour, the only ingredient you can't make yourself in your mill, is available in most grocery stores with a decent GF section, or online.
Here's what you'll need:
White rice (grind in your mill on the "bread" setting) – 4 cups
Tapioca pearls (grind in your mill on the "bread" setting) – 2/3 cup
Potato starch flour (purchased) – 1 1/3 cups
Once you've ground your flours and measured them out, blend together these three ingredients until very well mixed. Use just as you would wheat flour in all of your favorite recipes!
Happy GF baking!