Today, I am tremendously excited to post about
the Harvest Comfort pie
that I have been working on for the Grain Mill Challenge,
 only to have my camera go missing,
 for us to be completely out of apples
(the kids ate them for snack yesterday while I was gone—-LOL),
and honestly, 6 hours later,
I would rather crawl into bed and cry than write this post.
Still, I am stubborn, and want you to enjoy every morsel of this pie as you make it at home, so please, enjoy reading all about it, and I will tell you more about my garden, and add in pictures of fall sometime tomorrow.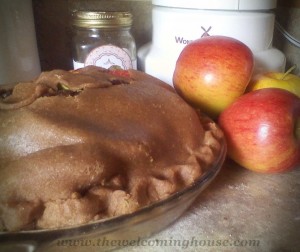 Harvest Comfort Pie is an outrageously tasty reminder that Fall has begun and with it comes the smell of cinnamon, and apples, paired with cranberries and golden raisins.
The pie crust for this pie has been laced with ground cinnamon, so when it bakes in your oven, the whole house smells lovely.
And when you cut into the pie, out flows a rich filling chock full of three different kinds of apples, bright cranberries, and the mellow gold of golden raisins.
 The taste is extraordinary, and perfect for those occasions where you have guests to impress, and  want something that shouts cool weather and warm dinners.
For the pie crust: (needs a double pie crust)
4 cups finely ground whole wheat flour
(I used the pasta setting on my Wonder Mill)
1 cup coconut oil or shortening
1 tsp salt
1-2 Tbs Cinnamon (depending on your tastes)
2 Tbs Dry milk or 1 cup liquid milk (even skim will do)
(if you use powdered milk, then use 1 cup very cold water)
*in a mixer bowl, blend the dry ingredients with the shortening/oil until thoroughly mixed. Then add 3/4 cup of liquid, and mix until well blended. Let dough sit about 5 minutes for the Whole wheat flour to absorb the liquid completely. Add remaining liquid until the pie dough is very pliable without being really sticky.
*On a silpat mat, a non-stick dehydrator sheet, or even waxed paper, split the dough into three portions, form one into a ball, and place on the mat. Sprinkle with a little flour mixed with sugar and roll out into a round. I then pick up the paper/mat and transfer the pie crust to the pan, carefully, as it will tear easily. Gently ease crust into the pie pan, and trim around edges of pan for the bottom crust. Repeat, rolling out the second ball of dough but leaving it on the mat for a little while.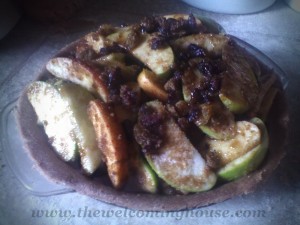 2 Golden Delicious or Jonagold Apples
(I left skins on because that is how we roll around here–you can trim off if you want)
1 Tbs lemon juice to keep apples from browning
 (or craisins if that is all you have, just add 1/4 cup less sugar)
1/2 cup dark brown sugar
2 Tbs WW Flour
*toss all ingredients together in a large bowl until evenly mixed, and then fill pie crust with a heaping mound of yummy goodness, being careful to keep everything into the middle of the pie tin, with nothing hanging out over the edge of the cinnamon bottom crust.
*Place top crust on top of pie, seal and flute edges, and then either cut slits into the pie crust, or, rolling out remaining dough, then cut fall leaves or pumpkins out of it using cookie cutters, and attach to the top of the pie using a pastry brush and a little water. Using same brush, wet top of pie and sprinkle with a little white sugar for an added touch.
Bake in a 350* oven for an hour, then let sit for at least 10 minutes for the pie to cool before you eat it. This is absolutely delicious eaten with simple vanilla ice cream as it is rich enough on its own. A variation of this pie is to cube 1/2 of a block of cream cheese (4 oz) and mix it into the filling before baking, which we then call it a Creamy Harvest Comfort Pie.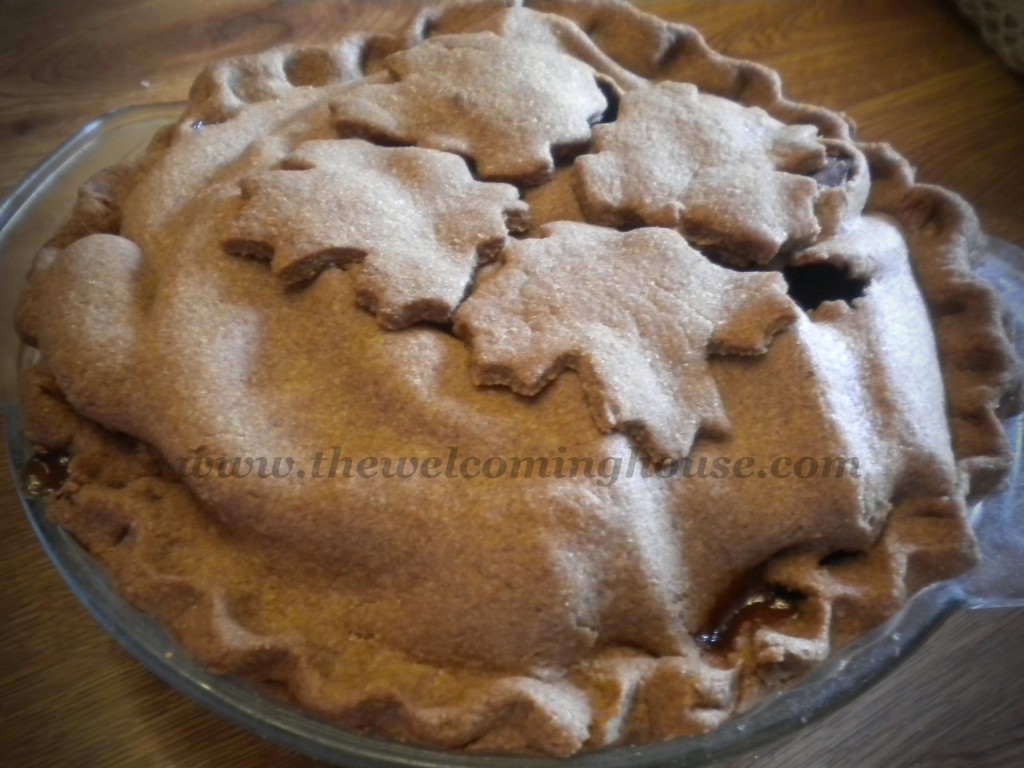 I hope that you enjoy this, everyone! Make it once, and I promise you, it will be the pie you immediately begin to think of when the leaves begin to fall, and the days grow cooler!
Many Blessings to you and yours,
Heather
www.thewelcominghouse.blogspot.com