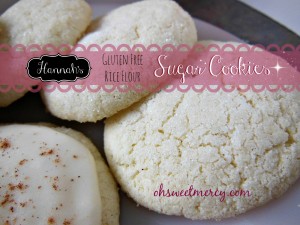 I used my awesome WonderMill to grind sweet rice (also called glutinous rice) into a lovely flour that is no different than what I pay top dollar for in the store. I'll be saving tons of money with my WonderMill and I can't tell you how happy that makes me!
Since my daughter has been blessed with baking talents, I turned her loose in the kitchen. The result was perfectly baked gluten free sugar cookies. I love her! These cookies are great plain, but also great for decorating. We whipped up a buttery icing and sprinkled a little pumpkin pie spice on top for prettiness, as the icing was about the same color as the cookies. We don't use food colorings but I'm looking into natural ways to color icings.
The WonderMill made quick work of grinding flour for this recipe. Sweet rice in, flour out. I love simple!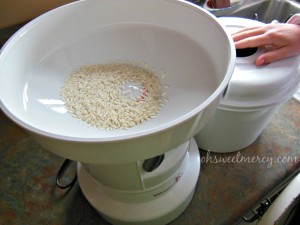 You can roll these cookies out and use cookie cutters for fun shapes, but they come out perfectly round and beautiful when you roll them into balls. I like to roll them in demerara sugar before baking, this time we were out so we used regular sugar. Flatten them slightly when you put them on the baking sheet.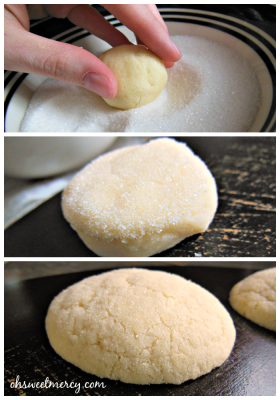 Hannah's Gluten Free Sugar Cookies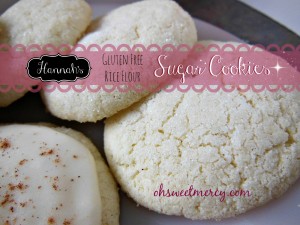 Author:
Dawn @Oh Sweet Mercy
An easy and delicious recipe for gluten free sugar cookies. The almond flavoring really makes these cookies pop. Terrific plain or frosted with your favorite cookie frosting.
Ingredients
3 cups of freshly milled sweet rice flour
1 cup butter
1 cup sugar
½ tsp aluminum-free baking powder
½ tsp baking soda
¼ tsp sea salt
2 eggs, beaten
½ tsp vanilla
½ tsp almond extract
*Optional* ½ cup demerara sugar
Instructions
Preheat oven to 350
Mix dry ingredients together
Combine eggs, vanilla and almond extract
Add to dry ingredients and mix well to form dough
Roll dough and use cookie cutters -OR-
Roll dough into small balls and roll in demerara sugar before placing on cookie sheet
Bake for 8-10 minutes or until edges just start to brown slightly. Do not overbake!